News
Get the latest news and updates from Animal Equality
Animal Equality Files Complaint Against Major Turkey Producer
Animal Equality, along with Animal Partisan, filed a criminal complaint against Plainville Farms for animal cruelty documented during an investigation.
February 2, 2023
Updated: August 20, 2023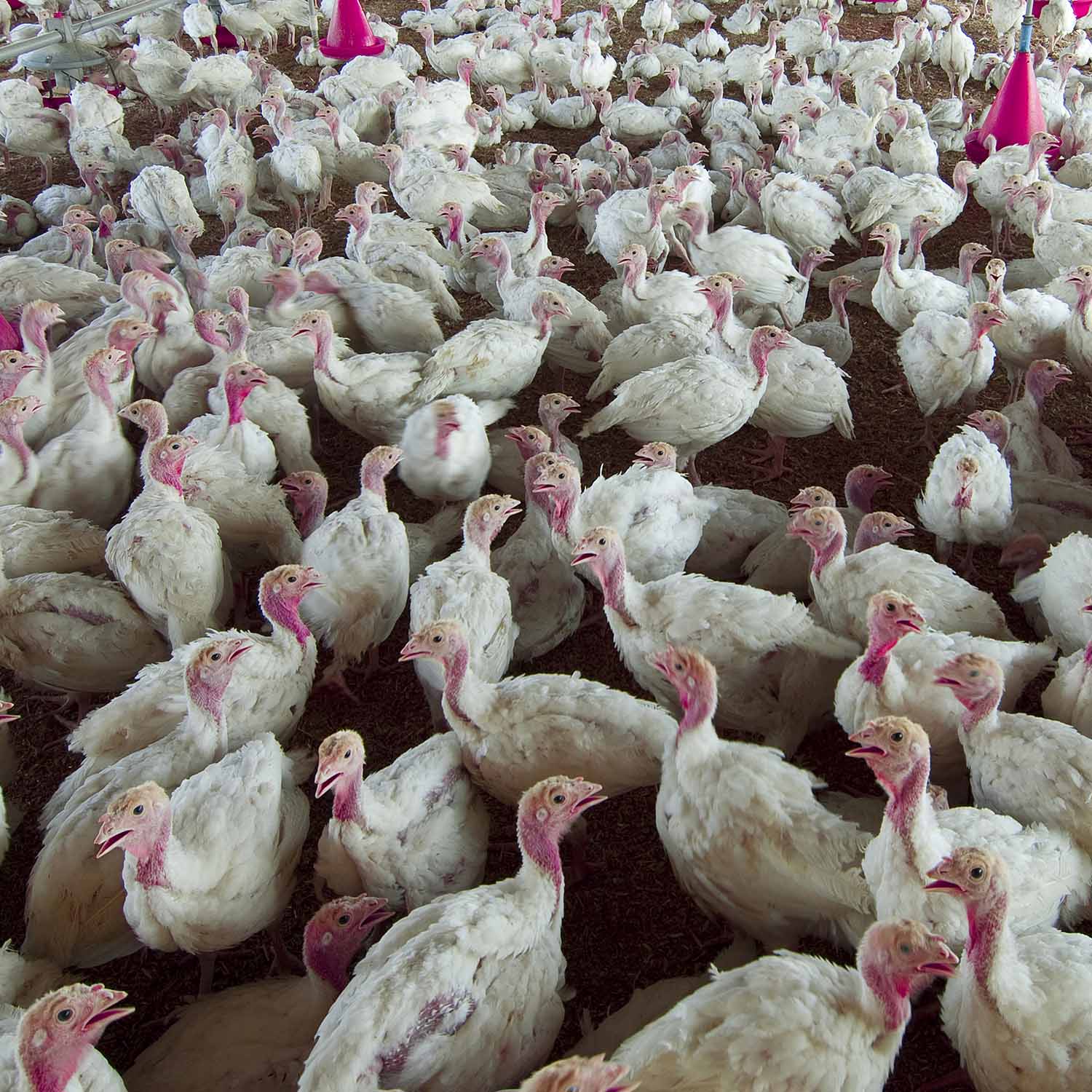 On February 1, 2023, Animal Equality, along with fellow animal advocacy group Animal Partisan, filed a criminal complaint against major turkey producer Plainville Farms over animal cruelty allegations. The complaint stems from a 2021 PETA undercover investigation that recorded Plainville "catch crews" routinely kicking, stomping, throwing, beating, and choking turkeys being loaded onto trucks for slaughter.
The complaint is distinct from over 100 animal cruelty charges filed against twelve individual workers, in that it alleges that Plainville Farms—the corporation itself—should be held criminally liable for the abuse inflicted by its workers on behalf of the company.
In the 2021 investigation, PETA documented abuse by Plainville Farms workers at turkey farms across Pennsylvania, including Chester, Cumberland, Franklin, Perry, Fulton, and Union counties. The present complaint, filed by national animal advocacy groups Animal Equality and Animal Partisan, was filed with the District Attorney of Adams County, the location of Plainville Farms' New Oxford headquarters.
As Plainville Farms workers caught turkeys to load into trucks for slaughters, they violently threw birds by their wings, neck, and heads. In some instances, workers tied the snoods of turkeys together, beat them with an iron bar, or stood on their heads. Other workers choked turkeys, wrung their necks, and used their bodies to mimic sexual acts.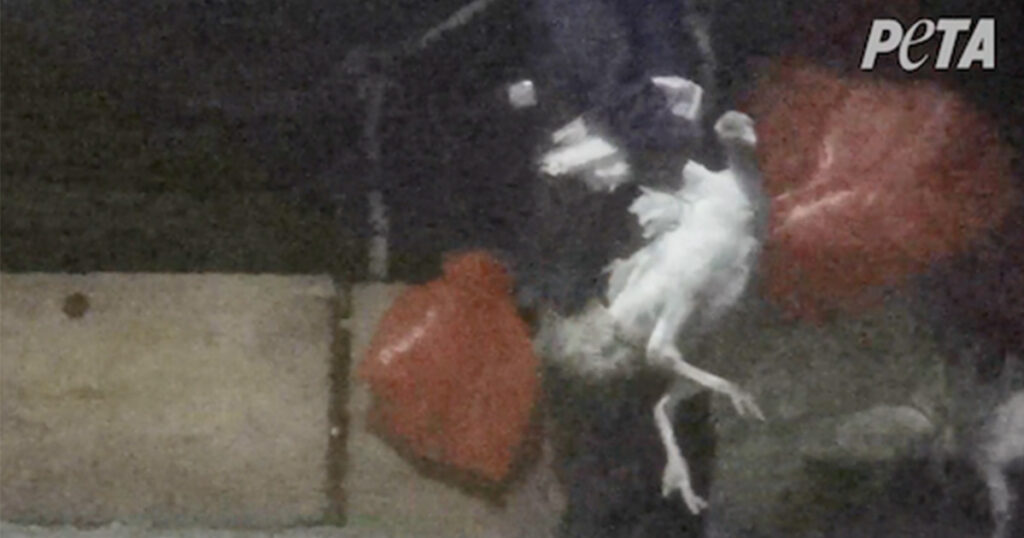 The animal advocacy groups allege that Plainville Farms commanded and recklessly tolerated this criminal conduct and that it was done on behalf of the corporation. The complaint cites as evidence several factors justifying corporate criminal liability, including the involvement of a company supervisor in the abuse, the pervasiveness of the acts, the indifference of the workers witnessing the abuse, and notably, the fact that one crew position was even called the "kick" because the worker was specifically tasked with kicking turkeys who passed a certain point.
The animal cruelty observed at Plainville Farms was part of its de facto standard operating procedures. This is not a case of a few bad apples – the whole tree is rotten. The law of corporate criminal liability was designed precisely to address and uproot this type of systemic misconduct.

-Sarah Hanneken, Legal Counsel for Animal Equality
Although criminal charges against individuals are more common, most states—including Pennsylvania—allow for corporations to be held liable for criminal acts. In fact, the Pennsylvania Office of the Attorney General just charged 21 separate businesses in a massive fraud scheme involving vehicle titles in December 2022.
Large corporations often evade corporate criminal liability by pointing the finger at individual workers. The evidence here indicates that the cruelty inflicted on vulnerable turkeys on their way to slaughter was inseparable from Plainville Farms' normal business operations, and the corporation should not be shielded from criminal prosecution.

-Will Lowrey, Legal Counsel for Animal Partisan
Animal Equality and Animal Partisan are asking the Adams County District Attorney to charge Plainville Farms with multiple counts of animal cruelty, which could subject the corporation to thousands of dollars in fines.
---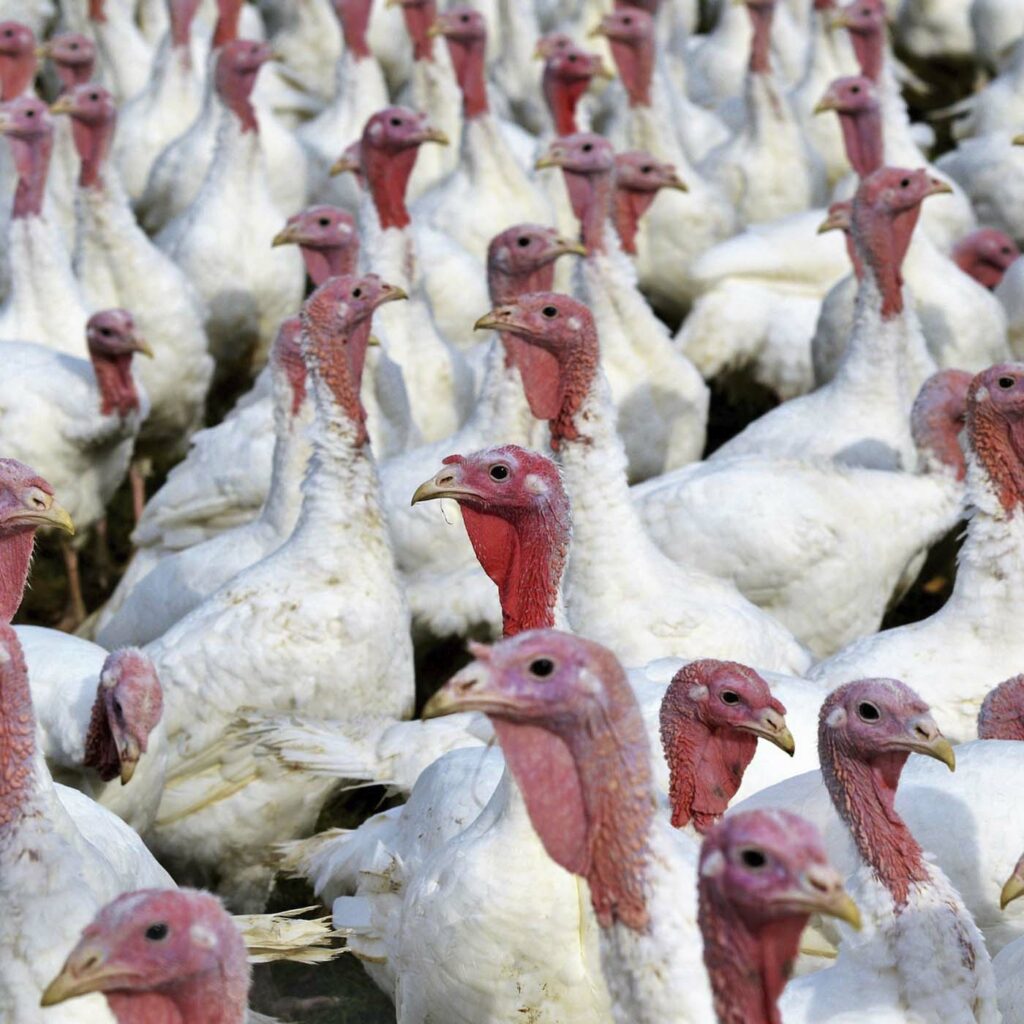 SAVE THE TURKEYS
Each turkey has a distinct personality and the desire to socialize.
Protect these unique and curious animals by choosing plant-based, cruelty‑free alternatives to meat.
---
Latest News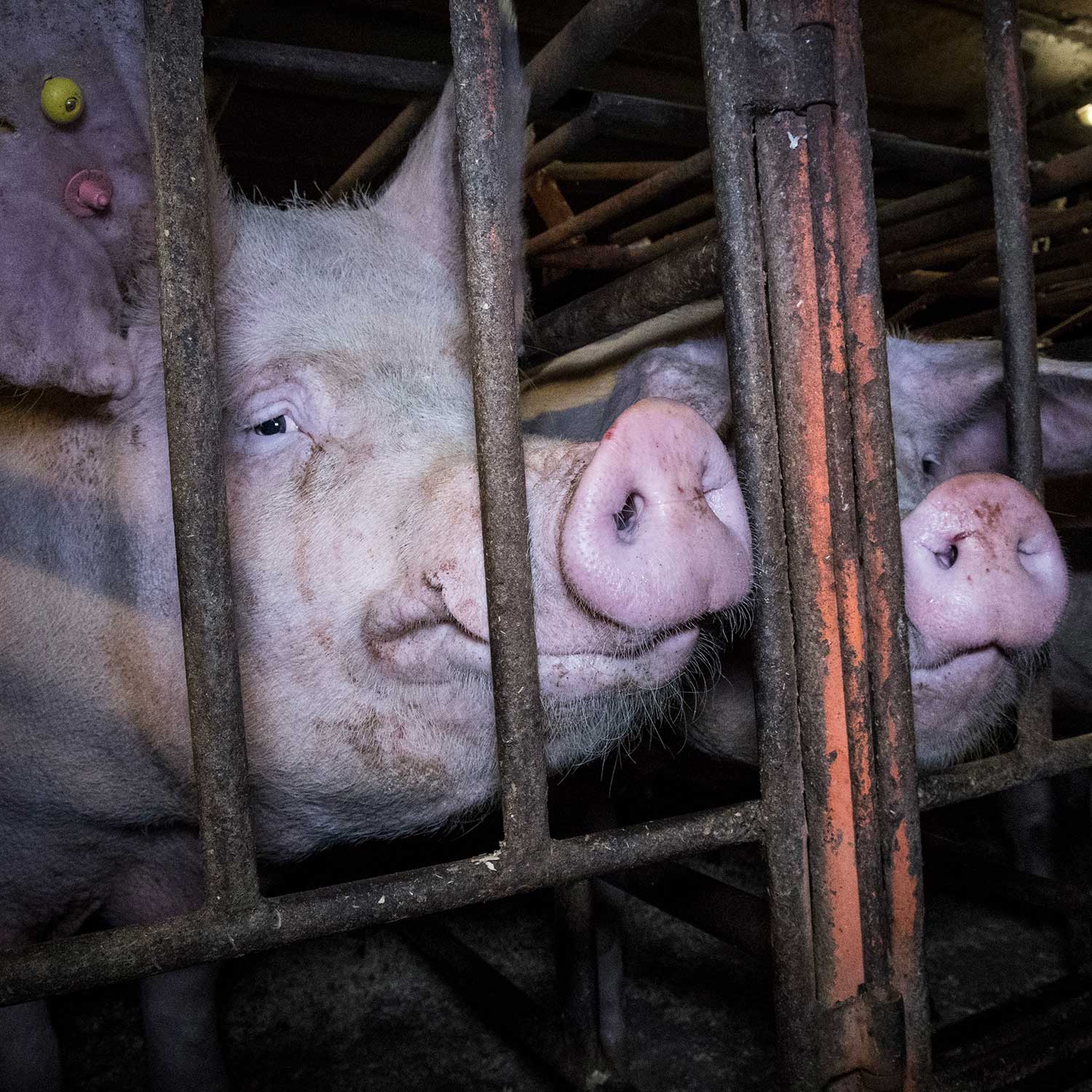 September 20, 2023
---
As the meat industry continues its efforts to undo animal protection laws throughout the United States by attempting to pass the EATS Act, Animal Equality joins the strong opposition to fight back.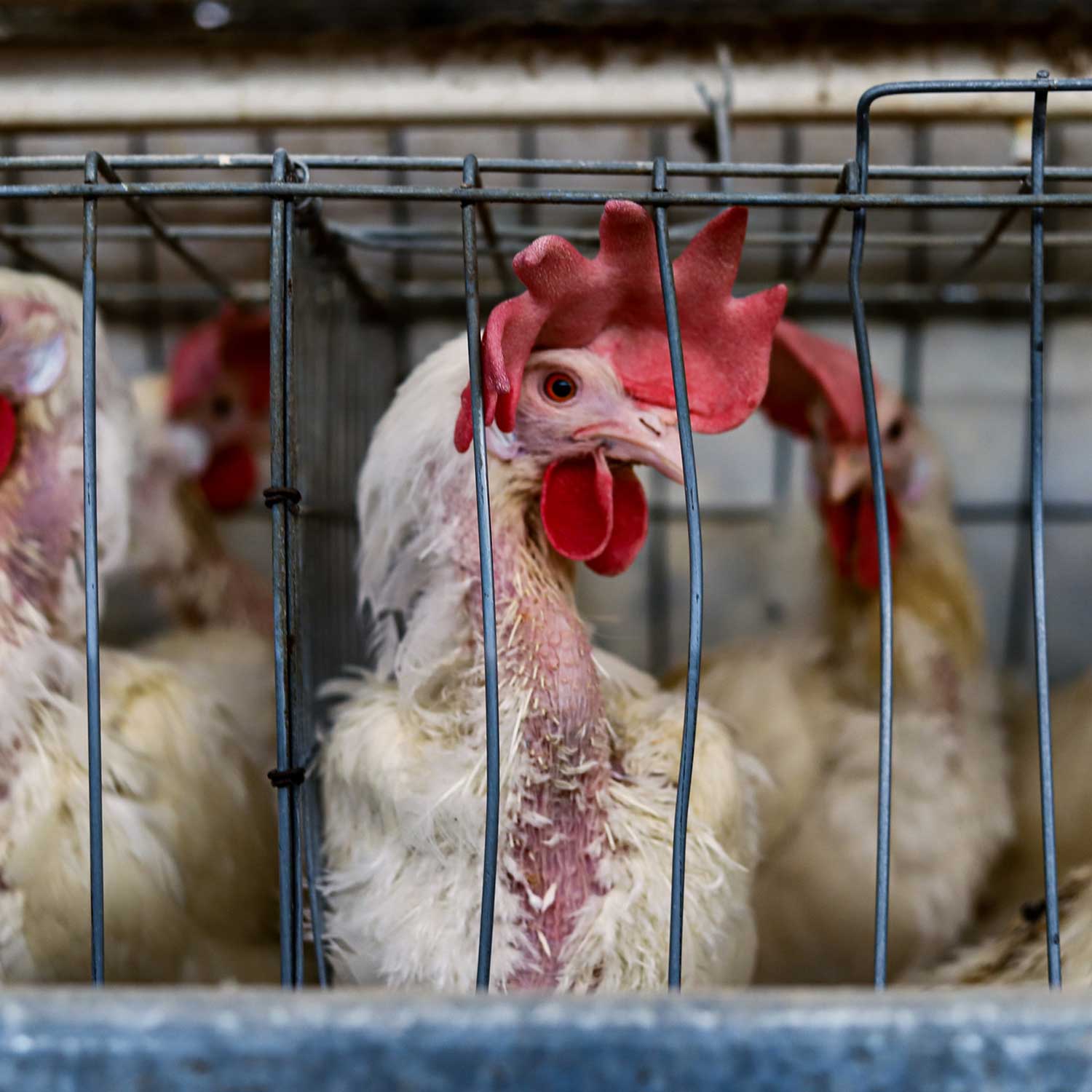 September 20, 2023
---
Two years back, the European Commission unveiled a bold vision: to eliminate the use of cages in animal agriculture. But when European Commission President Ursula Von der Leyen outlined the Commission's plans for 2024 earlier this week, viewers were struck by her silence on farmed animal issues altogether.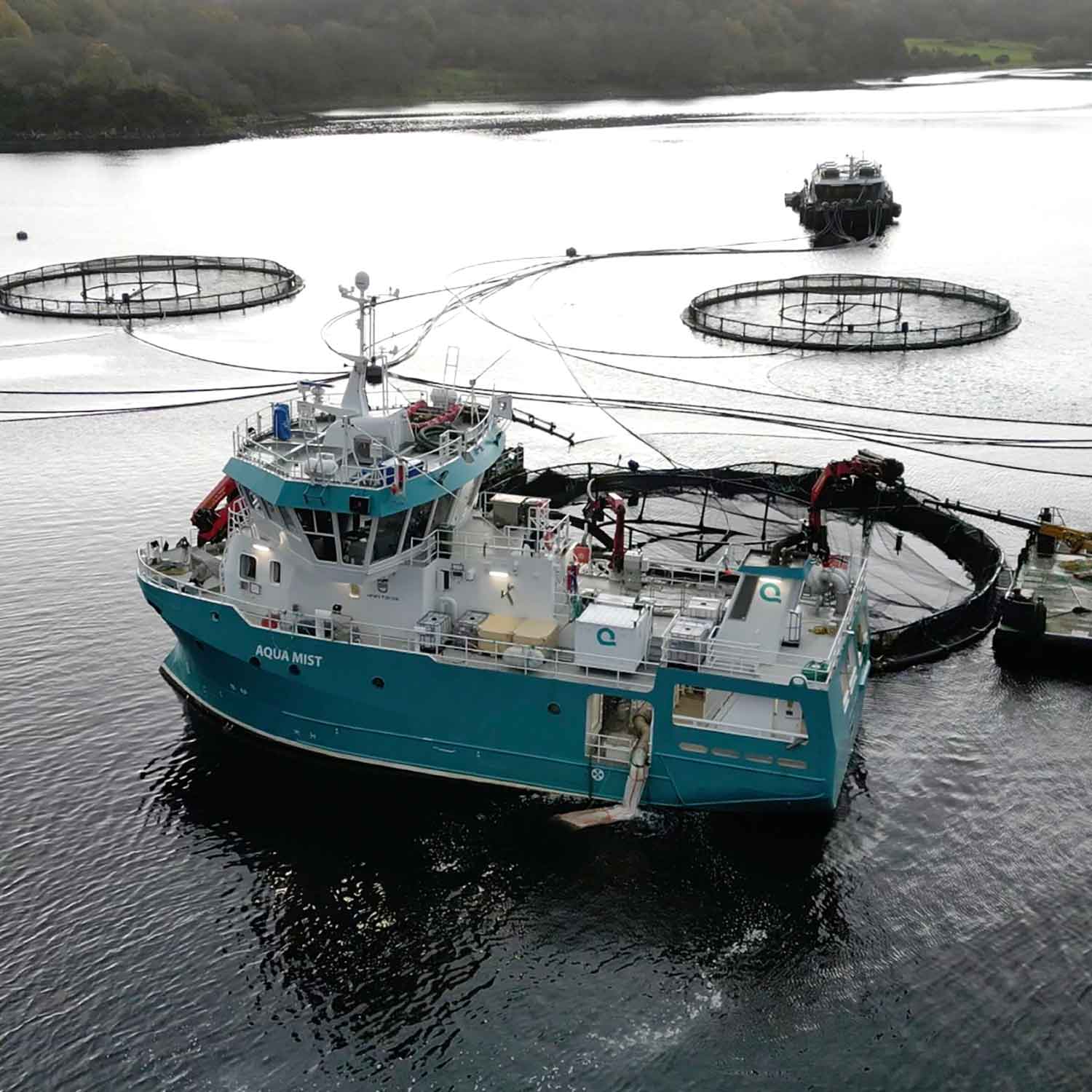 September 18, 2023
---
Last year, the BBC featured footage from an Animal Equality dairy investigation on its Panorama program; now, the world-renowned news network has once again showcased new footage supplied by Animal Equality. This investigation illustrated the suffering of salmon on Scottish fish farms.