News
Get the latest news and updates from Animal Equality
An American Icon Has Been Called Out for Extreme Animal Cruelty
Denny's has abandoned its commitment to end extreme confinement for pregnant pigs in its supply chain. Here's how Animal Equality took action.
January 23, 2023
Updated: July 27, 2023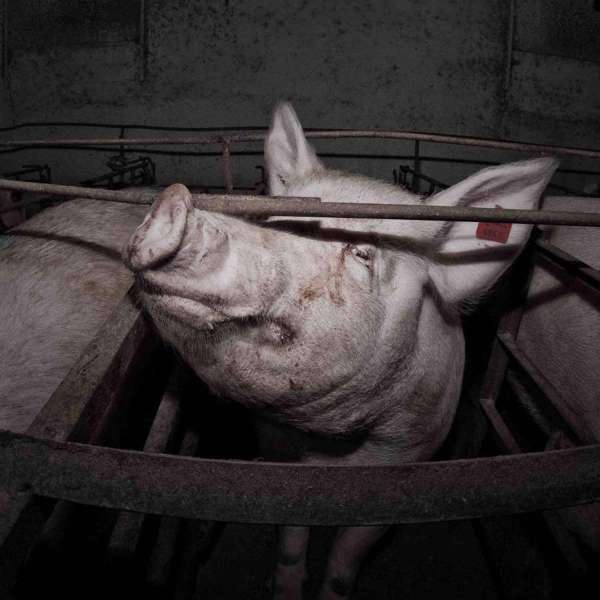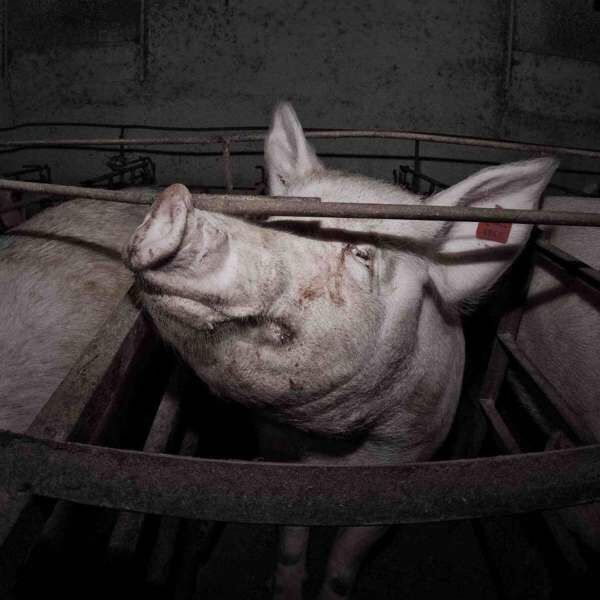 In January 2023, Animal Equality launched its latest campaign to spare pigs from extreme confinement and suffering.
Denny's, an American diner-style chain known for always being open, promised to eliminate small cages for mother pigs in its supply chain 10 years ago. Instead of fulfilling its commitment, Denny's has reported little progress toward this goal. 
Denny's now refuses to be transparent about its plans to eliminate a practice that has been banned in ten U.S. states, the United Kingdom, and Sweden.
Major companies across all sectors are on track to eliminating gestation crates by 2025 or 2026. These companies include Jack in the Box, Burger King, McDonald's, and Wendy's. Other prominent companies, like Chipotle and Shake Shack, have been crate-free for years.
Meanwhile, Denny's continues to allow extreme animal cruelty. That is why Animal Equality has been hosting nationwide protests outside Denny's diners. Protesters have spoken with concerned diners and passersby about the cruelty of extreme confinement. 
During a 24-hour protest, Animal Equality supporters stood outside a Denny's location on the Las Vegas Strip. A mobile billboard, which displayed a picture of a pig confined to a crate, drove up and down the most populated areas..
Animal Equality even took out a newspaper ad in the San Antonio Express. The ad called on Denny's influential franchise owner Dawn Lafreeda to urge Denny's to "do the right thing."
Animal Equality refuses to rest until Denny's makes meaningful changes for pigs suffering in its supply chain.
Gestation Crates for Mother Pigs
The majority of the United States' million mother pigs are confined to 7-by-2-feet gestation crates barely larger than their own bodies. They are unable to simply turn around or take more than a step forward. Many resort to biting the metal bars of the crates and banging their heads against them from stress.
Extensive academic research has demonstrated that gestation crates cause both physical harm and psychological distress. Animal behavior expert Dr. Temple Grandin plainly stated, "[Confinement is] not life…the way I look at it is: How would you like to live in an airline seat?"
Animal Equality's Work to Help Pigs
Animal Equality has been working to improve the lives of pigs since its founding over 17 years ago. We've gone undercover inside pig farms time and time again to document and expose cruelty.
In collaboration with a local Italian television statement, Animal Equality revealed shocking footage during a pig farm investigation in Lombardy, Italy, in 2021. Investigators found animals with large umbilical cysts, wounds, and hernias. 
The mummified and worm-filled carcasses of dead pigs were abandoned in the corridors of the farm, a clear violation of animal disposal laws. This farm was affiliated with the Bompieri Group, which markets its products as the "Excellence of Made in Italy." When authorities failed to press charges, Animal Equality returned to the farm to find conditions had not improved.
In 2021, investigators also exposed pigs on a Spanish farm living in excrement while consuming food and water contaminated with feces. Investigators found several injured pigs, some only able to crawl, while others who didn't have the strength to move were left to die.
Campaigning for an End to Cruel Confinement
In July of 2022, Animal Equality launched a campaign against a multi-billion dollar company, Compass Group, calling out its abandoned commitment to phase out crates for pregnant pigs. 
Animal defenders and supporters took action by sending thousands of emails and tweets to Compass executives and clients, including Google, Nike, Boeing, and Bloomberg. Supporters asked them to "break ties with cruelty."
When the company remained unresponsive, Animal Equality organized a protest outside a powerful client of Compass Group: Bank of America. Protesters called on Bank of America to use its influence and urge Compass to keep its commitment. 
Within just a short week of the protest, Compass Group renewed its policy to eliminate gestation crates for mother pigs in its supply chain.
Soon after, Animal Equality worked with the fourth-largest foodservice provider in the United States – Delaware North – to release a similar policy for pigs.
And in April 2023, Animal Equality helped persuade one of the country's largest consumer packaged goods companies to create a new animal welfare commitment. Known for its brand names – including Swiss Miss, Reddi Wip, and Slim Jim – Conagra plans to remove gestation crates from its supply chain by 2026. 
How you can make a difference for animals
To join the fight against animal cruelty, there are two simple steps you can take today.
First, you can visit Animal Equality's campaign page to contact Denny's leadership directly. With a prewritten email, you'll ask the chain's executives and franchise owners to stop authorizing animal cruelty.
The most effective way to end animal cruelty is by heading to your favorite grocery store or restaurant and picking up some satisfying, plant-based foods.
It's never been easier to replace meat, dairy, and eggs with compassionate alternatives. Whether you're looking to improve your culinary skills or simply browsing the freezer section, you'll find all the tips you need at Love Veg.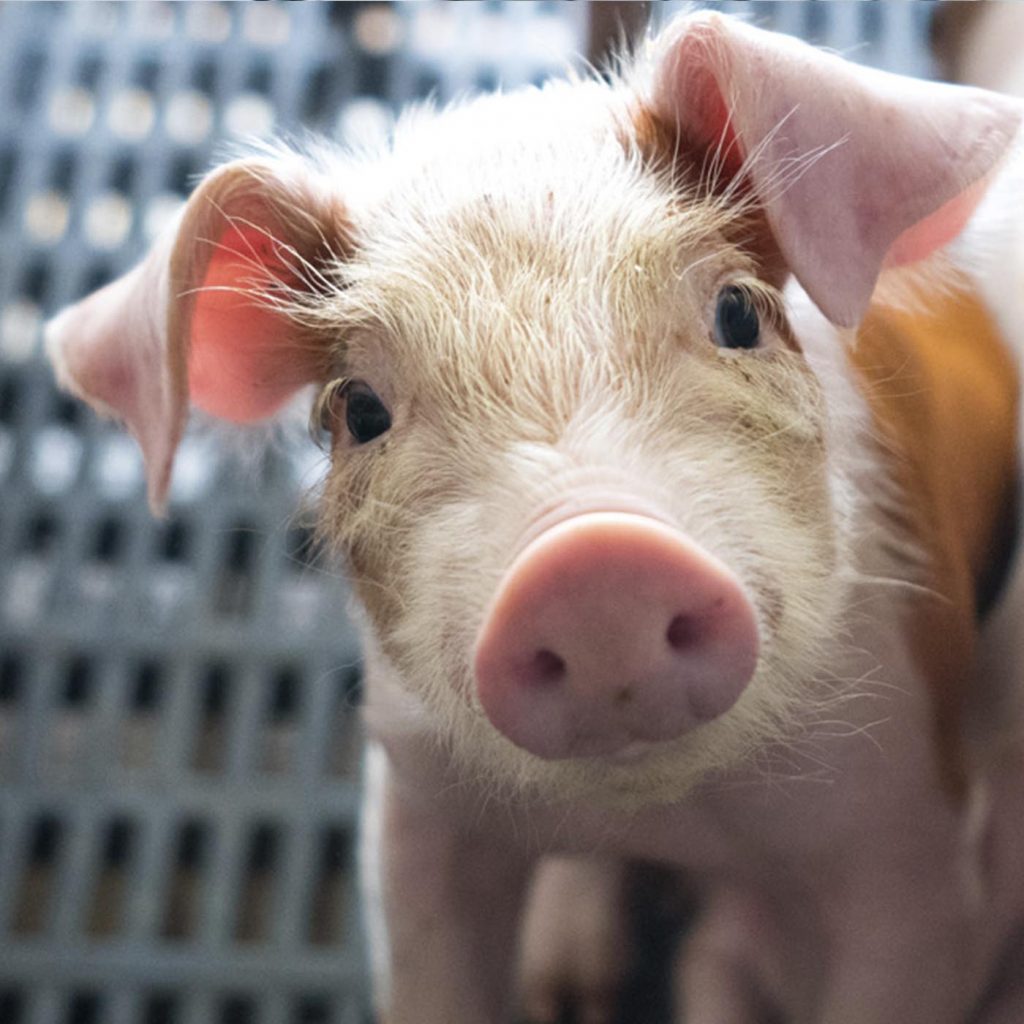 SAVE PIGS FROM ABUSE
Pigs are highly social animals who are often considered smarter than dogs.
You can protect these intelligent animals by simply choosing plant‑based alternatives.
---
Latest News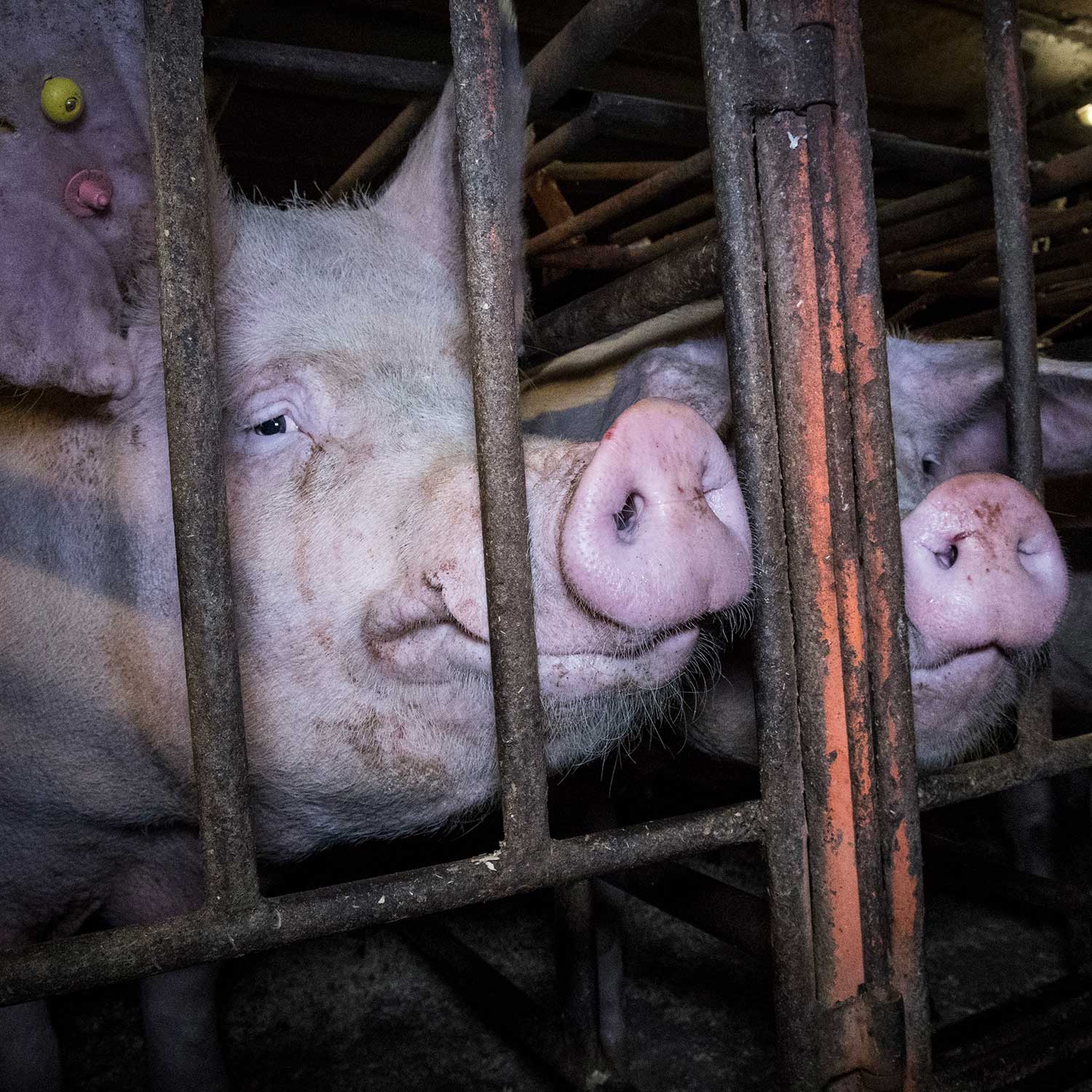 September 20, 2023
---
As the meat industry continues its efforts to undo animal protection laws throughout the United States by attempting to pass the EATS Act, Animal Equality joins the strong opposition to fight back.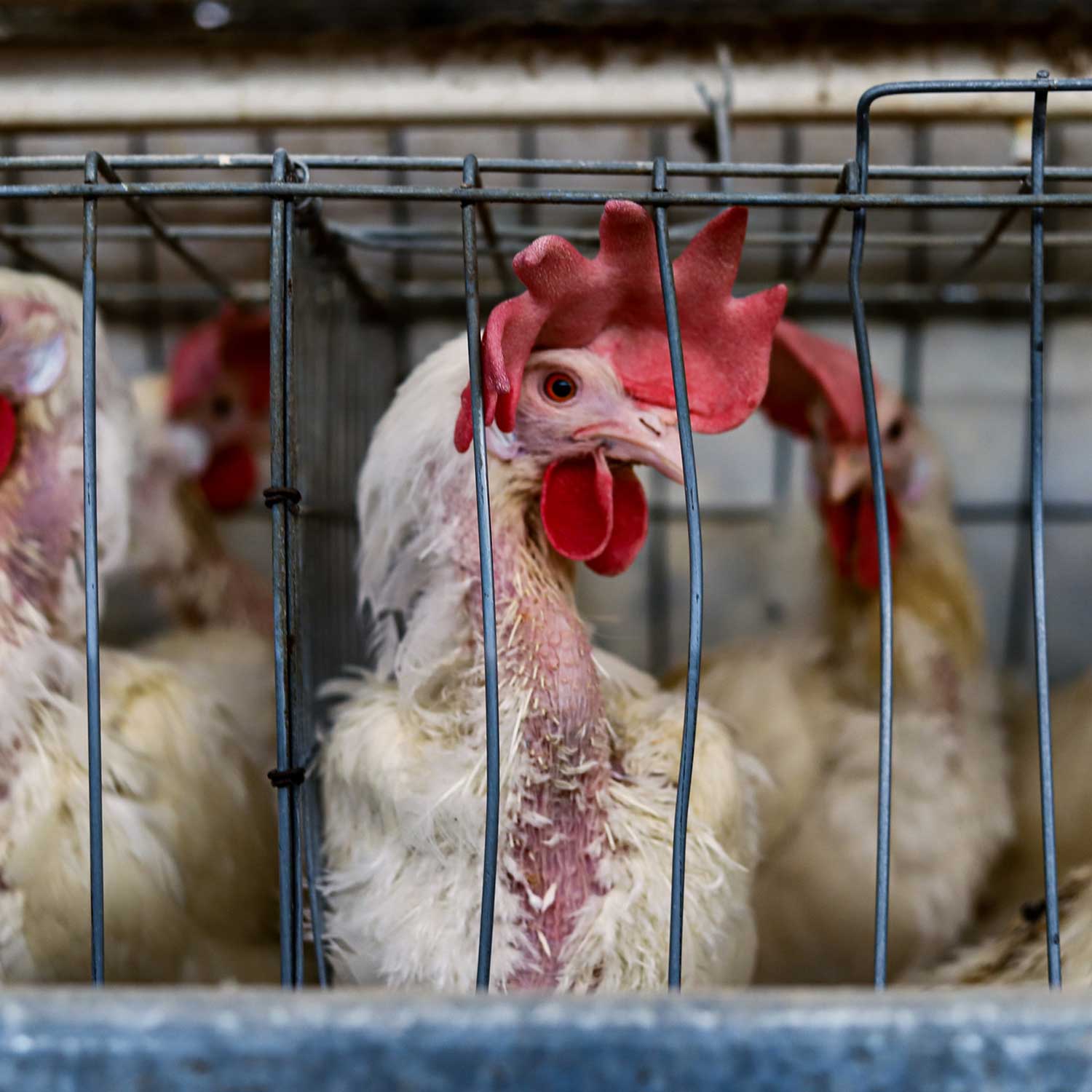 September 20, 2023
---
Two years back, the European Commission unveiled a bold vision: to eliminate the use of cages in animal agriculture. But when European Commission President Ursula Von der Leyen outlined the Commission's plans for 2024 earlier this week, viewers were struck by her silence on farmed animal issues altogether.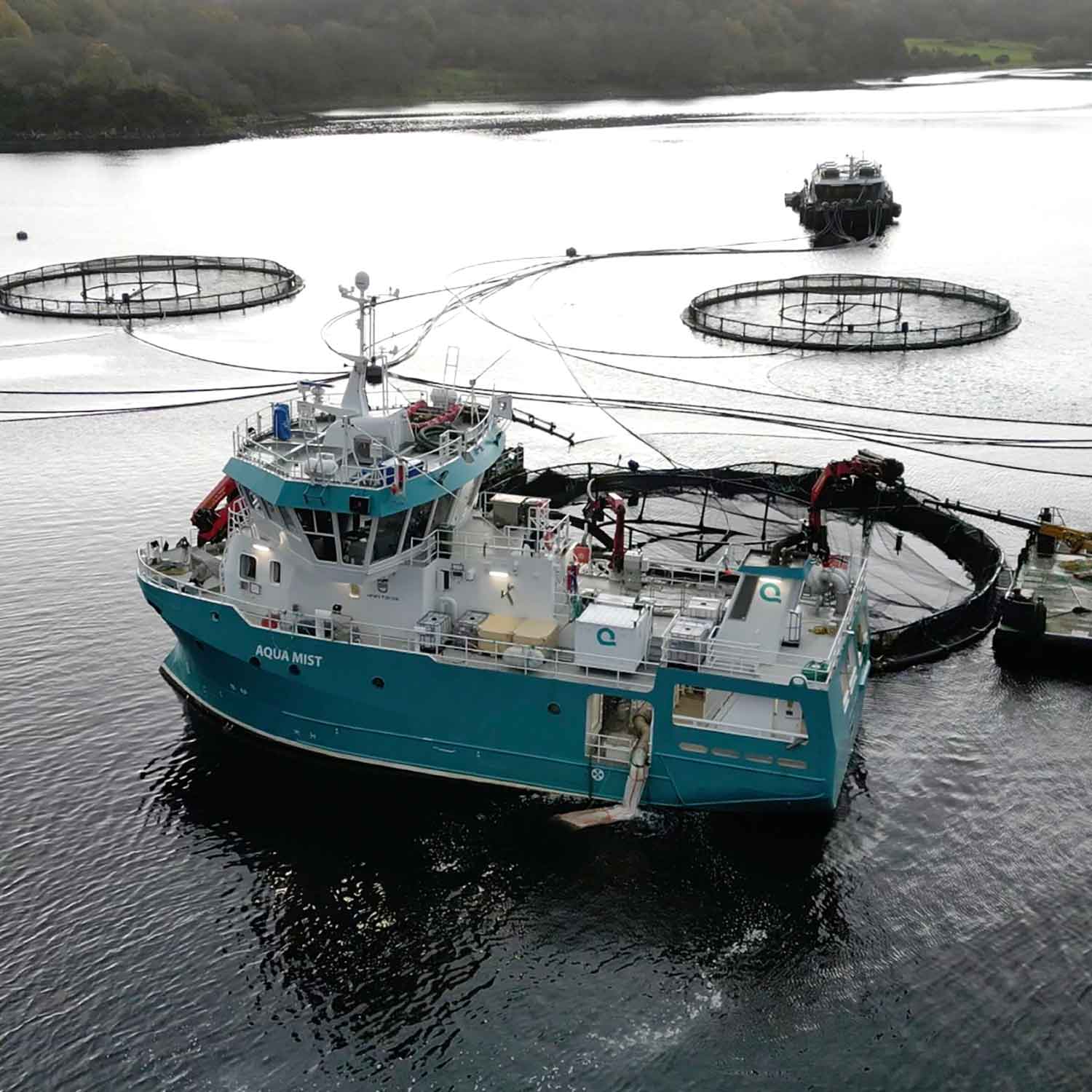 September 18, 2023
---
Last year, the BBC featured footage from an Animal Equality dairy investigation on its Panorama program; now, the world-renowned news network has once again showcased new footage supplied by Animal Equality. This investigation illustrated the suffering of salmon on Scottish fish farms.