News
Get the latest news and updates from Animal Equality
Denny's Issues Shocking Response to Consumer Concerns of Animal Cruelty
It seems thousands of consumers have been issued a response by Denny's following nationwide protests and actions taken to express concern over animal cruelty. Here's how the corporation responded…
November 16, 2023
Updated: November 22, 2023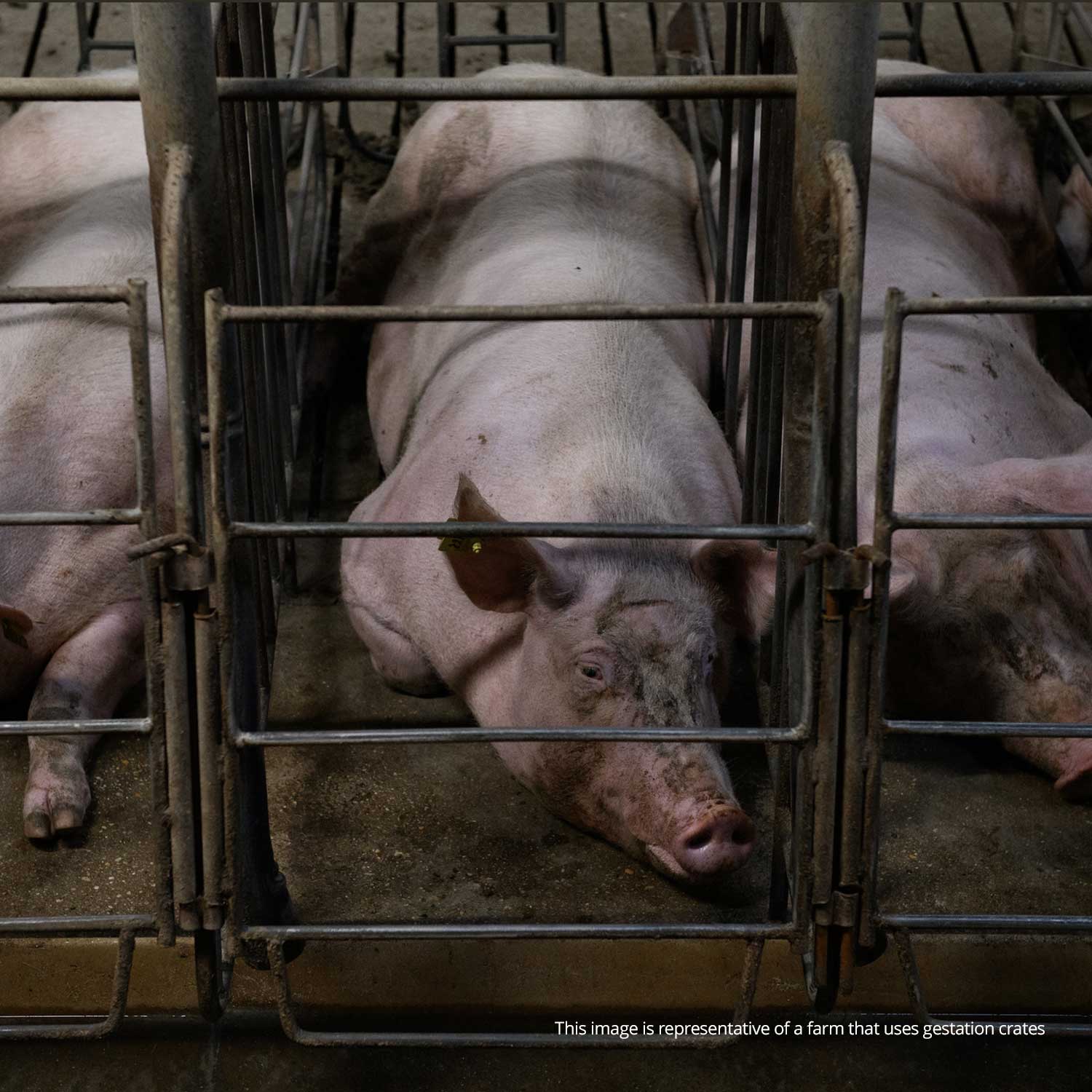 (Header image representative of a farm that uses gestation crates)
Update 11/22/23: Since the release of Denny's 'response,' featuring the son of a Denny's executive flipping off peaceful protestors, outraged consumers are taking action. From hundreds of social media comments calling on Denny's to respond to their concerns of animal abuse seriously, to hours of phone calls to Denny's locations around the country, those who have seen the image are shocked by the inappropriate and dismissive response.
---
In a recent demonstration organized by Animal Equality, the son of a Denny's executive sparked controversy by responding to peaceful protestors with an obscene gesture.
This response comes after thousands of consumers shared with Denny's leadership their concerns that the company abandoned its commitment to ban cages for mother pigs.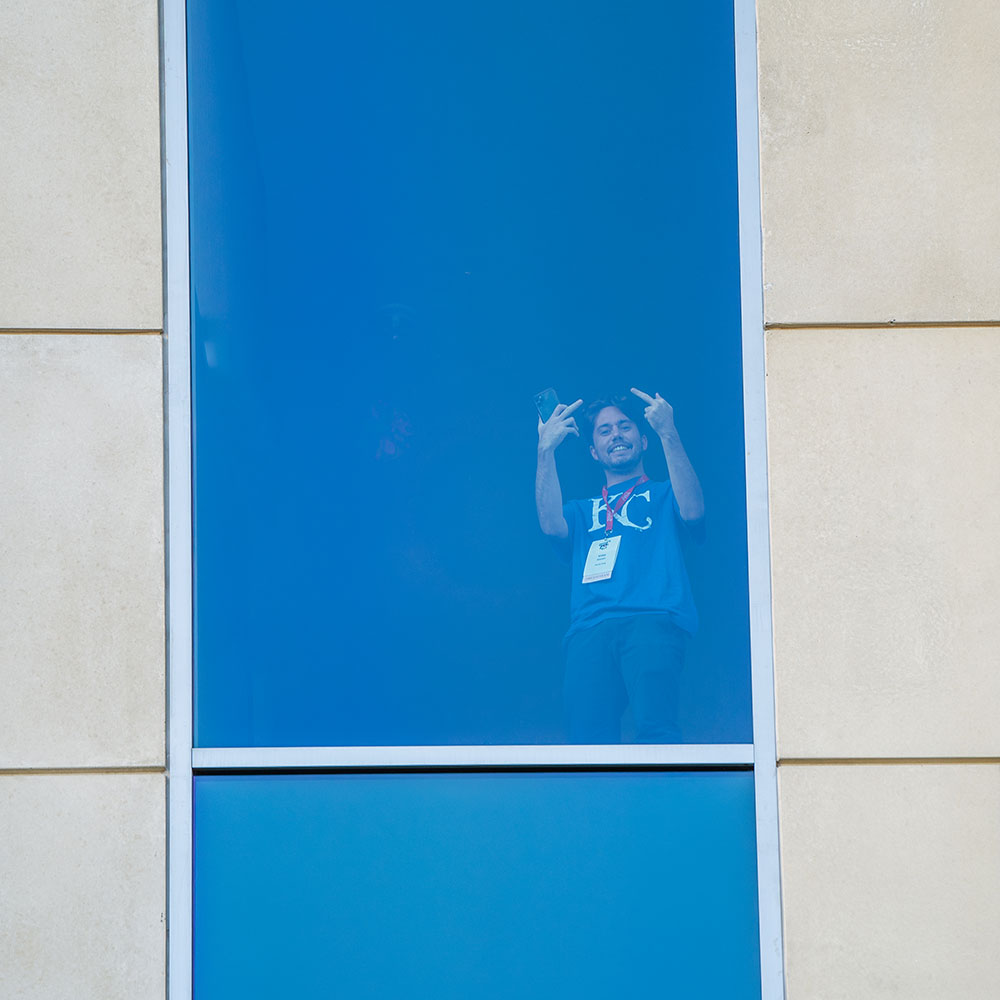 What led to Denny's response?
Gestation crates confine pregnant pigs to 7-by-2-foot spaces, preventing the animals from turning around or taking more than a single step. Cages for pregnant pigs remain highly controversial, with animal welfare experts, scientists and advocates spreading awareness of the negative psychological and physical effects confinement has on animals. In recent years, American citizens have taken a stand against these cages, successfully passing a vote to restrict or ban their use in 11 U.S. states.
Since January, the American diner-style restaurant chain has been facing criticism for failing to end the use of these crates in its supply chain. Denny's initially pledged to ban gestation crates in 2012, citing it as the best decision for the company, guests, and their promise to improve animal welfare. However, as of June this year, the company removed the commitment from its website and replaced it with an updated statement that excludes any meaningful language about fulfilling its public promise.
At the beginning of the year, nationwide protests broke out, with advocates and concerned consumers asking the corporation to follow through on its promise. From a 24-hour protest outside a Denny's in Las Vegas to a billboard in Times Square, advocates across the country demanded an end to gestation crates in Denny's supply chain.
Citizens supplemented the demonstrations with thousands of emails to Denny's leadership and franchise owners, while Animal Equality attempted numerous calls and emails to discuss a path forward toward fulfilling the commitment.
In a recent protest, advocates gathered outside the Loews Kansas City Hotel during a Denny's Franchise Association convention. The group held signs urging the company to "end the extreme confinement of mother pigs."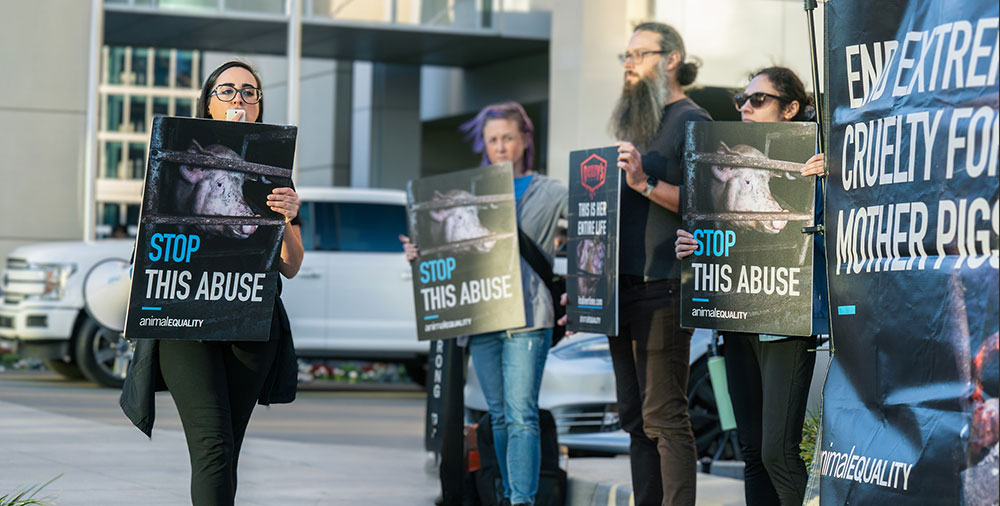 A photographer photographing the event captured the image of the Denny's representative inside the hotel responding with an offensive hand gesture to the protestors.
I am shocked by the lack of empathy Denny's has shown towards animals and its own consumers. Animal protection is a serious matter and should never be met with such disdain or lack of respect. Denny's needs to take action to eliminate gestation crates immediately to prove this is not their position.

Sharon Núñez, President of Animal Equality
How is Animal Equality responding to Denny's?
The photo was sent to Denny's CEO, Kelli Valade, along with a certified letter signed by Animal Equality President Sharon Núñez. In the letter, Núñez states that the photo "shocked" their team. The organization shares that they believe the photographed person to be the son of Barbara Magro, the Executive Director of Denny's Franchisee Association.
In the letter, Animal Equality claims that Denny's has remained unresponsive to "numerous emails and phone calls" since February 2023, which leads them to question if the photo represents "how the company feels about its customers' concerns."
"Animal Equality holds public demonstrations to give a platform to consumers concerned for the well-being of animals in supply chains like Denny's," Núñez concludes. "That is why the unprofessional behavior of this Denny's representative is shocking. It constitutes a thoughtless response to a serious matter that the majority of Americans stand behind."
Animal Equality is currently awaiting a response from Denny's regarding the matter.
How YOU can respond to Denny's:
MOST EFFECTIVE ACTION! Call Denny's and express your disgust with their "double middle finger" response to your concerns for mother pigs.
Click here to email board members to express your concerns about this continued cruelty and Denny's response.
Make a commitment of your own to oppose this cruelty at every meal. By reducing or eliminating meat, dairy and eggs from your meals, you can take a stand for animals every day.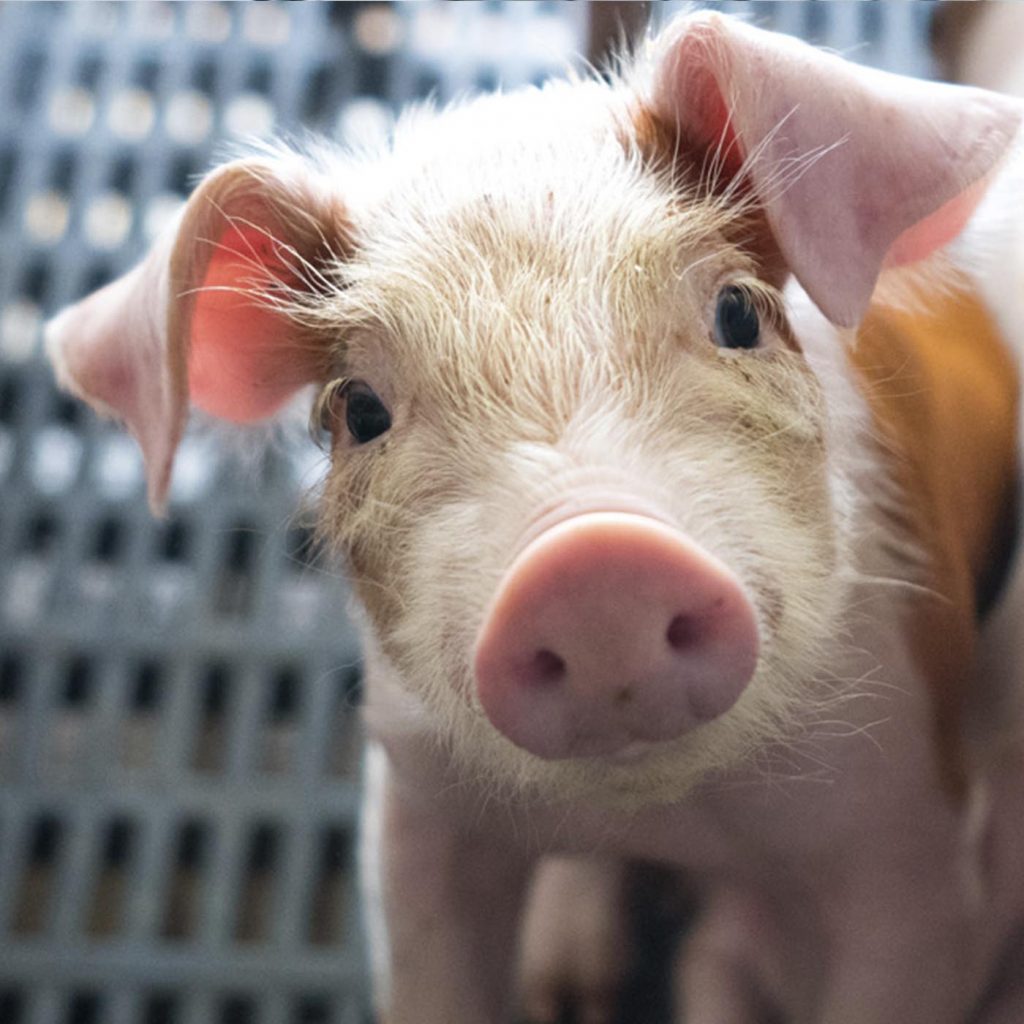 SAVE PIGS FROM ABUSE
Pigs are highly social animals who are often considered smarter than dogs.
You can protect these intelligent animals by simply choosing plant‑based alternatives.
---
Latest News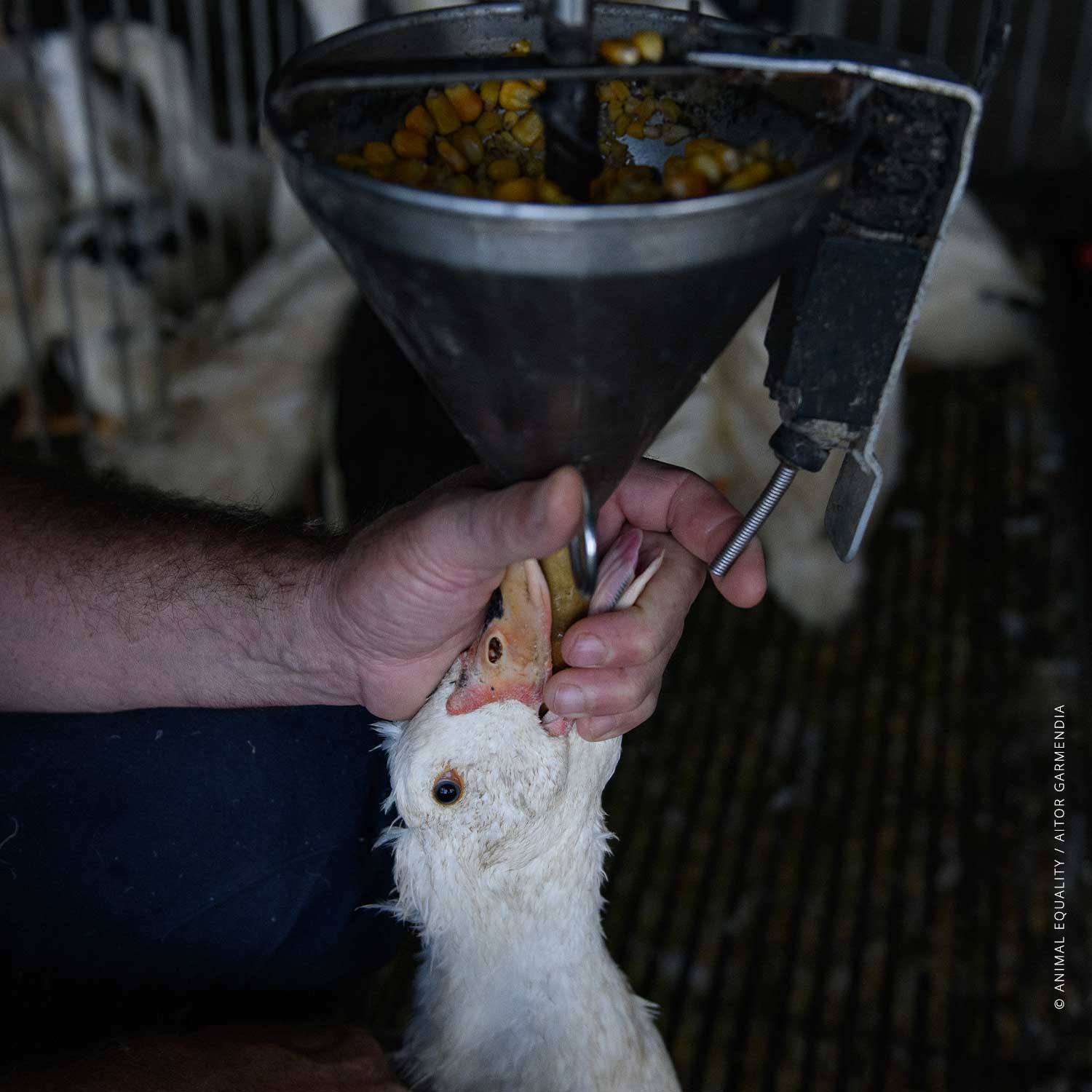 November 30, 2023
---
Foie gras, French for "fatty liver," has long been deemed one of the world's cruelest foods. Never-before-seen images from French duck farms have exposed force-feeding, slaughter, and extreme confinement to produce foie gras.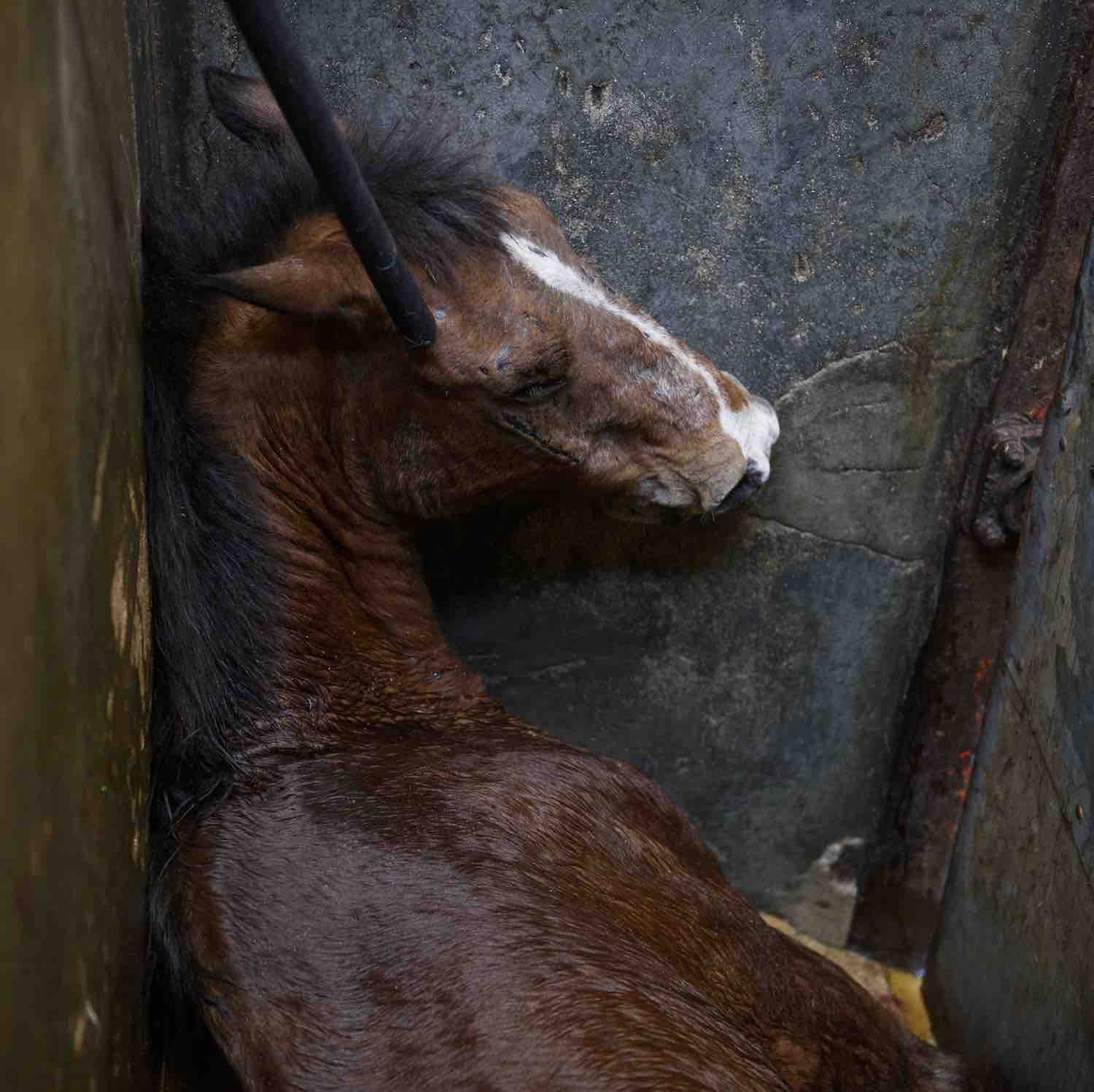 November 20, 2023
---
A recent audit of Europe's South American horse meat suppliers highlights a lack of oversight in the global supply chain. These findings align with Animal Equality's 2022 investigation, which found extreme cruelty to U.S. horses slaughtered in Mexico.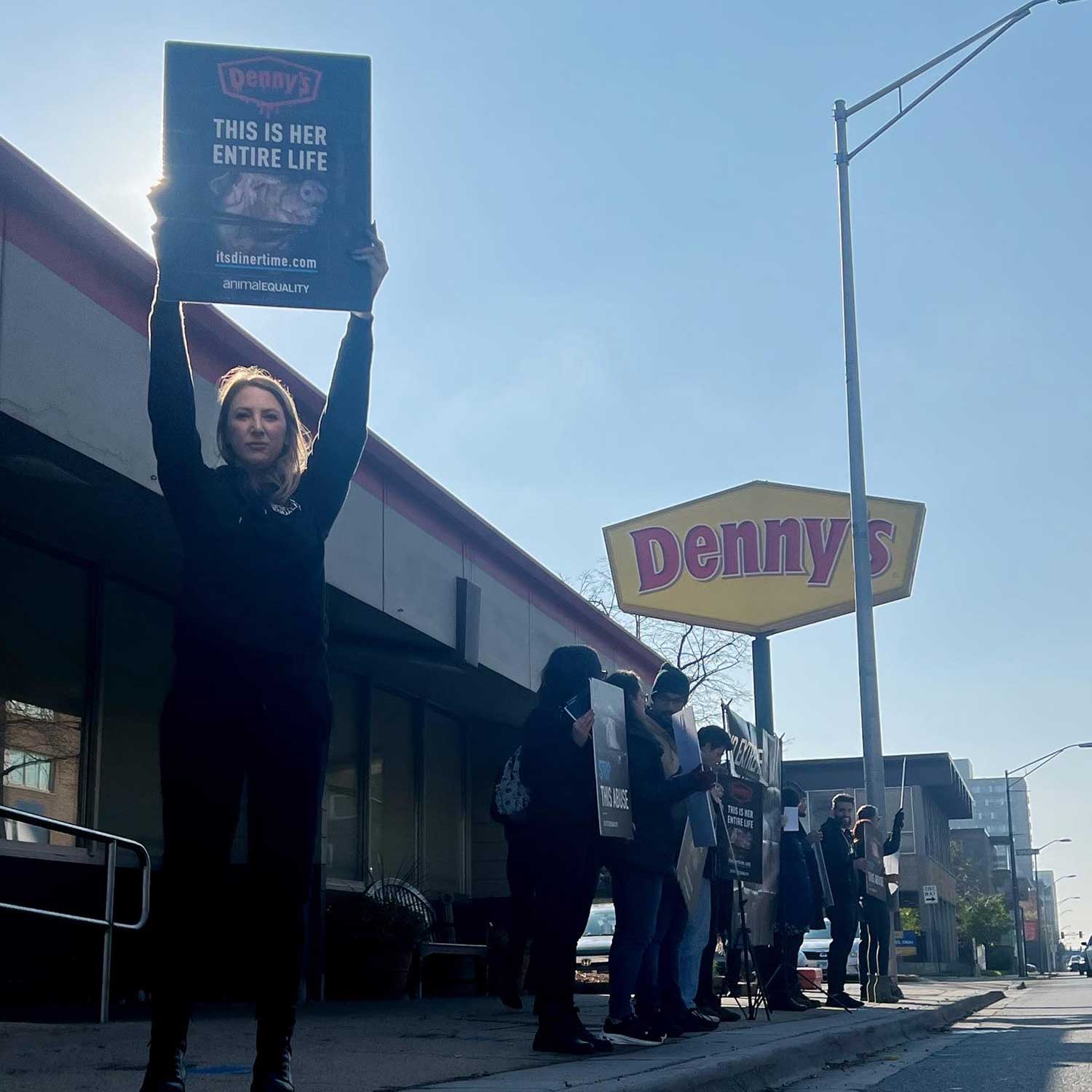 November 17, 2023
---
Last weekend, advocates gathered in Chicago to challenge extreme confinement in Denny's supply chain. The events unfolded over two days, featuring a powerful protest outside a Denny's diner and a booth at a plant-based event.