News
Get the latest news and updates from Animal Equality
Times Square Billboard Exposes Denny's Cruelty Toward Mother Pigs
In the heart of Times Square, Animal Equality's billboard shines above millions of passersby, calling on Denny's to protect mother pigs.
August 11, 2023
Updated: September 18, 2023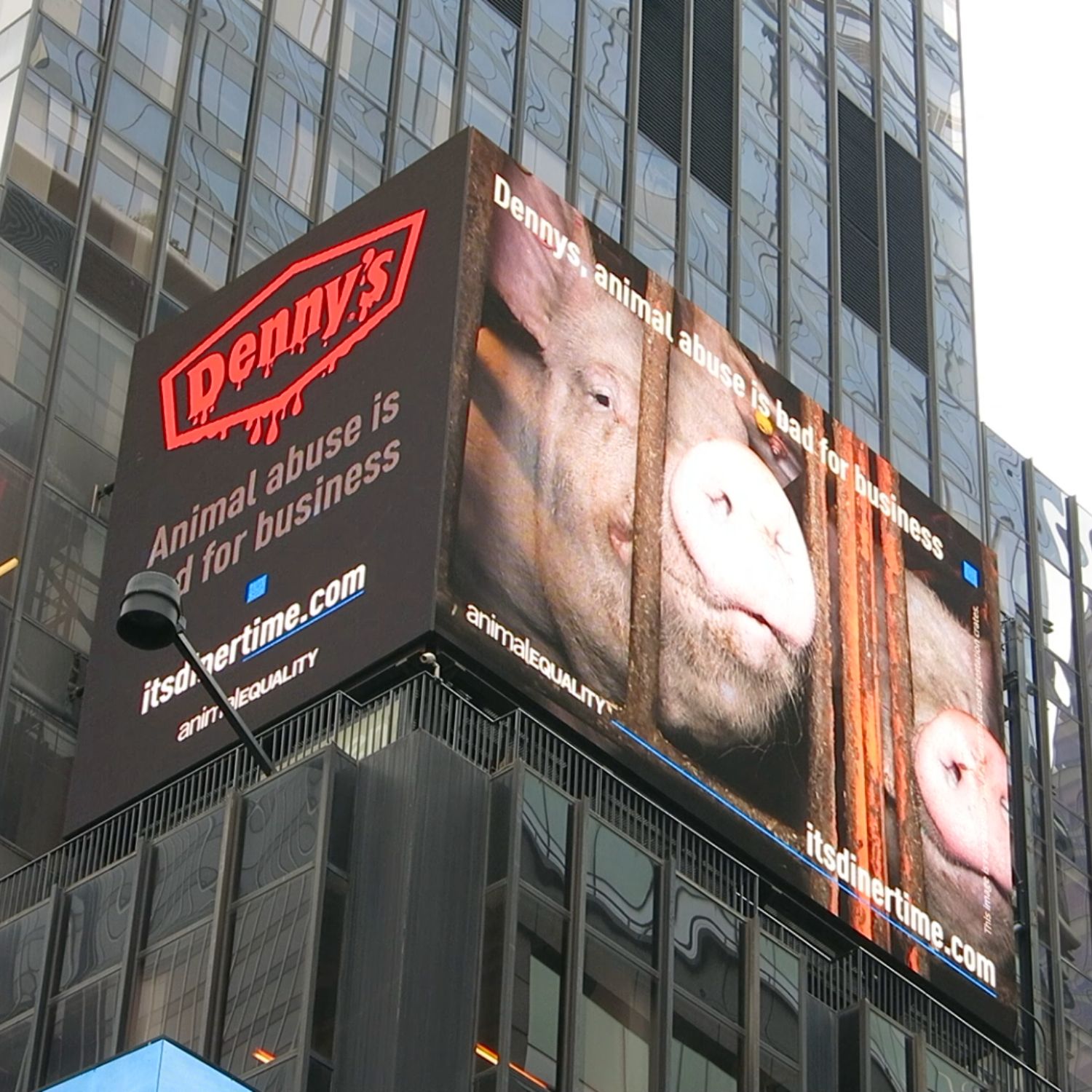 Update (September 6, 2023): As Animal Equality ramped up its campaign against cruelty in Denny's supply chain, Animal Equality's President–Sharon Núñez–and Campaigns Manager–Dane Charbeneau–conducted interviews on the streets of New York City.
While distributing leaflets and showcasing video footage of the extreme confinement of mother pigs, Animal Equality's team captured the reactions of New Yorkers who shared their thoughts on Denny's association with cruelty.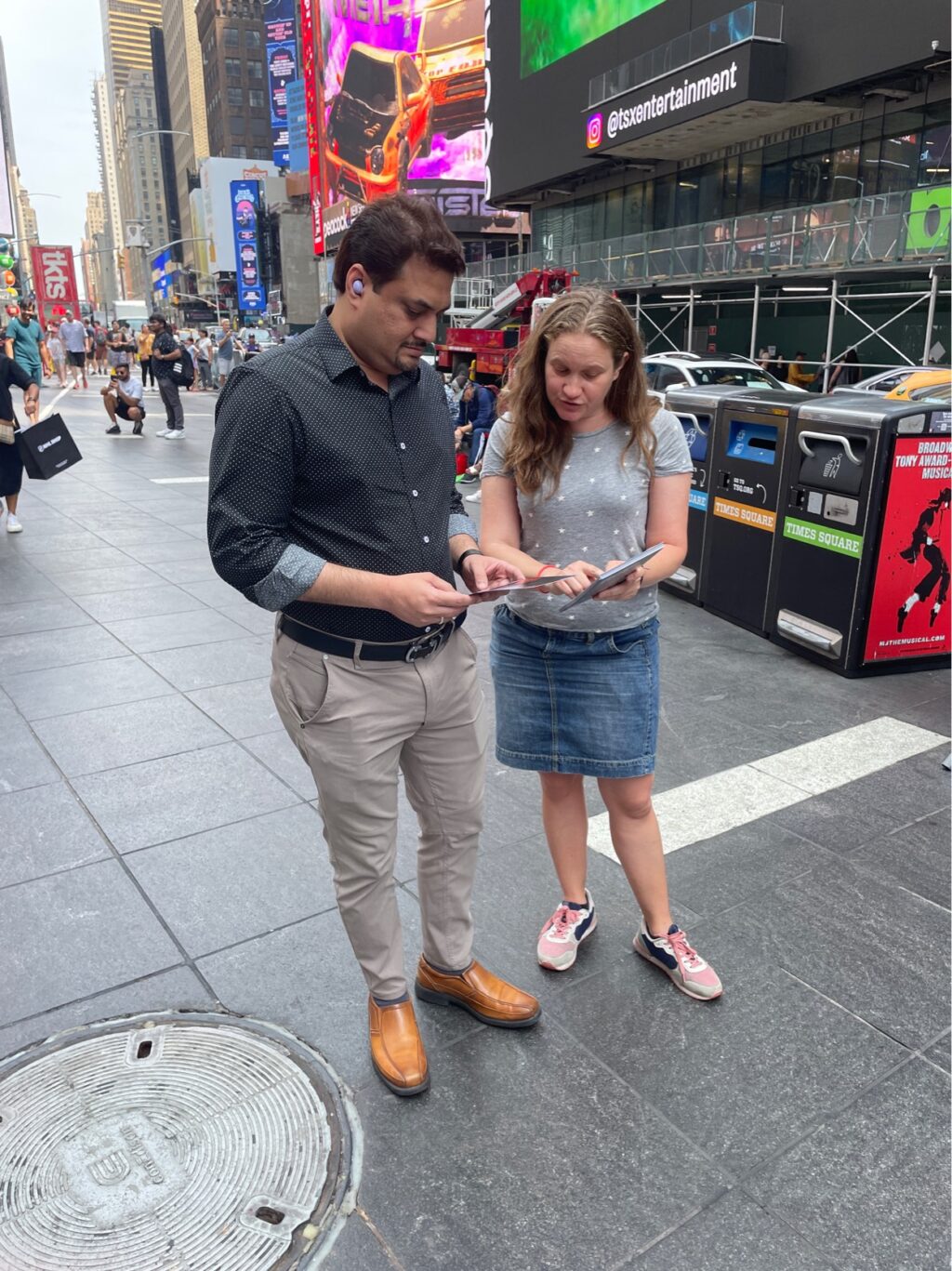 Update (August 16, 2023): Our billboard in Times Square is displaying a new message this week as Denny's President, John Dillon, is being called on to be honest about the restaurant's ties with cruelty.
Thousands of supporters have sent emails to Denny's expressing disappointment and calling for accountability. On social media, people are using their voices to push for the removal of gestation crates, and the campaign video on YouTube has gained over 183,000 views.
Take action today
Social media stands as a powerful tool for exposing injustices. Corporations feel the pressure when brought under public scrutiny, often prompting them to take action. In the case of Denny's, their ability to alleviate extensive animal suffering hinges on your engagement. Your comments on their Facebook, Instagram, and Twitter platforms hold the potential to drive substantial change.
Sample statements to use:
Is it true that Denny's is ok with pregnant pigs being locked in cages for months? That's what this website is saying: itsdinertime.com
Why won't Denny's make a real and full commitment to banning cruel cages for mother pigs? This is unacceptable: itsdinertime.com
Always Open for Cruelty should be Denny's new motto! itsdinertime.com
How can Denny's allow this? This animal abuse must stop! itsdinertime.com
McDonald's, Burger King, Wendy's, and countless other companies have pledged to stop the use of cruel gestation crates in their supply chains. Why is Denny's refusing?
Denny's has the ability to make responsible decisions when it comes to what they purchase. So why is Denny's still allowing pregnant pigs to be locked in small cages?
You can email Denny's CEO, Kelli Valade, or call Denny's locations to express your disappointment regarding the absence of a meaningful policy to eliminate the use of cages for pregnant pigs in their US supply chain:
"I'm concerned about animal cruelty in Denny's supply chain. Companies like McDonald's and Wendy's have pledged to stop using cages for mother pigs, yet I've heard Denny's is not following suit. I can't support this and won't be able to dine at Denny's until better conditions are in place for animals. Could you pass this message along to the owner?"
"I came across itsdinertime.com, revealing Denny's use of cages for pregnant pigs. This is unacceptable and inhumane. Please urge the company to end this practice. Can you ensure that leadership is aware of my concern and the website?"
"Is the pork served here sourced from animals kept in cages? I saw protests against Denny's allowing pregnant pigs to be confined for months. I'm troubled by this. Please inform the owner that this issue is deeply concerning to many customers."
"I watched a distressing video about Denny's allowing cages for pregnant pigs. Does the owner support this extreme animal cruelty? The video suggests Denny's isn't addressing this issue. Please inform the owner and direct them to itsdinertime.com"
---
In the heart of Times Square shines a new message above the crowds of people: "Denny's, animal abuse is bad for business." The billboard is the newest effort by Animal Equality, who launched a campaign earlier this year against the American diner-style restaurant Denny's for abandoning its commitment to protect mother pigs in its supply chain.
This billboard features a video of two pigs confined within a small metal cage, scratching at and peering through the bars. The image represents the life of mother pigs on factory farms, including in Denny's supply chain, who live a life confined to tiny cages. These animals are unable to turn around or walk more than a step forward or backward.
In 2012, Denny's made a public commitment to end this practice, stating its role as a "responsible corporate citizen" to do so. The company reported minimal progress toward this goal over the past decade before fully abandoning it just this year. Animal Equality is demanding Denny's reinstate this commitment and follow through as promised to its customers, stakeholders, and shareholders.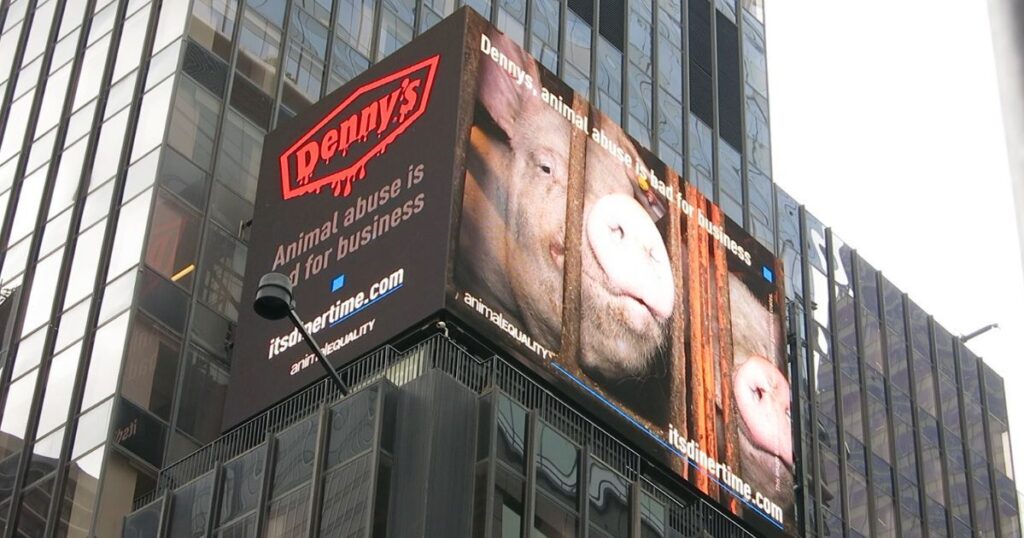 Through this visual representation, a powerful message is conveyed: Denny's can no longer ignore its responsibility to protect animals in its supply chain. The billboard serves as a reminder that its customers are watching and demanding change.
Animal Equality holds nationwide protests against Denny's
In some of the strongest campaign efforts so far, Animal Equality and fellow advocates took to the streets with nationwide protests. From Austin and Las Vegas to Raleigh and Chicago, dozens of supporters showed up with signs and banners to demand better for pigs in Denny's supply chain. The series of protests came to a head on July 30th, as over 30 protesters turned out to a demonstration in Los Angeles.
Throughout the protests, passersby and Denny's customers stopped in curiosity. Many voiced their opposition to the cruelty, while some swore off eating at the restaurant completely. One bystander joined in the Los Angeles efforts after hearing about the campaign.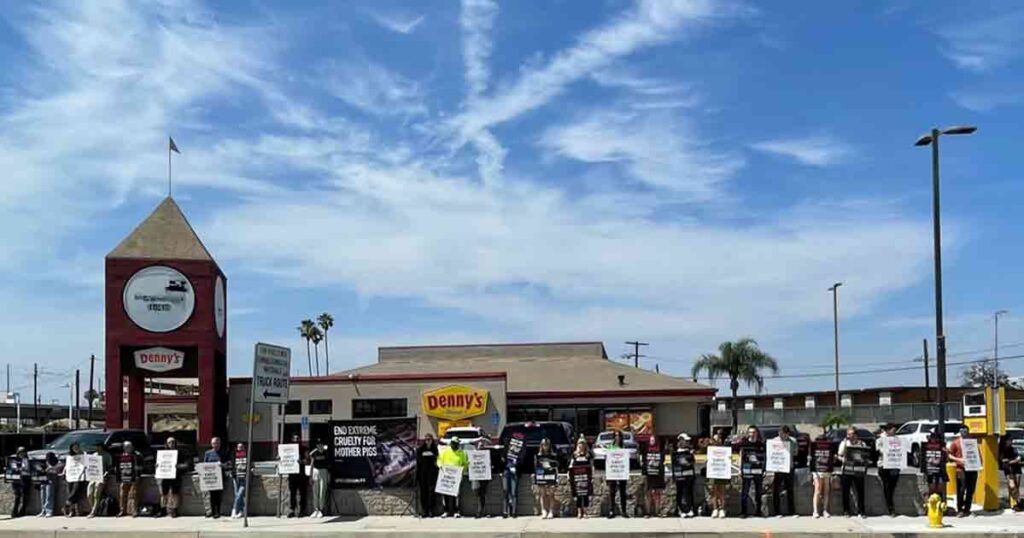 Unwavering efforts against Denny's
As Denny's continues to dismiss the cries for help, their silence and inaction only serve to fuel the determination of those who stand against animal cruelty.
Animal Equality strategically placed an advertisement in a prominent local newspaper. This advertisement directly appealed to the franchise owner of Denny's, Dawn Lafreeda, urging her to utilize her influential position to align with moral principles and "do the right thing."
Thousands of supporters have flooded Denny's executives with emails expressing disappointment and urging accountability. On social media, impassioned individuals are using their voices to press Denny's to eliminate gestation crates, while the campaign video has reached over 180,000 views on YouTube.
Despite these endeavors, Denny's has remained silent. Rather than addressing the concerns raised by the growing number of supporters, the company has taken an unexpected route by announcing its intention to distribute a bacon-focused menu called "Baconalia" for its Rewards Members and guests.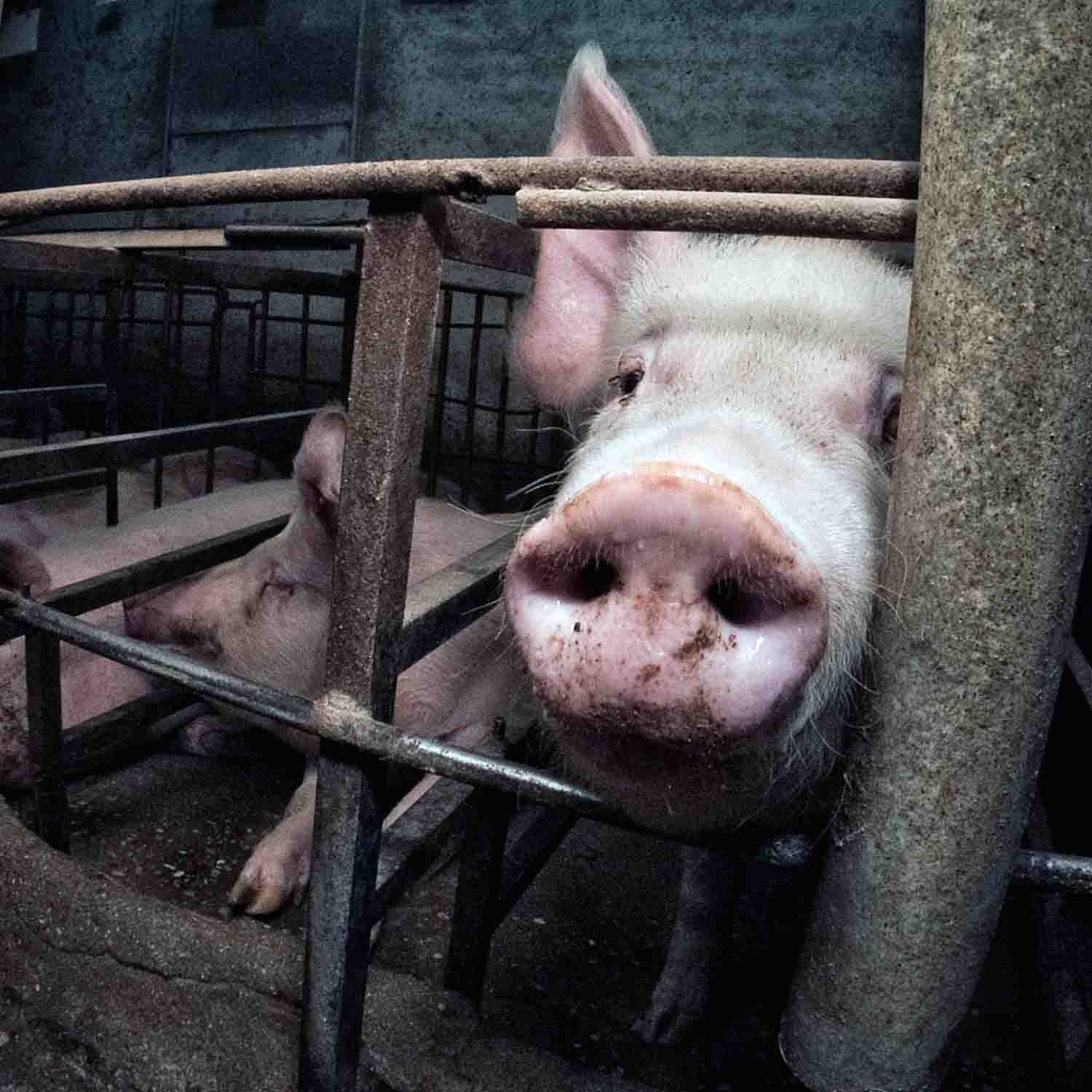 PROTECT ANIMALS EVERY DAY
As a compassionate monthly supporter, you can protect animals from cruelty every day. Your support is key to ending their confinement in cages, mutilations, and other abuses.
Join the campaign to protect pigs from Denny's!
Here are five actions you can take to hold Denny's accountable for their broken promise:
Email Denny's executives: Visit Animal Equality's campaign page to quickly send an email to Denny's top leadership, expressing your concerns about their support of animal abuse.
Comment on social media: Utilize the influence of social media to bring attention to this injustice by leaving comments on Denny's Facebook, Instagram, and Twitter pages.
Call your local Denny's: Reach out to your nearest Denny's location to voice your disappointment and ask them to share your concerns with the owner.
Leave them review with what you think: Tell them what you think about their endorsement of animal cruelty on Yelp, TripAdvisor, or Facebook.
Join Our Love Veg Movement: Create a positive impact by reducing or eliminating meat, dairy, and eggs from your diet, playing a part in breaking this cycle of suffering.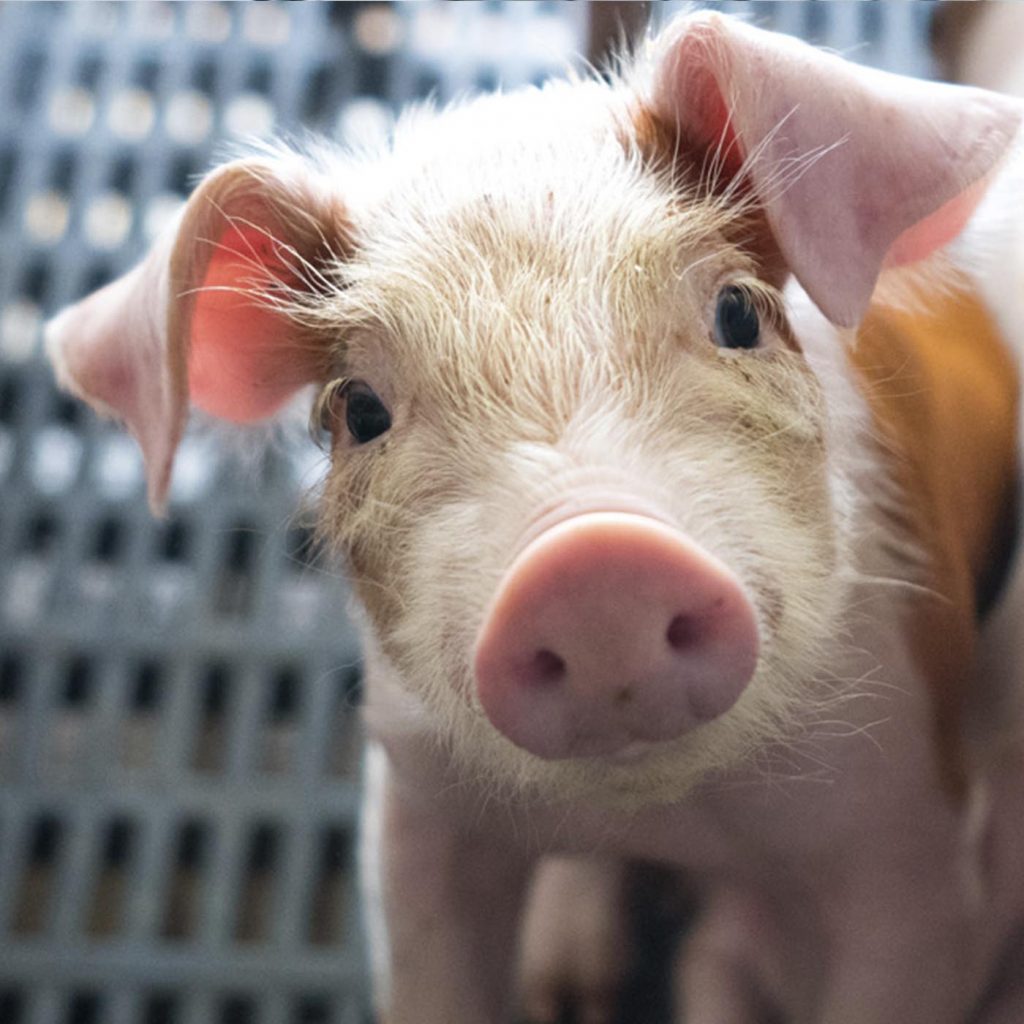 SAVE PIGS FROM ABUSE
Pigs are highly social animals who are often considered smarter than dogs.
You can protect these intelligent animals by simply choosing plant‑based alternatives.
---
Latest News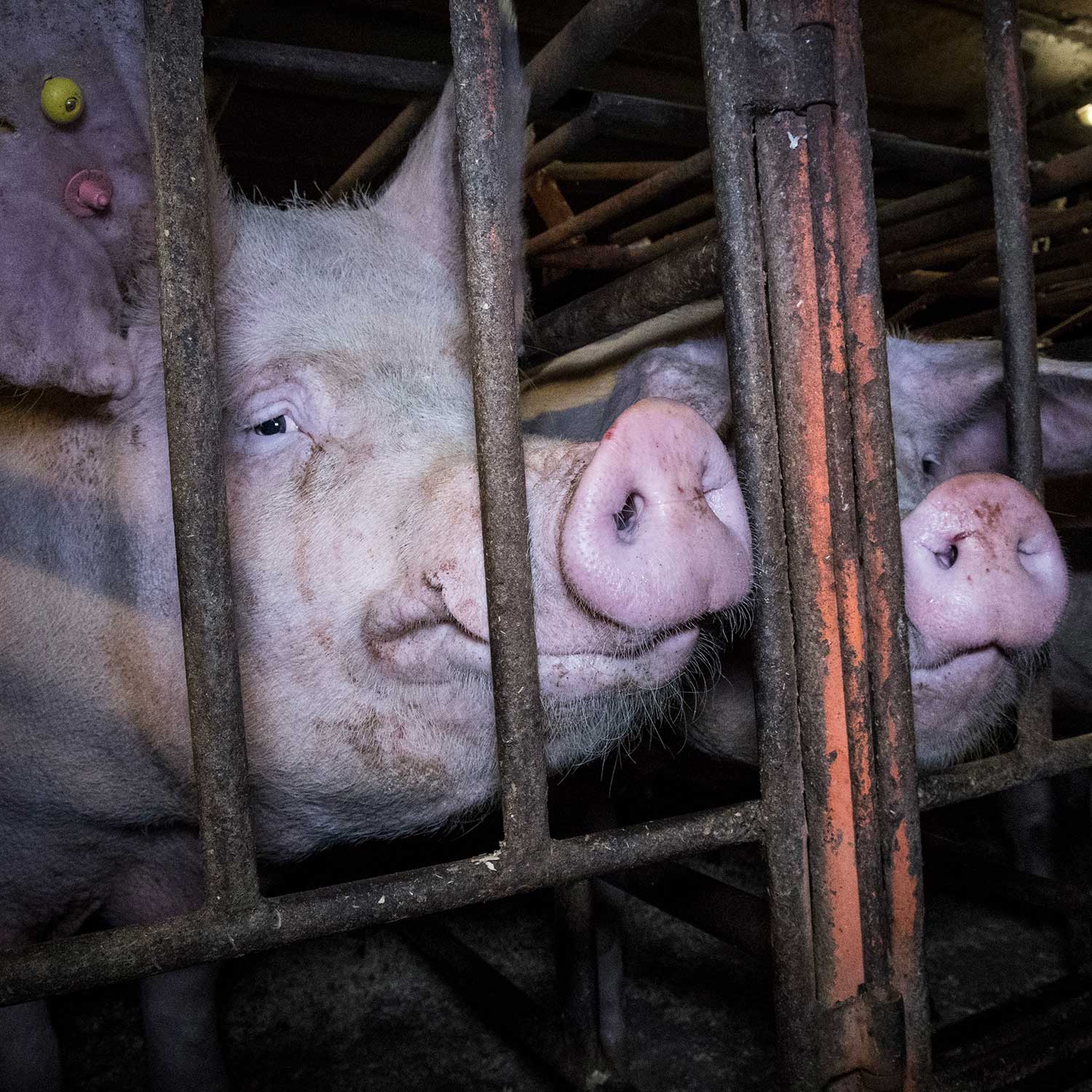 September 20, 2023
---
As the meat industry continues its efforts to undo animal protection laws throughout the United States by attempting to pass the EATS Act, Animal Equality joins the strong opposition to fight back.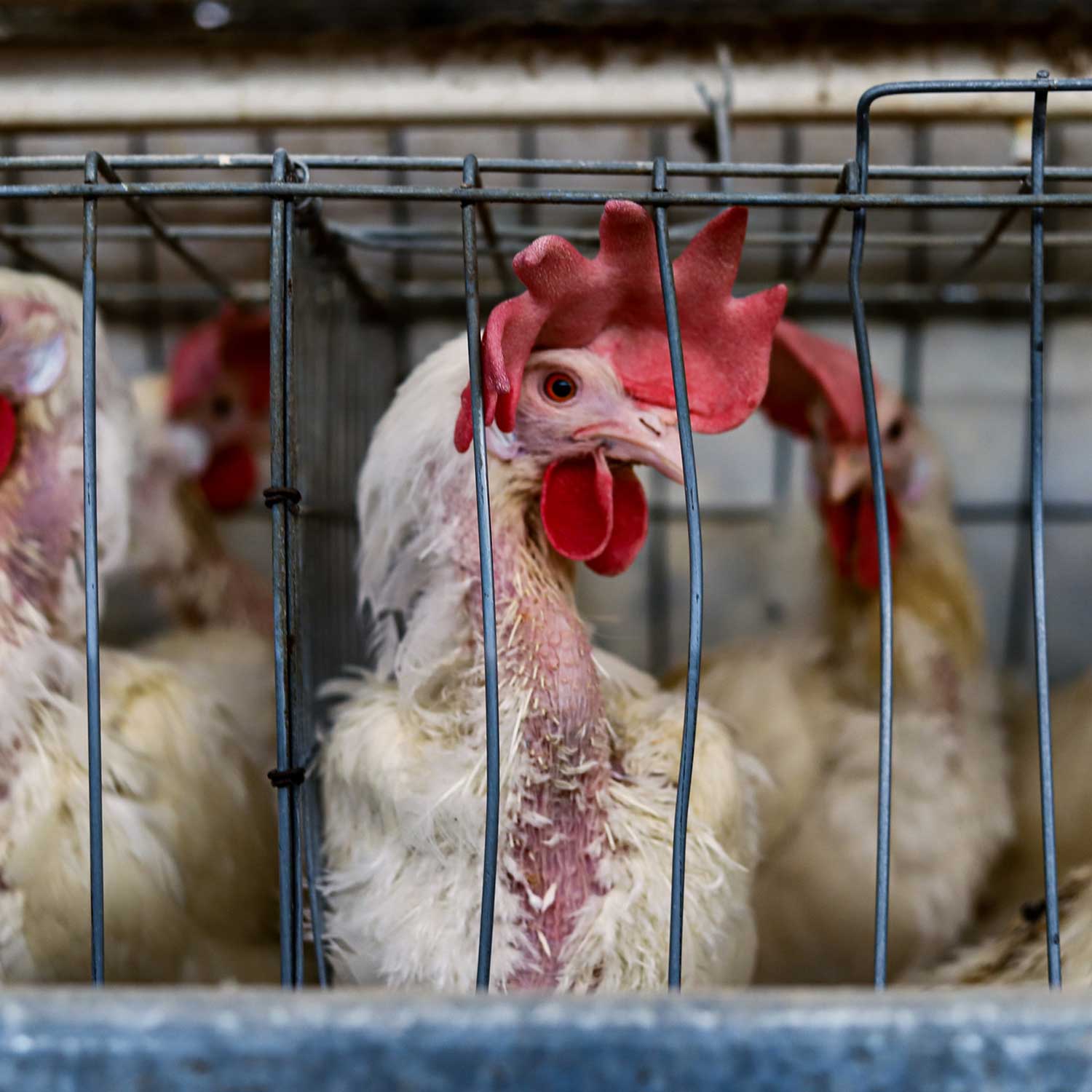 September 20, 2023
---
Two years back, the European Commission unveiled a bold vision: to eliminate the use of cages in animal agriculture. But when European Commission President Ursula Von der Leyen outlined the Commission's plans for 2024 earlier this week, viewers were struck by her silence on farmed animal issues altogether.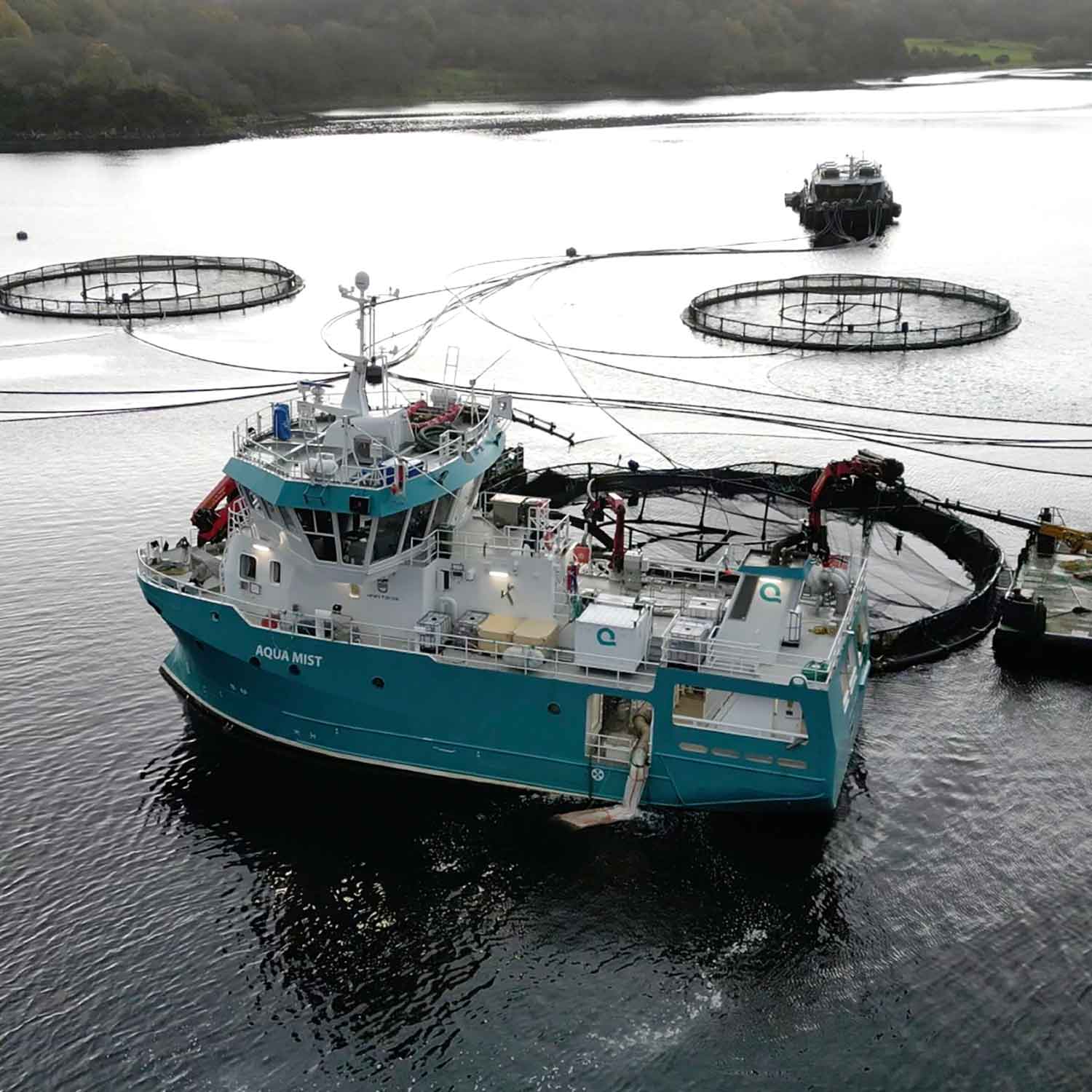 September 18, 2023
---
Last year, the BBC featured footage from an Animal Equality dairy investigation on its Panorama program; now, the world-renowned news network has once again showcased new footage supplied by Animal Equality. This investigation illustrated the suffering of salmon on Scottish fish farms.