I'm Basilico And I'm Alive Thanks To You
January 11, 2016
Basilico wanted to share his lovely story.
Hi, I'm Basilico and I want to tell my story. Maybe, by sharing my story, I can help my brothers and sisters who may not have the same fortune that I had.
The story of my brothers and sisters is usually a very sad one, and mine was destined to be just like theirs, but someone very important to me crossed my path and saved me: you.
Like them, I was separated from my mother at birth. I remember she was desperately following me while the farmer dragged me into the truck that took me to the fattening farm.
She did everything she could to prevent them from separating us, but the farmer was stronger.
During transportation in the truck, we were all very afraid. We were just babies. We were calling our mothers because we we holding on to hope.
On the farm our lives got worse. We were mistreated and beaten. Some were not able to survive.
That's when I made the decision to escape.
One night, when the farmers were not around, I was able to sneak through the bars of the horrible farm. I ran without looking back. I didn't know what was awaiting me, but I was sure that it would be better than staying in that place that made me suffer so much.
The night was cold and I felt my heart pounding strongly from fear of being caught and trapped during my escape to the unknown.
The sun came out and I ended up beside a road. I felt very weak. I was running out of hope.
And then it happened. At first, all I could see were people approaching me. I thought maybe it was the farmers coming after me. I was terrified. But they were not farmers. They were friends. My saviors: Animal Equality investigators.
They took me in their arms and covered me with blankets.  They spoke to me with affection and caressed me. One of them began to mourn with joy as he caressed and hugged me.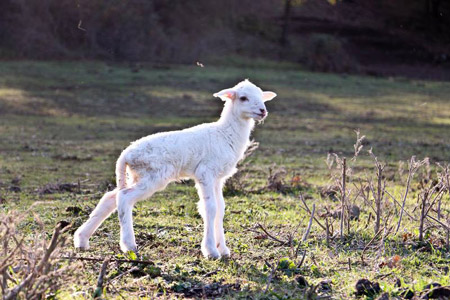 I knew that I was saved. Thank you who are reading this and who support Animal Equality. Thanks to you, I am now living in a wonderful animal sanctuary in Italy, where they care for me and I am loved.
Thanks to you, who share posts, donate, and leave supportive comments. You give Animal Equality investigators the opportunity to continue telling stories of those just like me. With these stories, I hope that more people will be on our side, and my brothers and sister will no longer suffer.
I know that I have been very lucky. Most animals do not have this much luck, but I have great hope that things will change someday.
With you by my side, hope will never fade away.
---