News
Get the latest news and updates from Animal Equality
Animal Equality India Demands Prosecution of Buffalo Abusers
Animal Equality's investigators witnessed and filmed the loading of buffalos onto a truck outside a dairy farm near Kolkata, India, in which the workers incurred severe violations of India's anti-cruelty laws.
July 22, 2022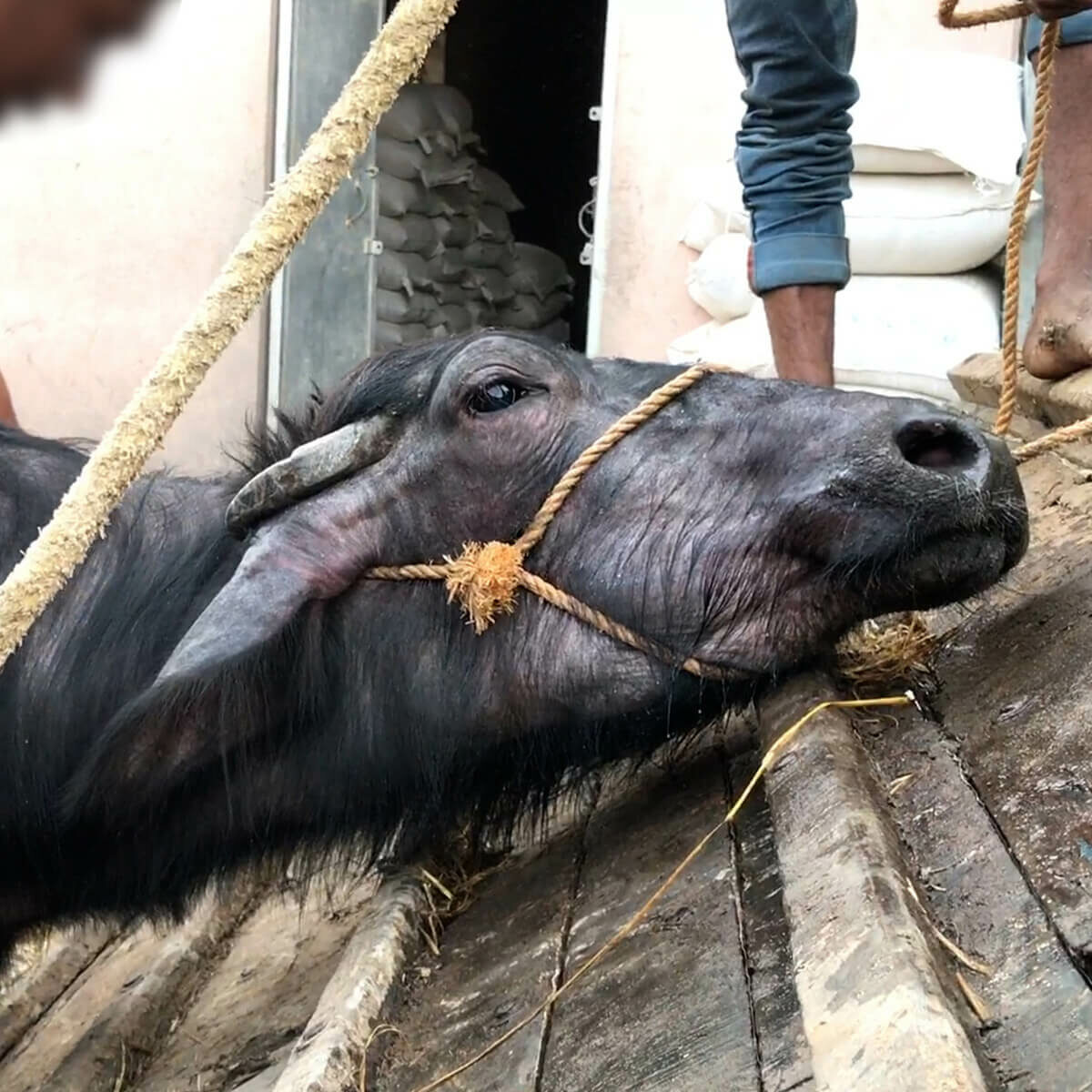 India is the world's top producer of milk, with over 350 million buffalos and cows. It is also the biggest producer of cow and buffalo meat. Animal Equality's investigative team in India has documented the treatment of buffalos across the country, including their transportation from dairy farms to slaughterhouses.
As part of this research, Animal Equality's investigators witnessed and filmed the loading of buffalos onto a truck outside a dairy farm near Kolkata, India, in which the workers incurred severe violations of India's anti-cruelty laws.
As the video shows, one of the buffalos was too weak and unable to climb the steep ramp onto the truck. In order to force her to do so, at least three workers committed the following crimes:
Violently and repeatedly introduced a stick into her genitals, causing bleeding wounds and extreme pain;
Beat her with a stick and twisted her tail over several minutes;
And, poured water over her mouth and nostrils to make her feel like she was drowning.
The events Animal Equality investigators captured of the female buffalo in India shows how abused animals used for dairy are. The dairy industry tries to hide this suffering, but these images are evidence of criminal treatment and we demand law enforcement to take serious action against the abuse of animals used for food.

-Sean Thomas, Int. Director of Investigations for Animal Equality
Time and time again our investigations show abuse and neglect of these animals by the dairy industry – mothers separated from babies, animals repeatedly beaten or mistreated, mother cows slaughtered while still pregnant. It's time to end this abuse by eliminating dairy from our diets. That is the best solution for animals used for dairy around the world.

-Sharon Núñez, President for Animal Equality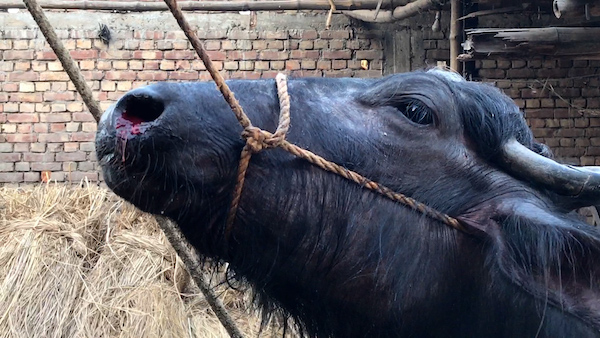 Legal Complaint Filed Against Abusers
Animal Equality in India has submitted the evidence of this abuse to the Animal Welfare Board of India, Animal Husbandry & Veterinary Services, and the Calcutta Society for the Prevention of Cruelty to Animals. In turn, the Animal Welfare Board of India filed a complaint with the Commissioner of Police and forwarded the evidence to the Deputy Commissioner and the Director of State Animal Husbandry. Animal Equality is urging the local authorities to prosecute the individuals involved in the documented actions.
In 2018, Animal Equality in India investigated 107 dairy farms, 11 live animal markets, and 8 slaughterhouses in Punjab, Haryana, Uttar Pradesh, Gujarat, Maharastra, Secunderabad, Hyderabad, Karnataka, Tamil Nadu, and Kerala. Among its findings, Animal Equality documented a similar type of cruel treatment of animals during the loading of trucks, also shoving sticks into the genitals of the animals, repeated beatings, and workers rubbing chilies in the eyes of the buffalos.
It may seem that cows and buffalos in India are protected, but they are subjected to this cruel treatment every day. These practices are a blatant violation of the Prevention of Cruelty to Animals Act, 1960, the Transport Rules, 1978, the Slaughterhouse Rules 2001, and various orders from High Courts and Supreme Court of India.

-Amruta Ubale, Senior Director of Public Affairs for Animal Equality in India
Animal Equality has conducted similar investigations in the United Kingdom, Mexico, Germany, Italy, Spain, and the United States, resulting in some cases in the successful prosecution of those involved.
In 2018, an Animal Equality U.S. undercover investigator documented while working at Summit Calf Ranch in Nebraska —a supplier of Baby Bel and The Laughing Cow— sick and injured calves left to die, the painful burning of calves' horns, and animals suffering in sub-zero temperatures. Animal Equality presented these findings to criminal law experts, who sent a letter to local authorities urging them to investigate and file criminal charges.
How You Can Take Action:
Her story is the story of millions of animals across the globe that suffer for dairy. By sharing this investigation and, thus, her story, you can help bring her abusers to justice. You can also help animals abused in the dairy industry by making the switch to delicious plant-based alternatives such as soy, oat, almond, and other plant-based milk, which are becoming more readily available. Get inspired by plant-based recipes on LoveVeg.com!