News
Get the latest news and updates from Animal Equality
Animal Equality Signs Letter of Opposition In Response to Dangerous EATS Act
As the meat industry continues its efforts to undo animal protection laws throughout the United States by attempting to pass the EATS Act, Animal Equality joins the strong opposition to fight back.
September 19, 2023
Updated: September 20, 2023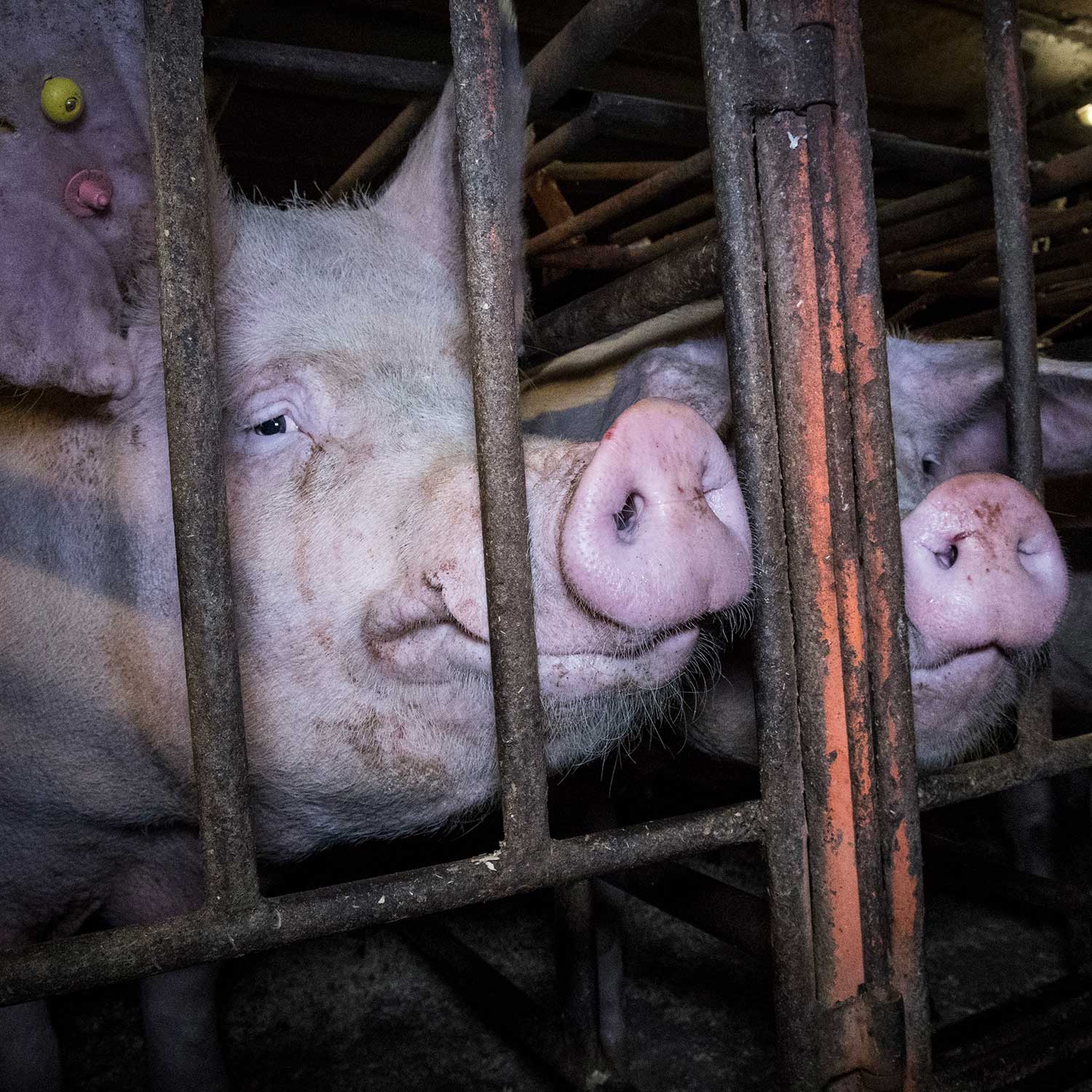 The meat industry is making a last-ditch effort to fight against California's recently-upheld Proposition 12 and animal protection laws like it. The proposed EATS Act could undo decades of animal protection progress if passed. Fortunately, a strong coalition of organizations is fighting back.
This past week, a diverse group of 158 organizations, including Animal Equality, signed a letter opposing the EATS Act and any related legislation. The letter was submitted to the House and Senate Agriculture Committee and various other House and Senate offices.
Opponents of the EATS Act include animal and environmental protection, public health, labor and veterinary professional organizations. Over 200 members of Congress, 1,200 U.S. farms, and industry leaders–including two of America's largest pork producers–have joined the opposition.
The Dangers of the EATS Act
The EATS Act, short for "Ending Agricultural Trade Suppression," was introduced by Senator Roger Marshall (R-KS) and Representative Ashley Hinson (R-IA). The proposed legislation could erase a wide range of state and local animal protection laws.
Legislation like California's Proposition 12 ("Prop 12"), which establishes minimum space requirements for mother pigs, veal calves, and egg-laying hens, are at risk. Prop 12 was recently challenged by the meat industry before the Supreme Court of the United States. Ultimately, the Court upheld Prop 12, which is now being called "one of the strongest animal protection laws" in the U.S.
The EATS Act was introduced as a further attempt to strike down Prop 12 and laws like it. The meat industry claims these laws will greatly increase costs for consumers. However, studies by the California Department of Food & Agriculture estimate the cost to consumers is only between $8 and $10 per year.
Of course, the industry is fighting to strike down animal protection laws to protect its own profits. This narrow focus is likely clouding the judgment of EATS Act supporters, who fail to see the widespread harm of the proposed legislation.
Since the EATS Act would broadly limit a state's ability to enforce its own standards for agricultural products sold within its borders, the legislation doesn't just threaten millions of farmed animals. It also puts laws regulating food safety, child labor, and puppy mills at risk.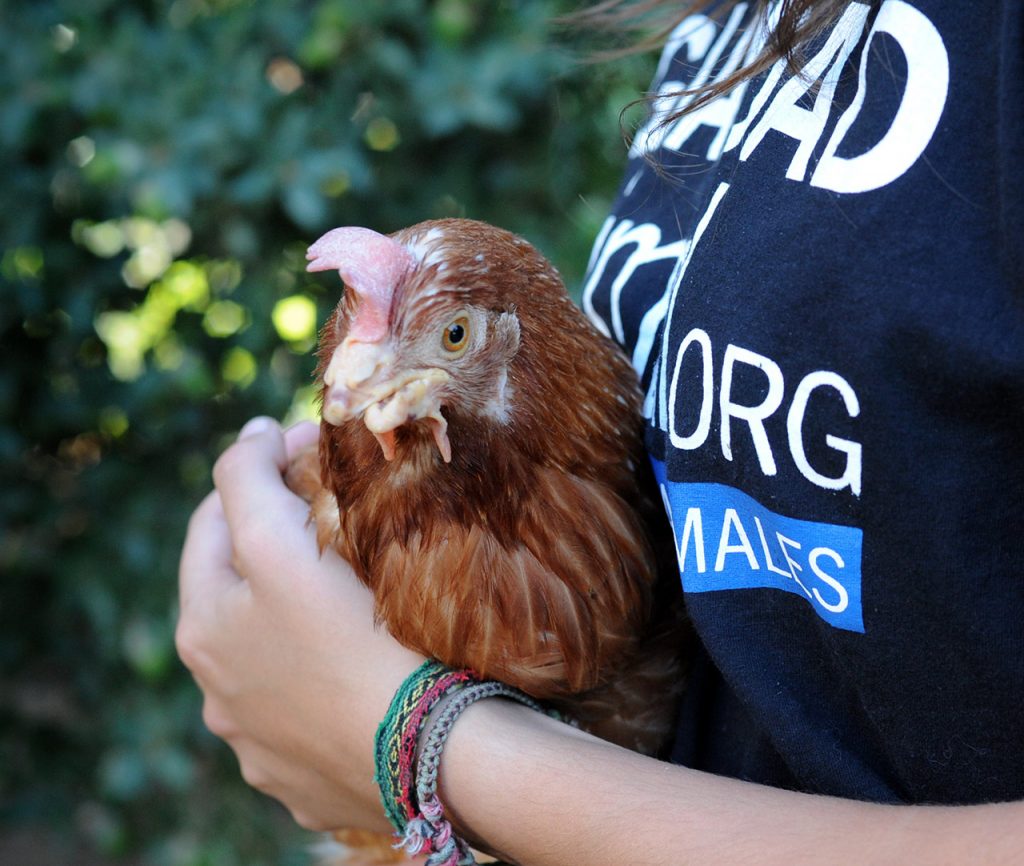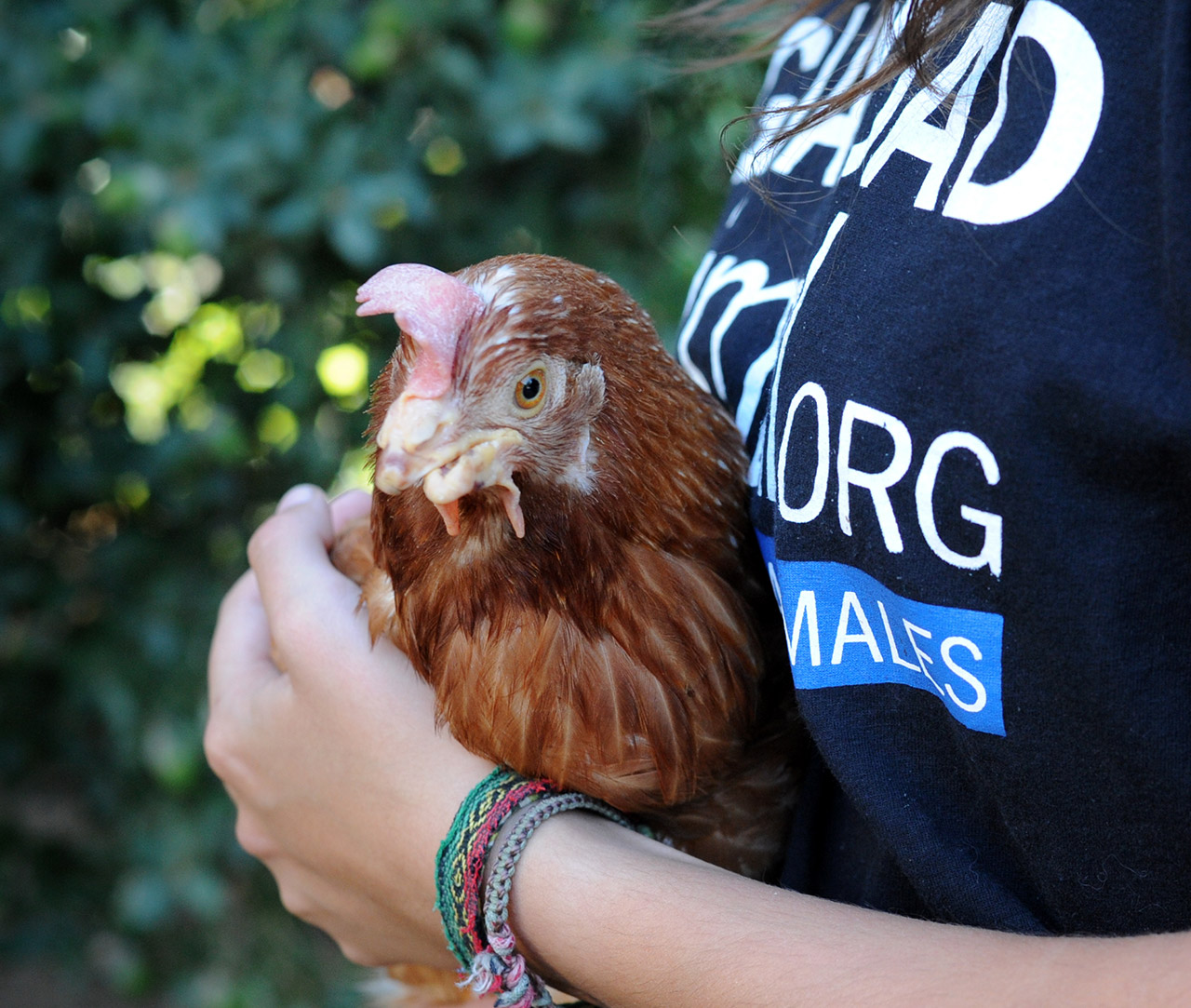 LIVE KINDLY
With rich emotional lives and unbreakable family bonds, farmed animals deserve to be protected.
You can build a kinder world by replacing animal food products with plant‑based ones.
Fighting Back Against the EATS Act
On Wednesday, September 13, various House and Senate offices–including the House and Senate Agriculture Committee–received a letter signed by dozens of organizations, including Animal Equality. The letter stated the coalition's "strong opposition" to the EATS Act and outlined the widespread harm that would be caused if the bill passes. The letter ends with a plea to House and Senate members to "reject the EATS Act."
Animal Equality, alongside this strong coalition, is dedicated to fighting against this harmful legislation and protecting farmed animals with your support! You can join our fight by urging your local lawmakers to oppose the EATS Act by using this simple form.
You can also make a powerful decision that will protect animals every day by becoming a monthly supporter of Animal Equality. These dedicated advocates allow us to take important action against harmful legislation like the EATS Act. They also give us consistent support to create and enforce some of the strongest animal laws that protect the most forgotten animals in our food system.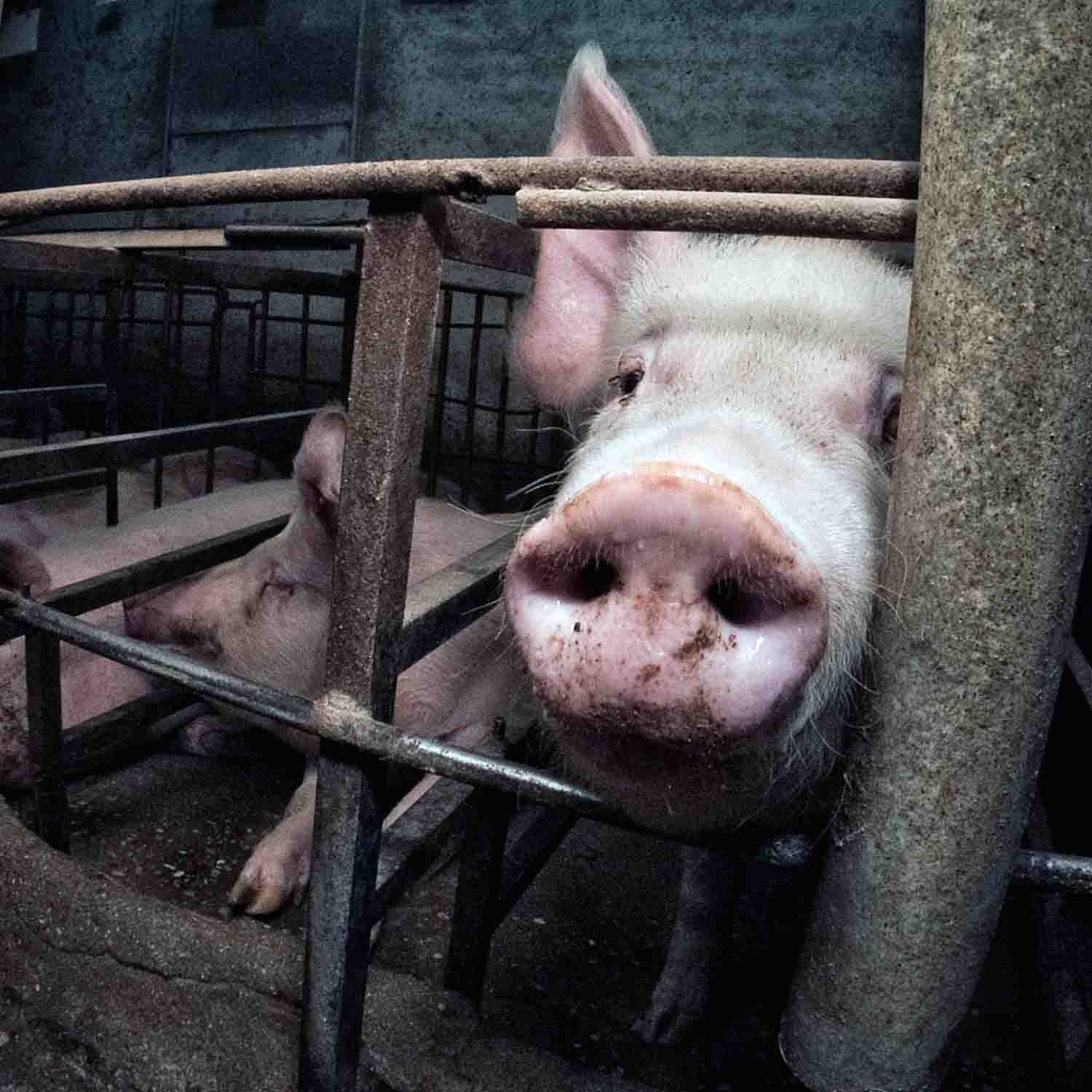 PROTECT ANIMALS EVERY DAY
As a compassionate monthly supporter, you can protect animals from cruelty every day. Your support is key to ending their confinement in cages, mutilations, and other abuses.
---
Latest News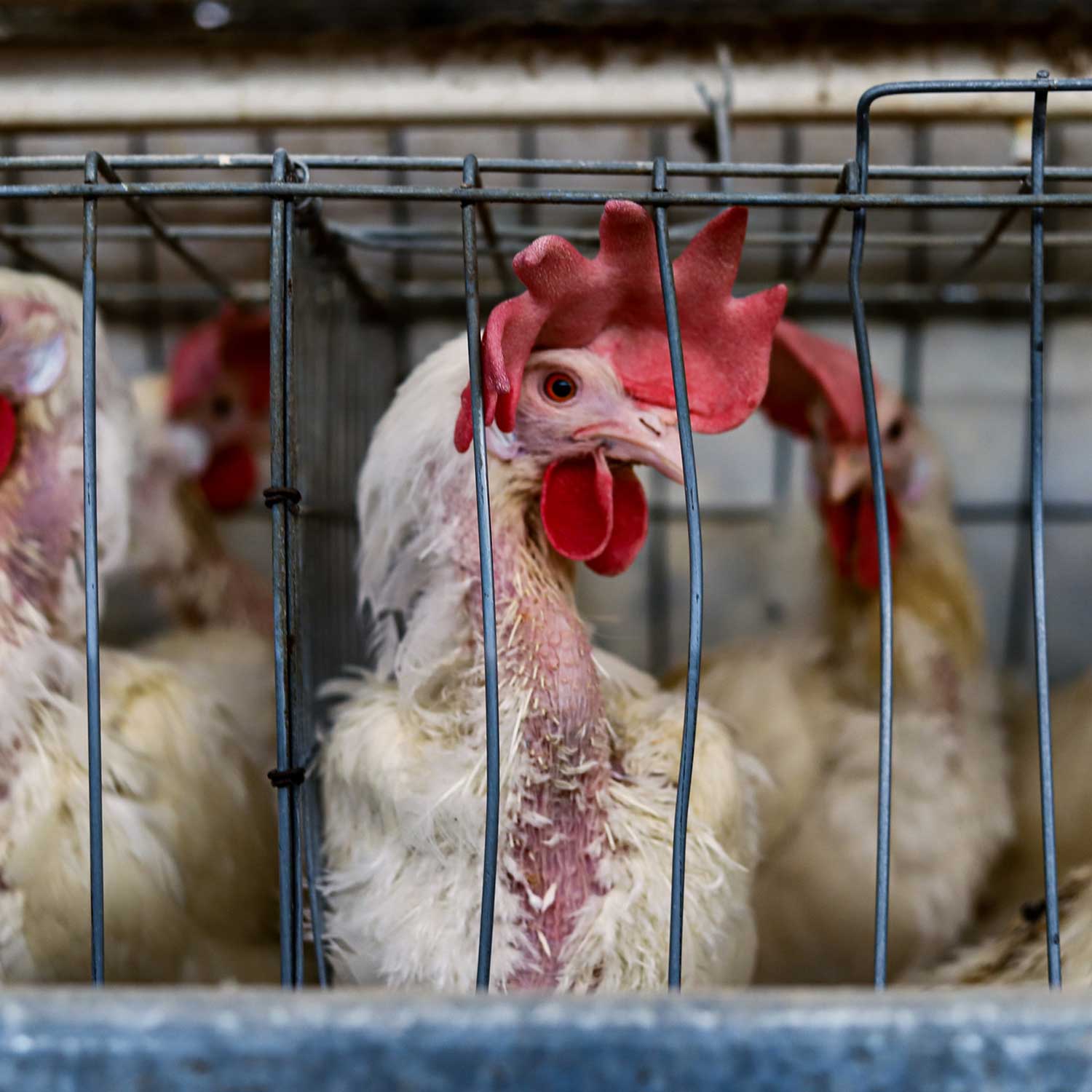 September 20, 2023
---
Two years back, the European Commission unveiled a bold vision: to eliminate the use of cages in animal agriculture. But when European Commission President Ursula Von der Leyen outlined the Commission's plans for 2024 earlier this week, viewers were struck by her silence on farmed animal issues altogether.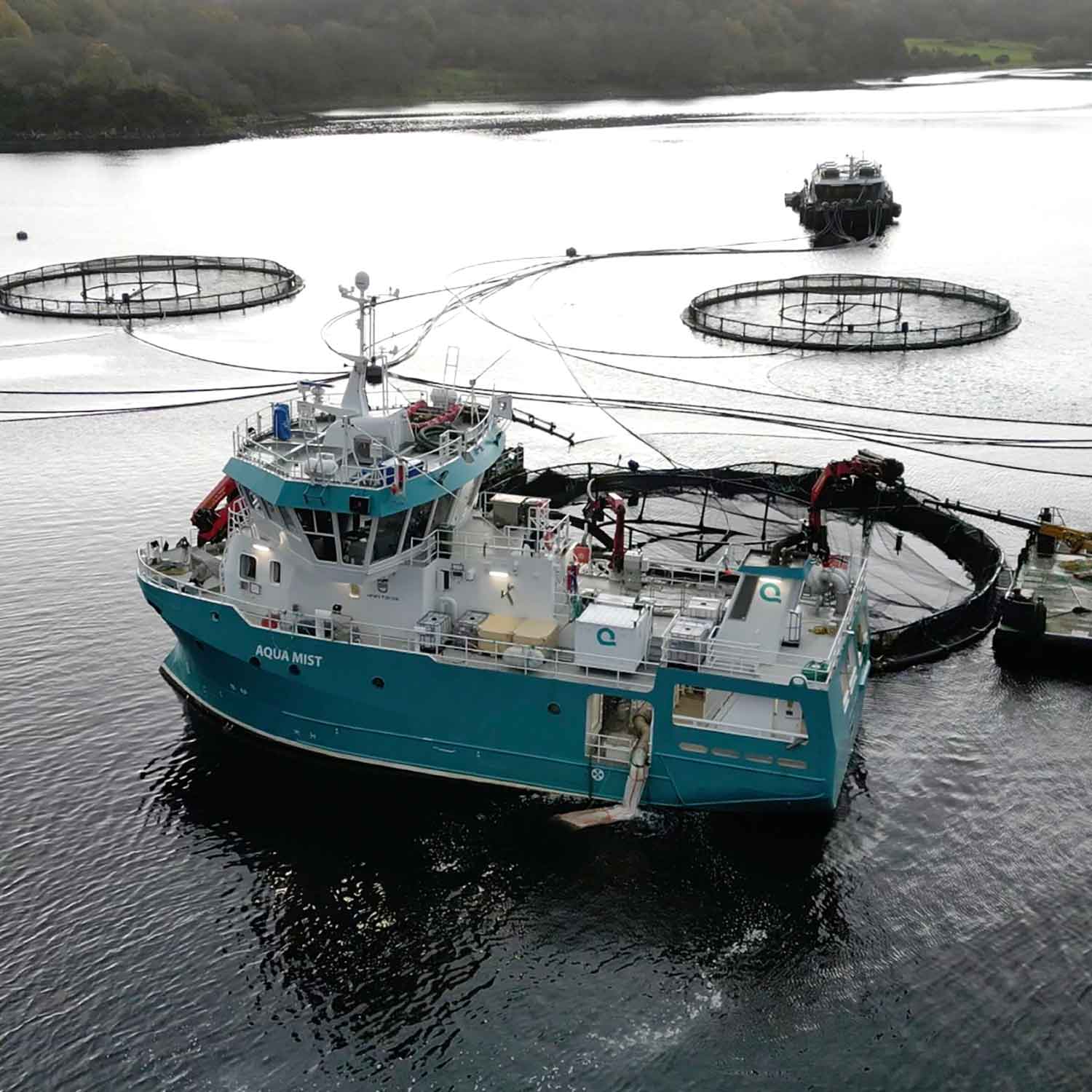 September 18, 2023
---
Last year, the BBC featured footage from an Animal Equality dairy investigation on its Panorama program; now, the world-renowned news network has once again showcased new footage supplied by Animal Equality. This investigation illustrated the suffering of salmon on Scottish fish farms.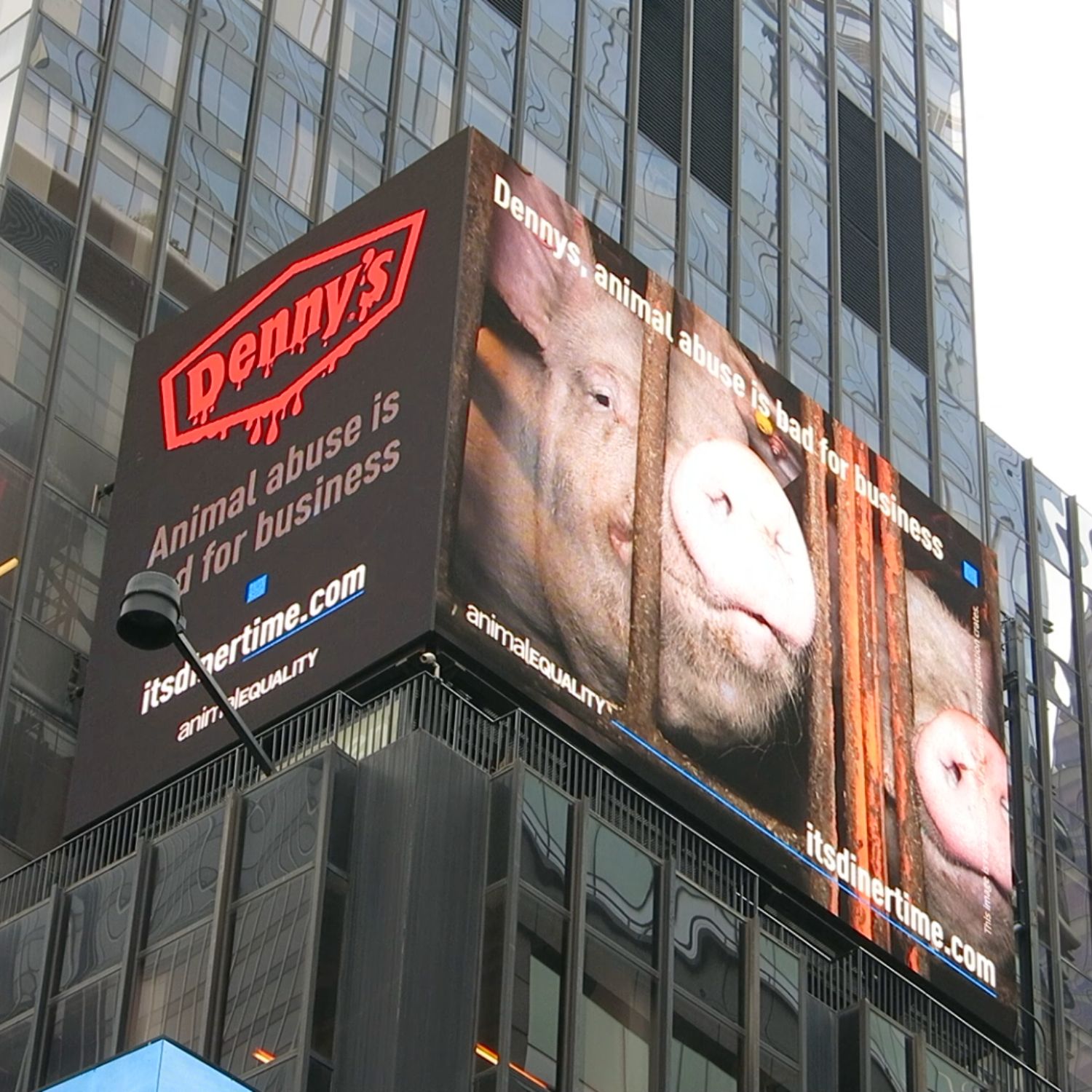 September 18, 2023
---
In the heart of Times Square, Animal Equality's billboard shines above millions of passersby, calling on Denny's to protect mother pigs.