10 Incredible Years of Saving Animals!
November 25, 2016
Animal Equality celebrates its 10 year anniversary!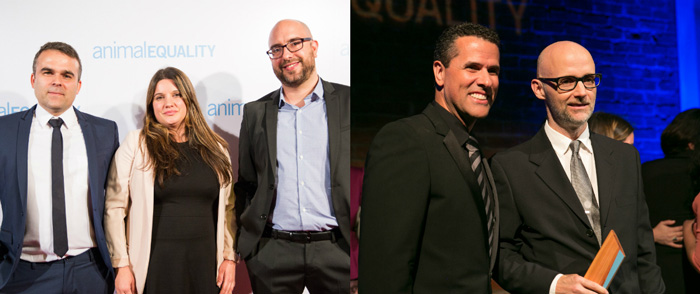 Members and celebrity supporters alike came out to celebrate Animal Equality's 10th anniversary in Hollywood last Saturday, November 19th. It was a remarkable evening, one we will not soon forget, attended by over 200 people. Throughout the night we looked back on ten incredible years of cutting-edge campaigns that have brought about monumental change for animals all around the world.
The event—hosted by the amazing Elaine Hendrix and Marco Antonio Regil—featured gourmet vegan hors-d'oeuvres, organic cocktails, silent auction, and a star-studded guest list.

Animal Equality honored Tofurky with the Compassionate Company Award for their dedication to helping animals in so many ways and, of course, for doing it in such a delicious way! Musician and animal activist Moby was awarded our Animal Hero Award for his career-long mission to help animals through philanthropy and direct action. In fact, Moby made a $50,000 gift at our event. He's truly a fearless voice for animals!

Other celebrities who lent their support to Animal Equality's lifesaving work included the following:
Kat Von D, Tony Kanal, Evanna Lynch, Dr. Jenn Mann, Alison Eastwood, Jayde Nicole, Michelle Forbes, Courtney Stodden, Patrika Darbo, Misha Barton, Seba Johnson, Melia Kreiling, Brittany Martinez, Stephanie Corneliussen, Jon Mack, Lindsay Lamb, and Rebecca-Louise
The success of our anniversary celebration and our work is in no small part thanks to people like you and it was an absolute honor to be able to spend an evening looking back on the work our supporters help make possible.
Here are some more photos of the incredible evening:


---