Animal Equality Takes to the Mexican Senate to End Cruelty to Animals
October 20, 2017
October 19th was a historic day for animals in the Mexican Senate. Senator Diva Gastelum joined Marco Antonio Regil and Animal Equality's Dulce Ramirez, to urge legislators to take a step forward in ending animal cruelty in Mexico.
At an unprecedented event, Animal Equality called on legislators to end cruelty to animals in Mexico by passing our initiative, which is supported by over 100 other organizations. Once passed, the law will make cruelty to animals a federal crime in the country.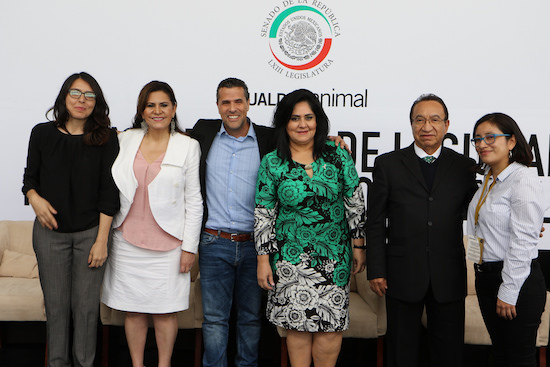 During the event, which was on October 19th, Animal Equality presented its virtual reality project inside Mexican farms and slaughterhouses. We also presented the findings of our investigations into slaughterhouses and farms across the country.
Television presenter and activist Marco Antonio Regil, Senator Diva Gastelum, who has sponsored the legislation, as well as Dr. Giuliana Miguel-Pacheco, professor of animal welfare and behavior, each spoke in support of Animal Equality's initiative and underlined the need to end cruelty to farmed animals, inviting senators to vote in favor of the law.
As part of her speech, Animal Equality's Executive Director in Mexico, Dulce Ramirez, stressed the urgent need for Mexicans to extend compassion to all animals – including farmed animals. She concluded that future generations of Mexicans would remember the day that cruelty to animals became a federal crime and marked the end of a cruel era – and the dawn of a more compassionate one.
---