Animal Equality India Demands Freedom for All
August 19, 2015
Animal Equality collaborates with The Rider's Club, Pune and organizes an educational bike rally to demand freedom for all animals in India the day the country celebrates its independence.
It's been 68 years from India's freedom but India's animals are still not free. Burning with this concern, Animal Equality and the Riders Club ventured out on a bike rally reflecting Martin Luther King's view -"Injustice anywhere is a threat to justice everywhere".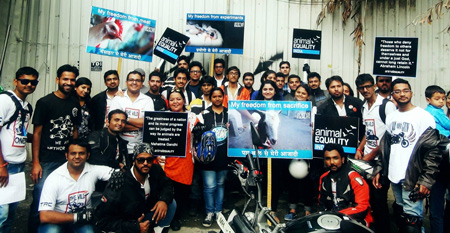 Marking India's 69th Independence Day and powered with delicious vegan treats, bikers started off from Ghole road and covered almost all the prime locations the city has to offer. Our activists distributed hundreds of leaflets exhibited placards during the ride and also halted at traffic signals with the messages urging people to adopt a compassionate lifestyle.
Many of the passersby were really interested, some of them even promise that they would stop visiting zoos and circuses after realizing they serve as prisons for animals. As a true compassionate citizen, a man even vowed to stop using his pair of leather shoes. Activists distributed leaflets and gladly cleared their doubts about veganism.
A big thanks to the members of the Rider's Club and our volunteers for making this event successful!!
---