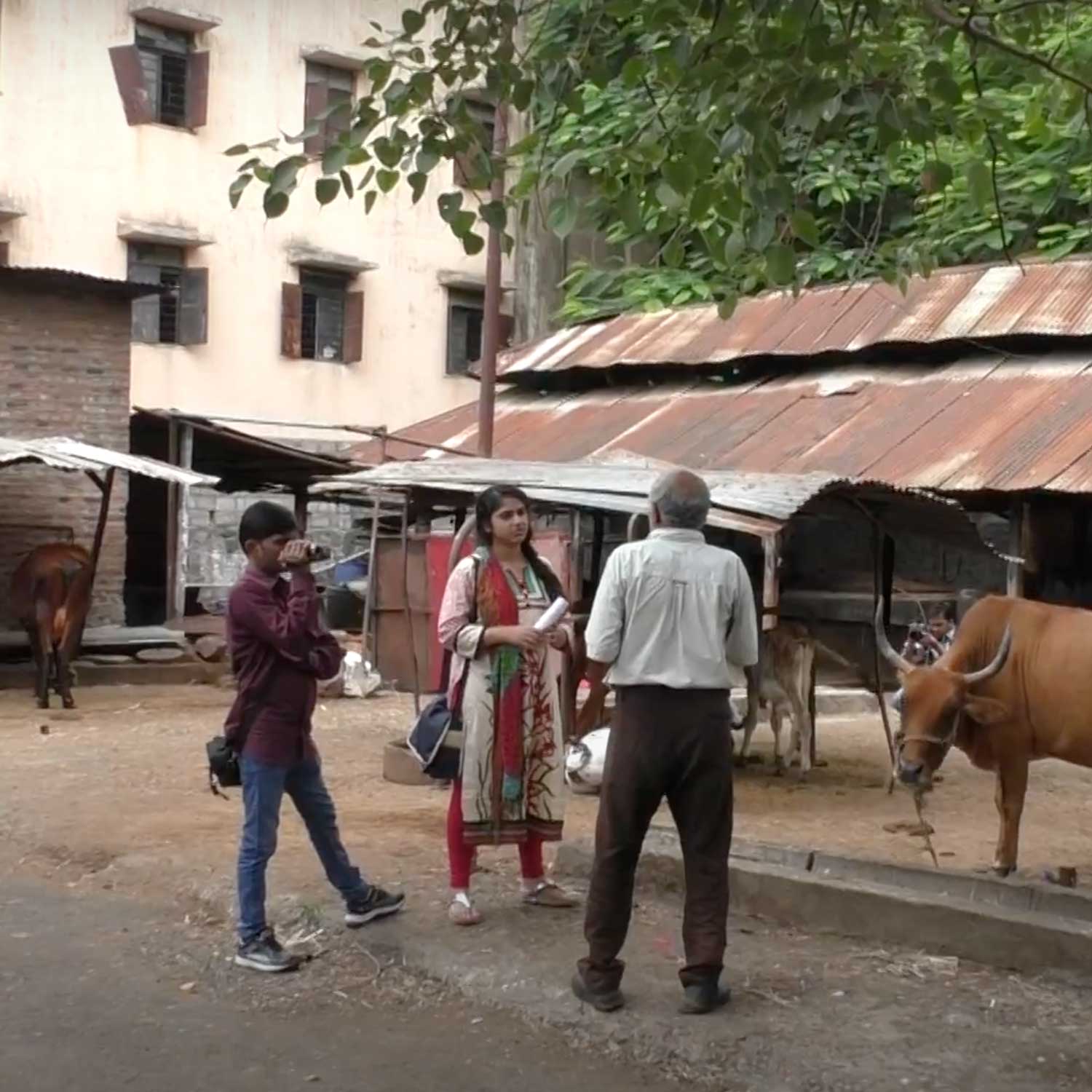 Amruta Ubale – Paving the Way for Change in India
---
Amruta Ubale, Animal Equality India's Senior Director for Public Affairs, is dedicated to improving the lives of farmed animals and has been recognized by Femina magazine for her positive impact.
Amruta Ubale, Animal Equality's Senior Director for Public Affairs in India, is a true advocate who has dedicated her life to the protection and welfare of animals. After working in human resources, Amruta realized that her true passion was animal rights activism. In 2011, Amruta was introduced to Animal Equality's founders Sharon Nunez, Jose Valle, Javier Moreno, and Vice President of Europe, Matteo Cupi. This team began exploring the idea of starting a chapter of Animal Equality in India.
After a detailed discussion of the vision and objective, Animal Equality India was established. Since then, Amruta has been working tirelessly to alleviate the suffering of farmed animals in India.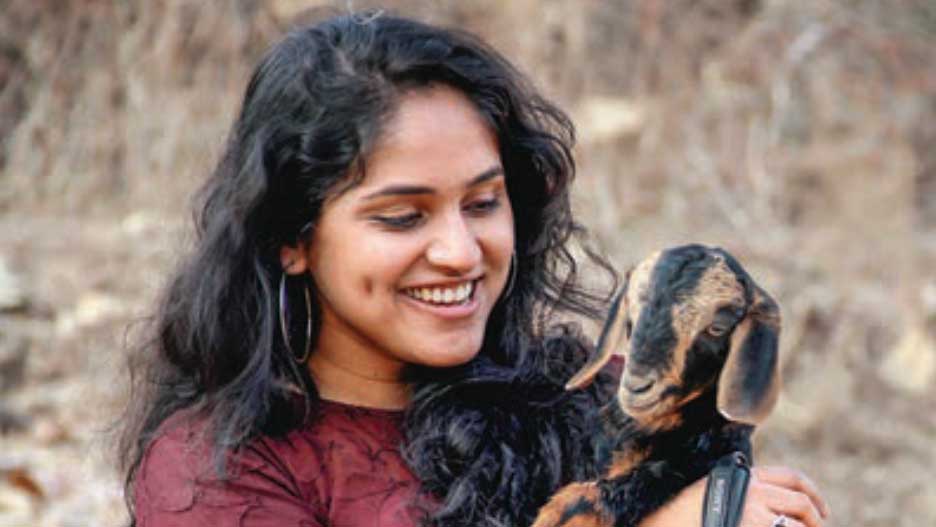 Amruta's areas of expertise include exposing cruel legal practices of intensive animal farming and requesting government reforms. Her work includes: Lobbying with the government to introduce or amend laws to protect animals, working with food companies to introduce policies for the better treatment of animals, conducting educational programs in schools, colleges, corporate offices, and public spaces, and handling external communication like social media outreach.
A Powerful Voice in Animal Equality
Since Animal Equality, India's beginnings, Amruta has worked closely with the Indian Government to ban the import of foie gras and the transport of animals across the Indo-Nepal border for the Gadhimai animal sacrifice. This received resounding media coverage, expanding to countries like France, Denmark, Norway, Australia, and New Zealand. These accomplishments demonstrate her tenacity, courage, and unwavering commitment to animals.
One of Amruta's biggest successes at Animal Equality was a 2017 investigation into India's dairy industry. The impact of this investigation was enormous, as it was one of the first times the plight of farmed animals was shown in India's news channel. Popular news outlet – Times Now – showed footage from this investigation for three days in a row along with a debate in which Amruta was invited.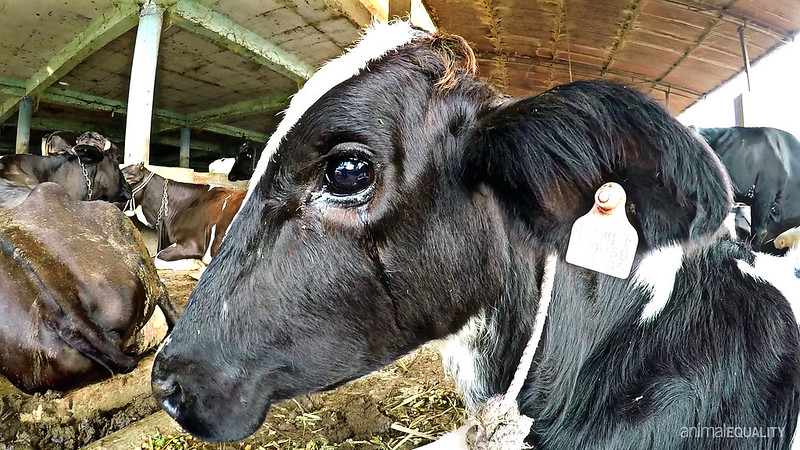 The news sparked national debate around the issue. Hundreds of comments rolled in on social media from people unaware of these cruel practices and committing to ending their consumption of dairy products.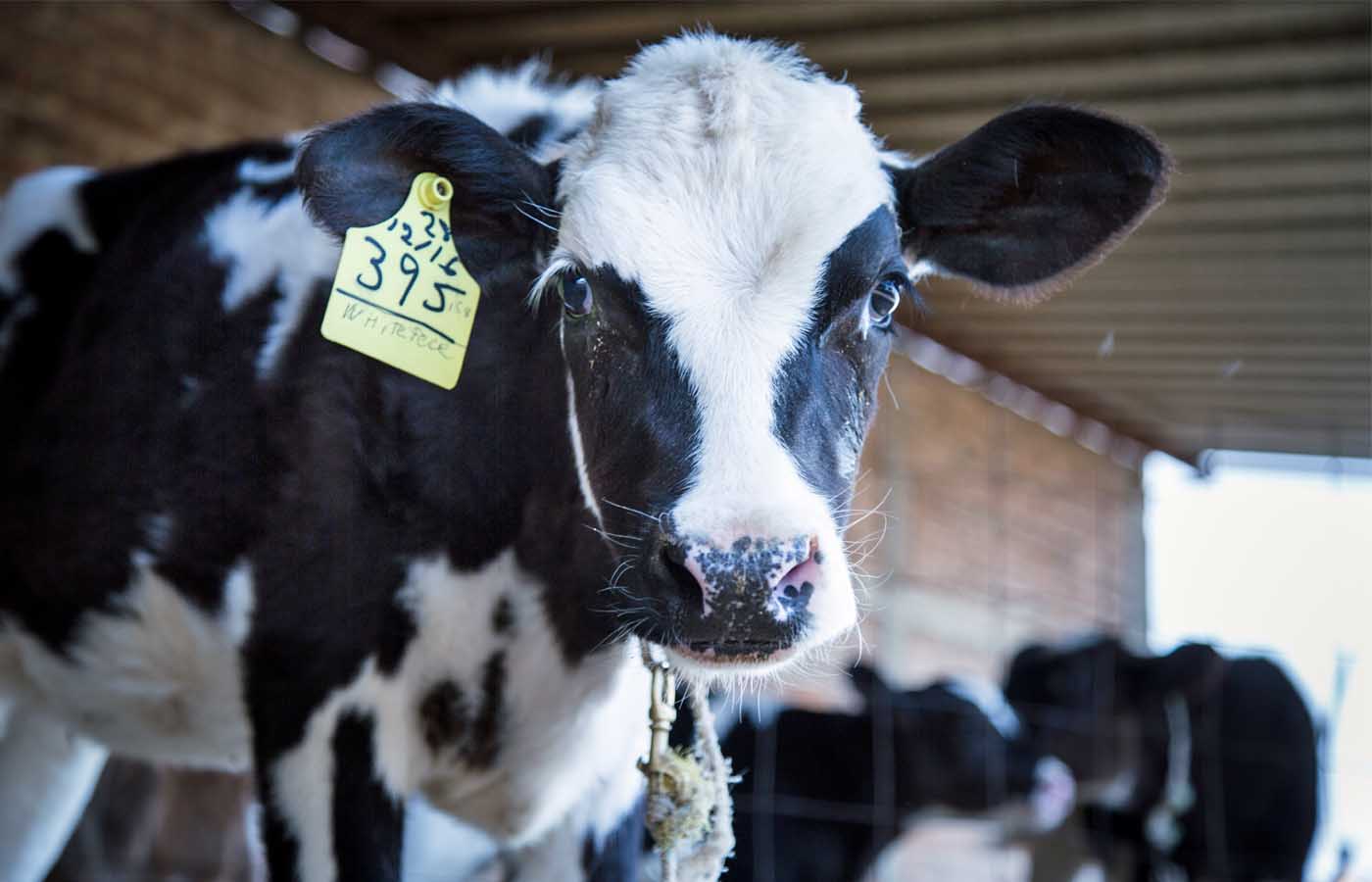 DEFEND MOTHERHOOD
A cow's maternal instincts foster a gentle bond with her vulnerable calf.
Preserve this tender relationship by choosing plant‑based alternatives to dairy products.
A Leader of Compassion and Strength
Amruta is a role model for fellow activists who want to make a positive impact on the lives of animals, and her work with Animal Equality shows that by nurturing our innate qualities of compassion, we can create a world where all beings are respected and protected.
Amruta's colleagues, friends, and family describe her as a compassionate, dedicated, and inspiring leader. Her leadership style involves inspiring and creating a vision, while also breaking down that vision into goals and assigning resources. Her strategic thinking and ability to lead and inspire others make her a valuable asset to the animal rights movement. Her unwavering commitment to animal rights and welfare has led to numerous successes, and her work continues to make a positive impact on society. She is a true hero who inspires us all to be more compassionate and caring toward farmed animals.
I strongly believe that compassion is a quality inherent in humans. But due to certain conditioning people lose this quality. Through our work we are building a world where people and institutions are able to reconnect to this inherent quality and respect animals. I know there will come a time when humans will look back in shock to learn that animals were abused and killed.

Amruta Ubale
Amruta's dedication to animals recently had her recognized in India's popular magazine, Femina, where she was featured as one of the fearless "Women Entrepreneurs Paving the Way for India."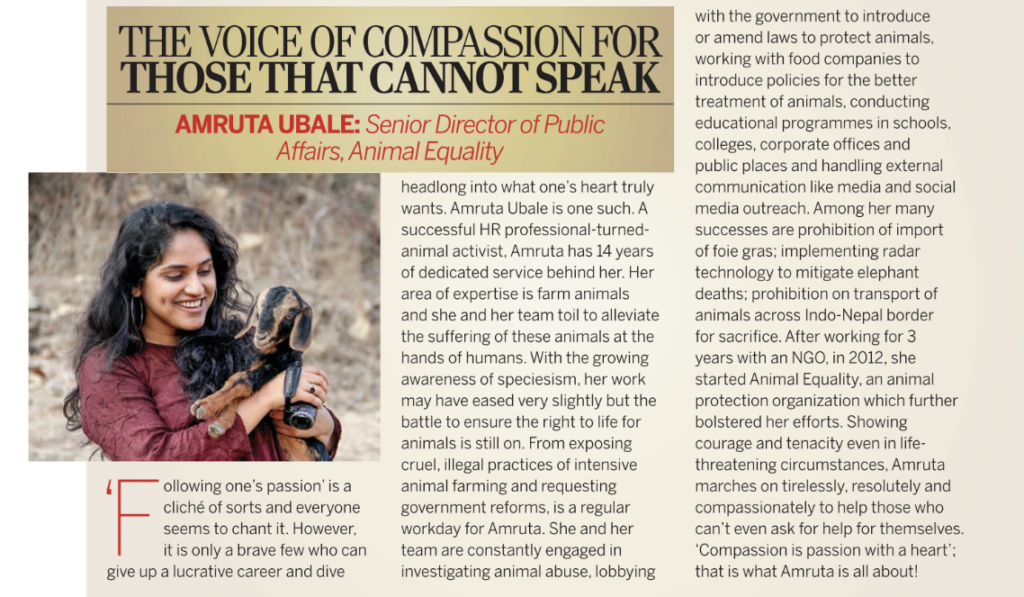 Thank you, Amruta, for your courageous leadership in making a positive impact on society and paving the way for animal welfare in India.
---
Most Popular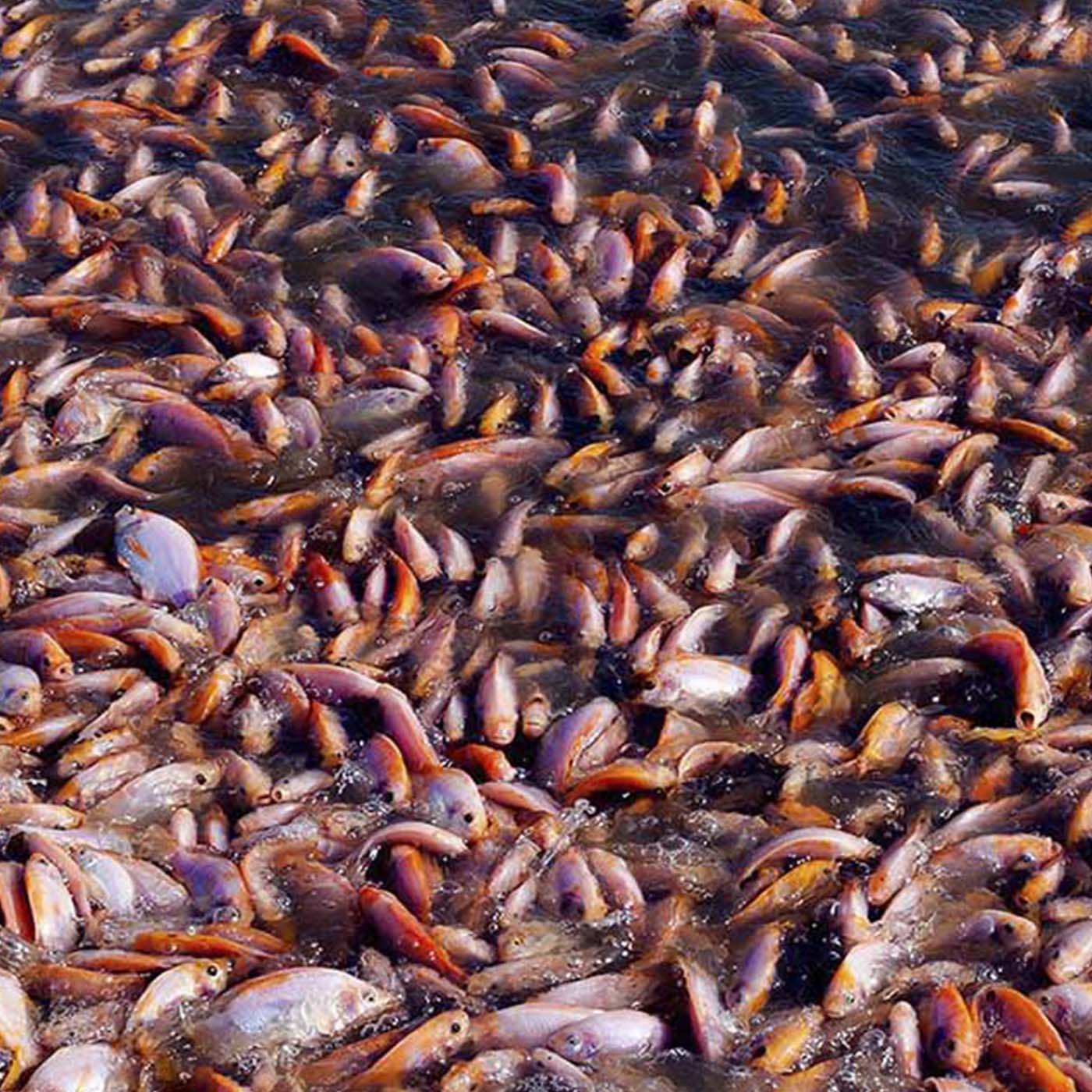 August 20, 2023
---
Whether through commercial fishing or aquafarming, this notoriously secretive industry has been in hot water for its environmental impact.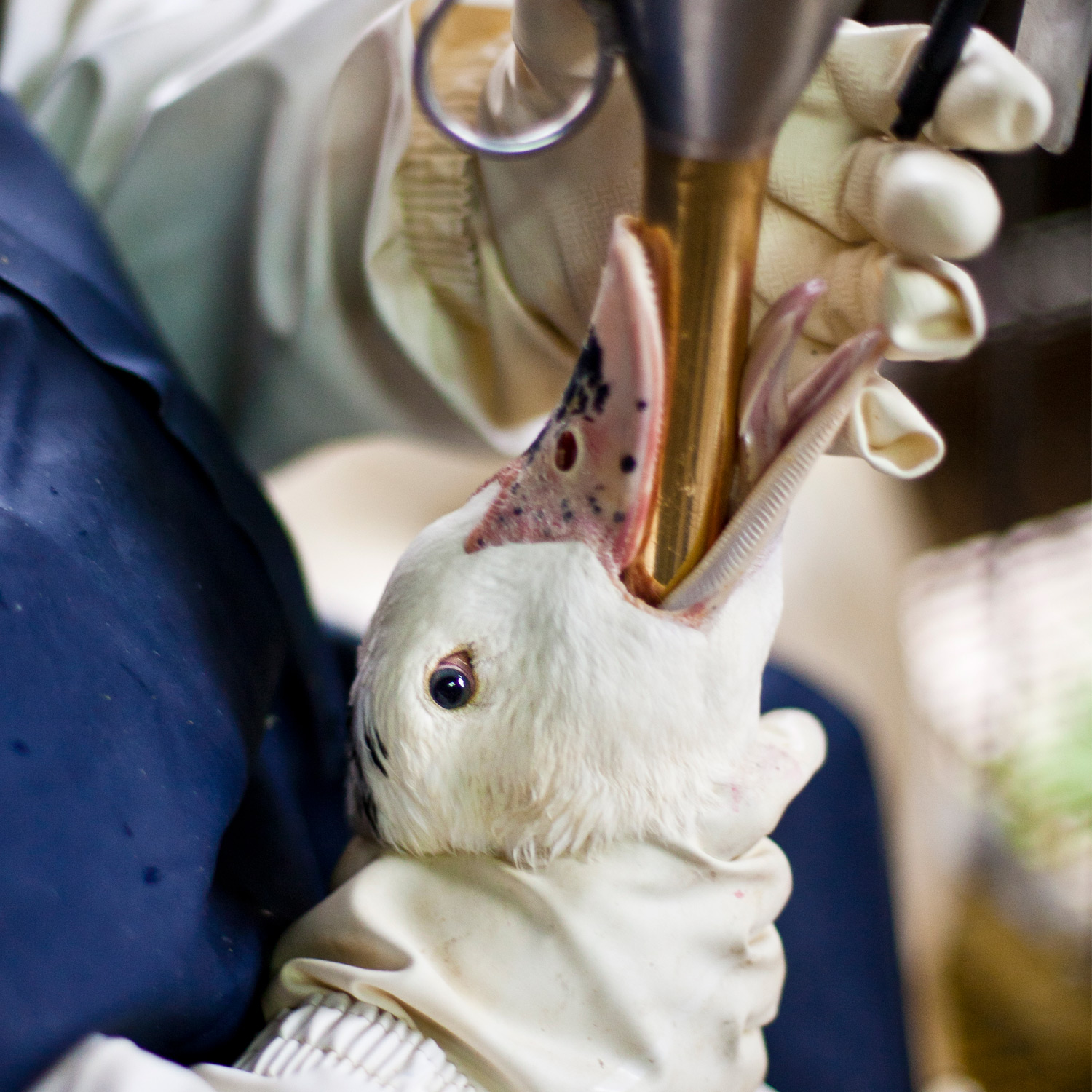 August 20, 2023
---
Foie Gras is a "delicacy" that inflicts such suffering on animals that it's illegal to make it in several countries. Take action to help us end the cruel force-feeding of birds!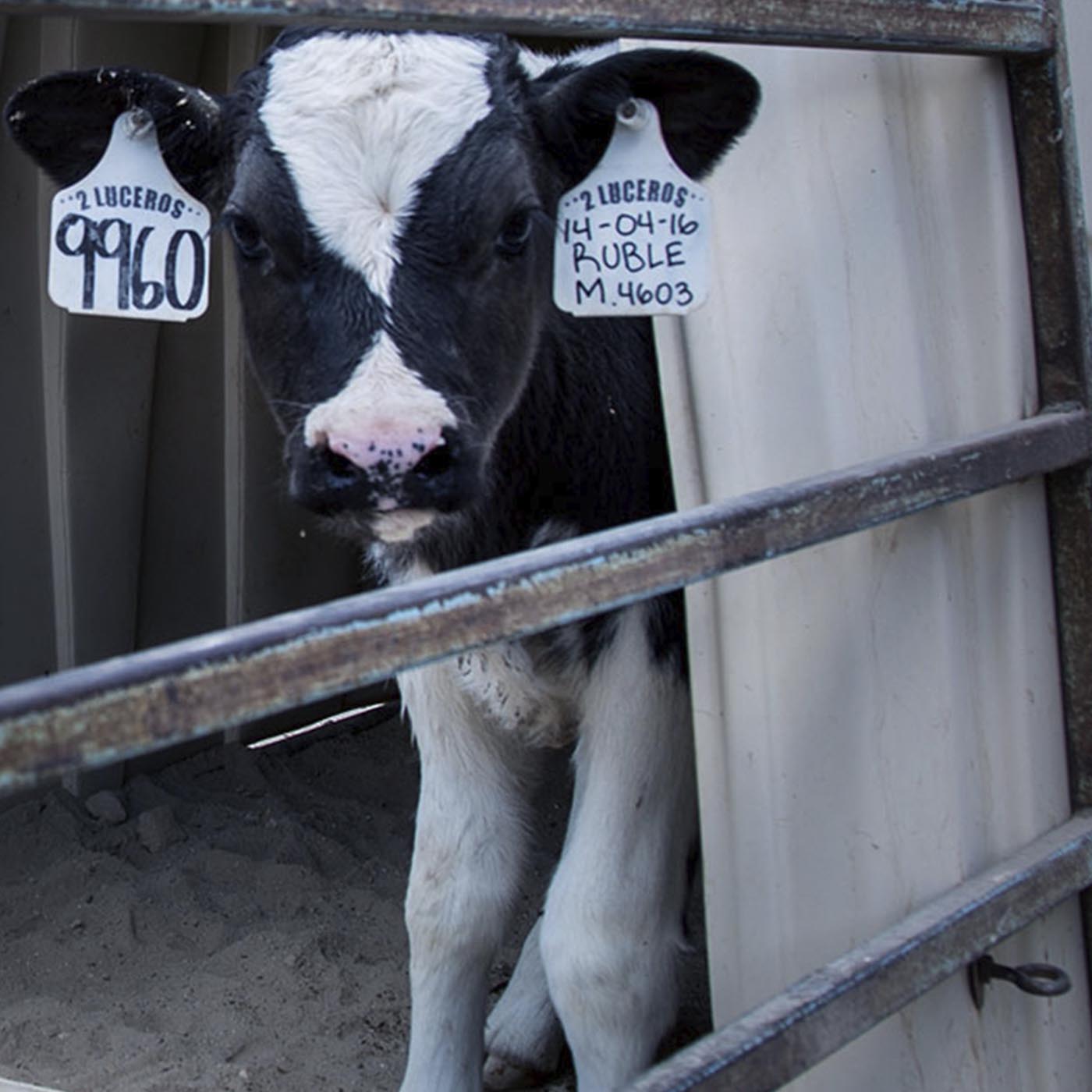 August 18, 2023
---
From forced impregnation to tearing apart families, abuse is inherent to the dairy industry. Learn how the industry profits from cruelty and what you can do to help.