Coronavirus Update from Animal Equality
March 12, 2020
As you most likely have seen, the world is in the middle of a widespread pandemic caused by an outbreak of the coronavirus known as COVID-19. As many of our supporters have no doubt been impacted in some way by this global disease, I wanted to take a moment to offer you my very best wishes for your health and well-being, as well as to your loved ones. This is truly an unprecedented time, and know that I am thinking of you as we take this journey together. 
We are also adjusting to this new reality and taking steps to ensure the health and safety of our employees around the world. We are taking measures that will limit their exposure to the virus, as well as doing our part to ensure this disease slows, by canceling public events and appearances, requiring employees to work from home, and suspending all non-essential travel. First and foremost, it is our employees' well-being that we are proactively taking into account and feel these steps are necessary to protect their safety.

Though we are dealing with a tremendous global challenge, our work will not stop. On the contrary—we are continuing to work hard to make a real impact for animals. In fact, over the coming weeks and months, we will be sharing with you investigative footage and advocating on important issues that we know will impact all animals.
What brings us together is our commitment to end the tremendous suffering of farmed animals and to show the world the truth behind animal agriculture. And it is together that we will face these new challenges and continue to make a difference. 
Thank you again for your ongoing support and everything you do for animals, and I wish you and your loved ones good health and safety.

In solidarity,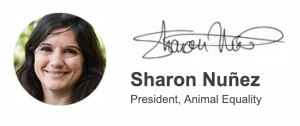 Other blog posts