The Fight To Ban Foie Gras And Help Millions Of Ducks and Geese
Foie gras produced by force-feeding is immensely cruel and controversial. Millions of ducks and geese are force-fed on farms every year to produce foie gras, a so-called delicacy that only a small fraction of people eat.
Force-feeding ducks and geese to produce foie gras is already banned in several countries including the Czech Republic, Finland, Italy, Poland, Germany, and Turkey. The European Food Safety Authority's Panel on Animal Health and Welfare has determined that force-feeding is detrimental to the welfare of birds, and the European Parliament has called the practice "cruel and unnecessary."
It's time to end this cruel practice in the US and worldwide once and for all.
Thanks to the effort of animal advocates, investigators, lawmakers, journalists, and people all over the US like you, we're getting closer to eliminating foie gras for good. See the latest updates from our international campaigns below.
May 4, 2022
Animal Equality Launches Campaign To Ban Foie Gras Production In Spain
Animal Equality has launched a new campaign to ban foie gras production in Spain. Spain is one of only five European countries where foie gras is still produced. Its production is already banned in 18 countries.
Every year in Spain more than one million ducks and geese are subjected to the torture of force-feeding to produce foie gras. Their livers swell to up to ten times their normal size.
Animal Equality is demanding that the Spanish Government works to ban cruel force-feeding practices in Spain and across the EU. Spanish actress Sara Sálamo is supporting the campaign and features in the campaign video.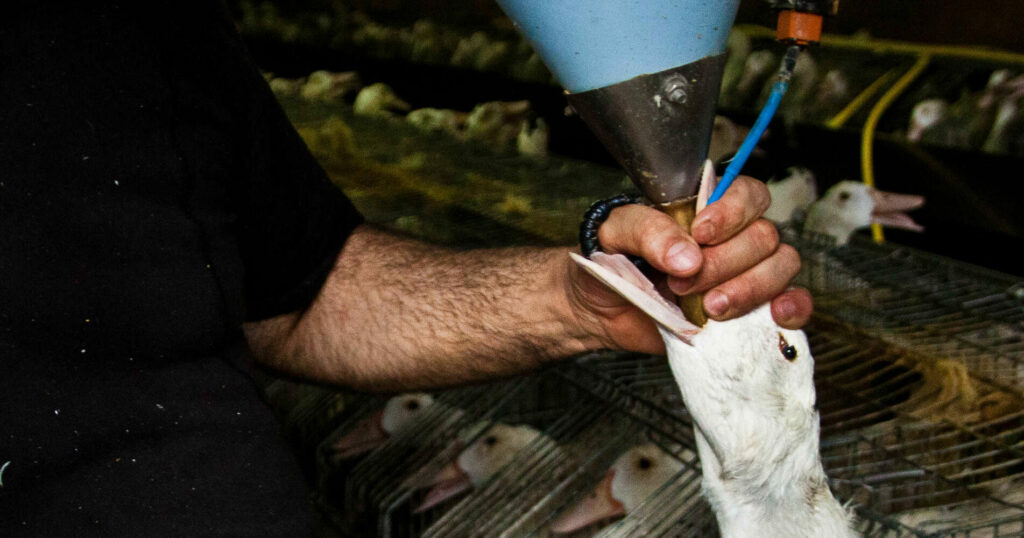 April 27, 2022
'Don't Betray Animals' Demonstration Outside Houses Of Parliament
We demonstrated outside the Houses of Parliament in Westminster alongside representatives of other animal protection groups. 
Members of Parliament also came to support our demonstration including Caroline Lucas, Alex Davis-Jones, Dr. Rupa Huq, John McNally, and many more, plus Baroness Sue Hayman and Baroness Jenny Jones from the House of Lords.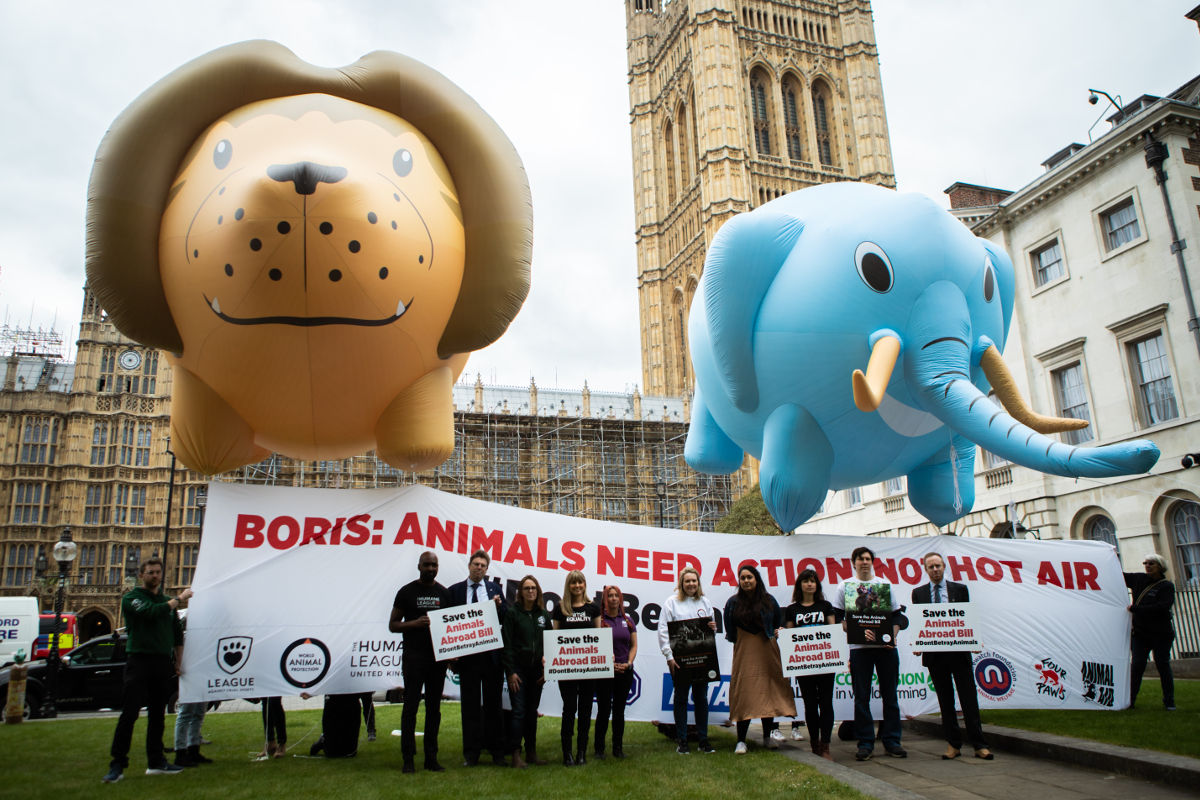 We've come together to fight for the Animals Abroad and Kept Animals bills. These are two bills put forward by the Government that would protect millions of animals.
The bills would:
Ban foie gras and spare ducks and geese from being force-fed.
Ban fur and stop the fur industry from confining and skinning rabbits, minks, foxes, and raccoon dogs for the UK market.
End the live export of cows and sheep who are forced to endure grueling journeys from the UK to Europe.
Stop UK travel companies from promoting elephant rides abroad and help elephants who are beaten, tied up, and forced to be ridden by tourists.
Ban trophy hunters from importing the bodies of lions, leopards, and other animals that they hunt for sport abroad.
But the Government is wavering, and the bills seem to be at risk, so animal protection groups have come together to make sure the Government gets the message: Don't Betray Animals. The demonstration follows a series of campaign actions online and in newspaper adverts to make sure key decision-makers can't hide from the millions of people across the country who want animals to be better protected.
April 26, 2022
Newspaper Ads Grab Attention
A coalition of animal protection groups including Animal Equality printed the first of a number of advertisements in the major newspaper, Metro, to urge key Government decision-makers to follow through on their promises to animals.
This newspaper has been chosen because we know key members of the Government will be reading it, as well as hundreds of thousands of their voters and constituents. Adverts in more mainstream newspapers are expected later this week.
Wherever the Government's decision-makers are looking, our message will be there: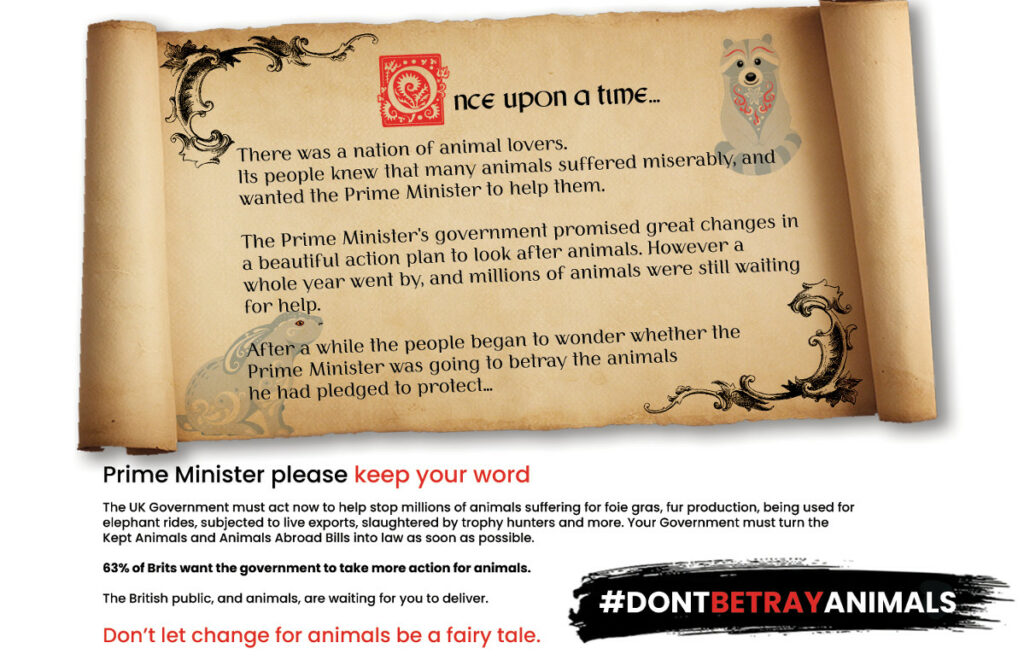 March 8, 2022¡
Animal Equality Launches Campaign To Ban Foie Gras In The EU
Animal Equality launched a new campaign to ban foie gras across the EU. The new campaign is part of our objective to ban products made by force-feeding all around the world. India has already banned foie gras thanks to our work, and we currently have campaigns underway in the US and the UK.
In a bizarre statement during a vote in February, the EU Parliament stated that the production of foie gras is based on farming practices that 'respect animal welfare.' In other words, it doesn't believe that force-feeding is a welfare concern.
This statement contradicts scientific knowledge and The United Nations' Food and Agriculture Organisation (FAO) which officially disapproves of forced feeding in foie gras production due to strong concerns around animal welfare.
The majority of the world's foie gras is produced in Europe so a victory there would be a major step for millions of ducks and geese.
Animal Equality has now launched a petition with more campaign actions to come.
March 5, 2022
Thousands Take Online Action For A Foie Gras Ban
In a campaign action coordinated by Animal Equality, thousands of people sent messages to the Government on social media calling on them to deliver on their promise to ban foie gras imports from the UK, while hundreds more emailed their MPs in a call to support the Animals Abroad bill.
The actions come in response to reports of wavering commitment from the Government, showing them that the British public feels strongly about this issue.
Supporters wrote:
I am appalled to hear that the Government is planning to abandon its promises to ban foie gras and fur.

These products cause immense animal suffering. In order to produce foie gras, ducks and geese are force-fed until their stomachs swell to become the size of a small football. I cannot believe the UK is still supporting such cruelty.

And I am not alone – the vast majority of the public has made it clear that there is no place for foie gras or fur in the UK.

As your constituent, I am urging you to please fight for the bans on foie gras and fur by raising this topic in Parliament. We cannot call ourselves a nation of animal lovers while we still support such animal cruelty.
February 17, 2022
Animal Equality Launches US Campaign Against Foie-Gras
Animal Equality launched a new campaign to ban the force-feeding of ducks and geese in the United States.
The city of New York and the state of California have already banned the sale of products coming from force-feeding, including foie gras. But the rest of the US is yet to leave this cruel and unnecessary practice behind.
A local campaign is already underway in Portland, Oregon, where there are strong hopes for a victory.
Animal Equality's new petition in the US currently has over 40,000 petition signatures.
February 3, 2022
Celebrities Urge The Government To Ban Foie Gras Imports In Letter Written By Peter Egan
Animal Equality coordinated a letter sent to the UK Government signed by celebrities Peter Egan, Ricky Gervais, Dr. Amir Khan, and Dame Joanna Lumley calling for the UK to ban foie gras made by force-feeding.
The letter's signatories join numerous other celebrities who have joined Animal Equality's call and spoken out in favor of a foie gras ban in recent years, including Alan Carr, Thandiwe Newton, and Dev Patel.
In the letter, actor and animal advocate, Peter Egan, recounts his experience inside a foie gras farm in France which he investigated with Animal Equality in 2018.
Last year, Peter joined us to hand in over 225,000 signatures from our foie gras ban petition to 10 Downing Street alongside French chef Alexis Gauthier.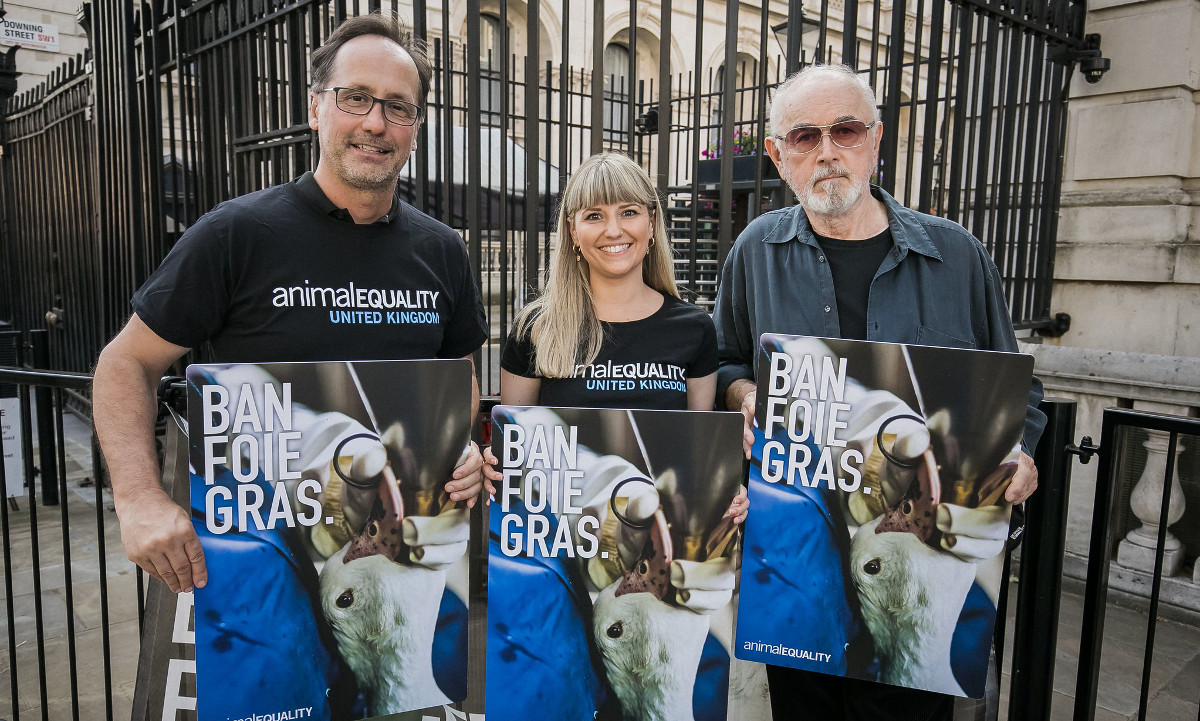 Take Action To Help Ducks
If you haven't already, you can help by signing our US petition and sharing it with everyone you know.