3rd Quarter Achievements 2018
A Note From Our President
---
Friends, Supporters, and Allies,
I'm thrilled to share with you what Animal Equality has accomplished over the past three months. Our generous supporters enabled our team of 85 staff in 8 countries across the globe to impact the lives of hundreds of thousands of farms animals. We launched our new Food Policy program in Mexico and India, introduced our Love Veg program in Mexico, released 4 undercover investigations, and worked with 12 different corporations to adopt stronger animal protection policies. All the while, our team has continued fighting on behalf of farmed animals through numerous corporate, legal, and educational campaigns and initiatives. You make this change possible for animals. On behalf of all of us at Animal Equality, thank you all for making this quarter exceptional.
Thank you!
Sharon
Exposing Cruelty Through Investigations
---
Animal Equality released FOUR undercover investigations, exposing egregious cruelty to mother and baby pigs, hens farmed for eggs, mother cows and calves, tuna and other sea life in commercial fishing operations, and on slaughterhouses and factory farms worldwide.
Rosebury Farm, UK
---
Animal Equality UK investigated a Red Tractor-certified UK pig farm (the sixth this year), with operations impacting half a million pigs per year. As a result of the cruelty exposed, Red Tractor, UK's leading farm assurance group, revoked the farm's certification. The investigation resulted in both public and media outcry, demanding that Red Tractor conduct unannounced inspections – which the group admitted only occur in around one per every one hundred inspections. Below are some of the horrific cruelties these pigs were shown to have endured:
The killing of piglets by smashing their tiny heads against a door frame
Dozens of dead piglets littering the floor of the birthing shed, as well as piglets trapped in crates with dead siblings
Piglets screaming in agony as the tips of their tiny teeth are clipped off without pain relief, a mutilation restricted to 'extreme circumstances only' under UK law
The Illegal use of electric prods
The investigation was covered by major news outlets, including The Times, Daily Mail, The Sun, and BBC Online.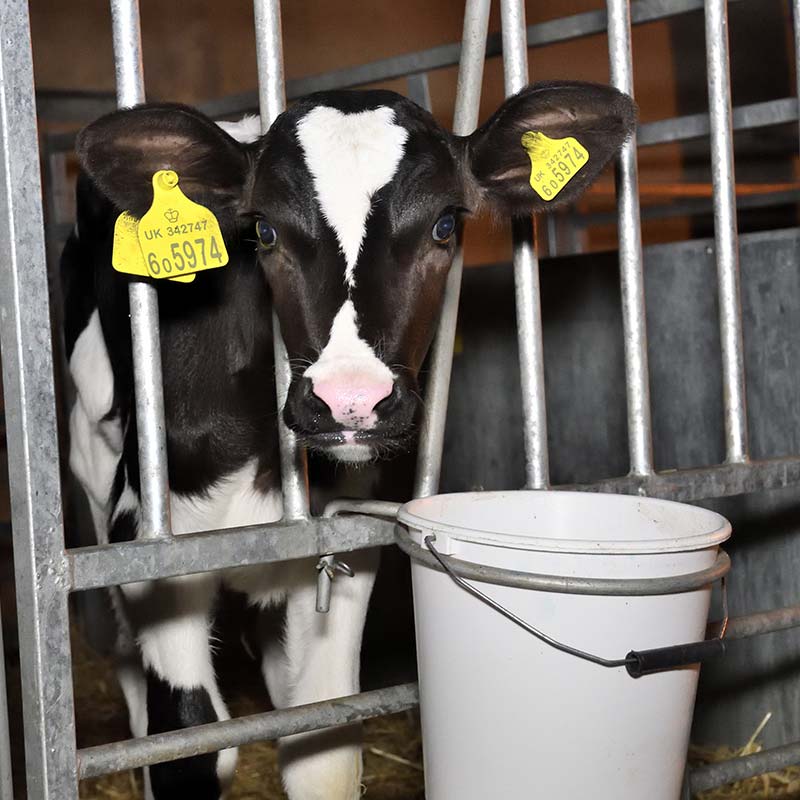 Waitrose Organic Dairy Farm, UK
---
Animal Equality UK released distressing investigative footage of newborn calves being brutally handled on an organic dairy farm that supplies the prominent supermarket chain Waitrose. Our investigators captured appalling cruelties, including:
Newborn calves struggling as workers callously shoved tubes down their throats
Calves denied access to water for up to 29 hours on some of the hottest days of the year
Calves routinely separated from their mothers less than 24 hours after birth
Our investigation revealed that the farm fails to meet even the minimum legal requirements and falls well below organic and RSPCA animal welfare standards, despite being certified by the Soil Association and RSPCA Assured, which are the UK's largest organic certification body and animal welfare charity, respectively. Due to our findings, the farm's certification has been suspended by the RSPCA, and Waitrose has dropped the farm from its supply chain. The investigation was covered by major news outlets The Mirror, The Independent, and The Daily Mail, and also received media attention in Spain via Publico.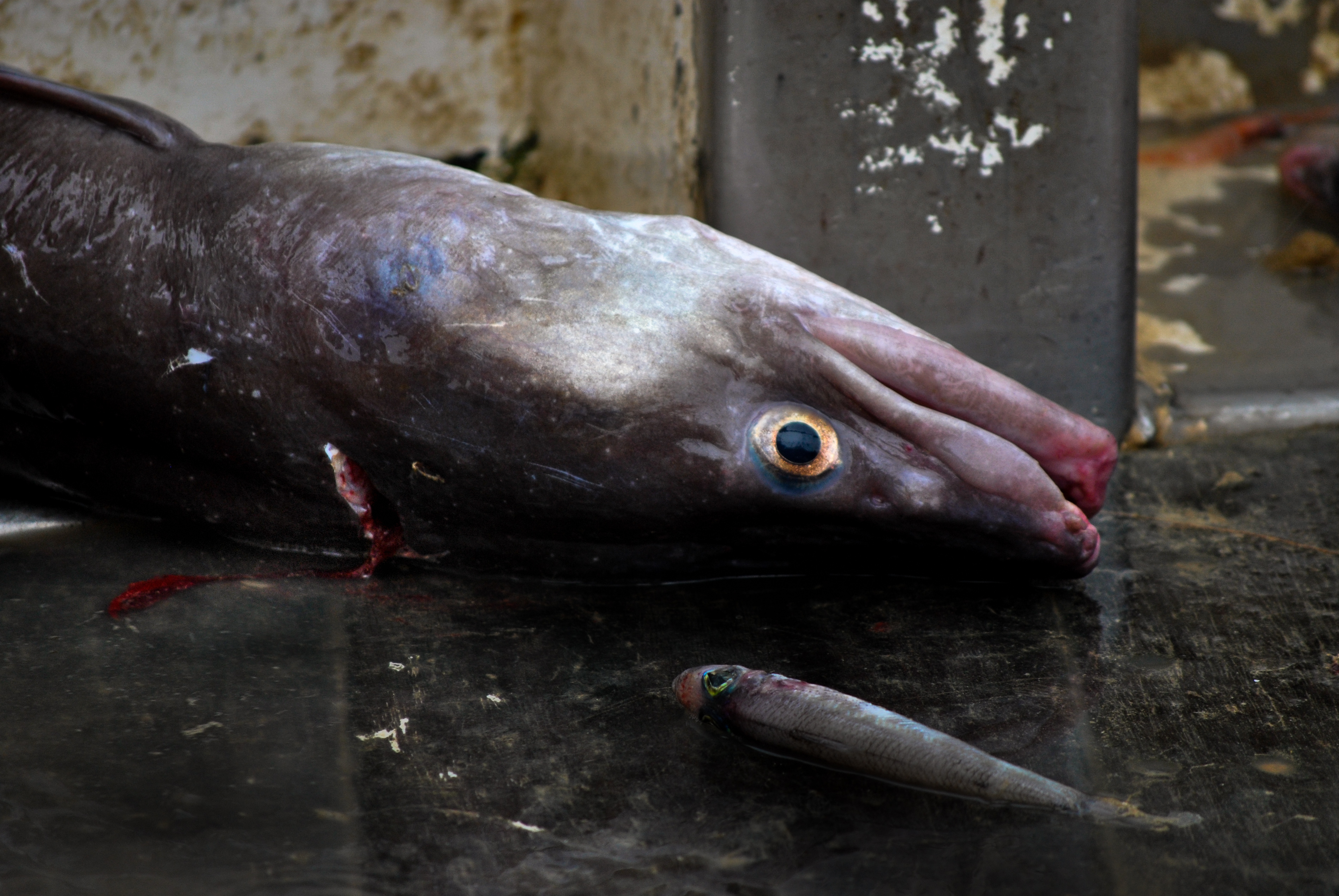 Fish Trawler in the Mediterranean Sea
---
Animal Equality Italia released a new investigation on fish conditions during intensive trawling in the Mediterranean Sea (Sardina's coast). In our seas, millions of fish are caught continuously, often in disregard of compliance with the rules governing fishing, and without consideration of the suffering that this practice causes. Investigation findings include:
Fish with internal organs protruding from the mouth due to the pressure jolt
Small sharks, eels and whitefish of all kinds in agony due to lack of oxygen
Operators ripping off live body parts and beheading conscious animals
Fish left in cold storage to freeze to death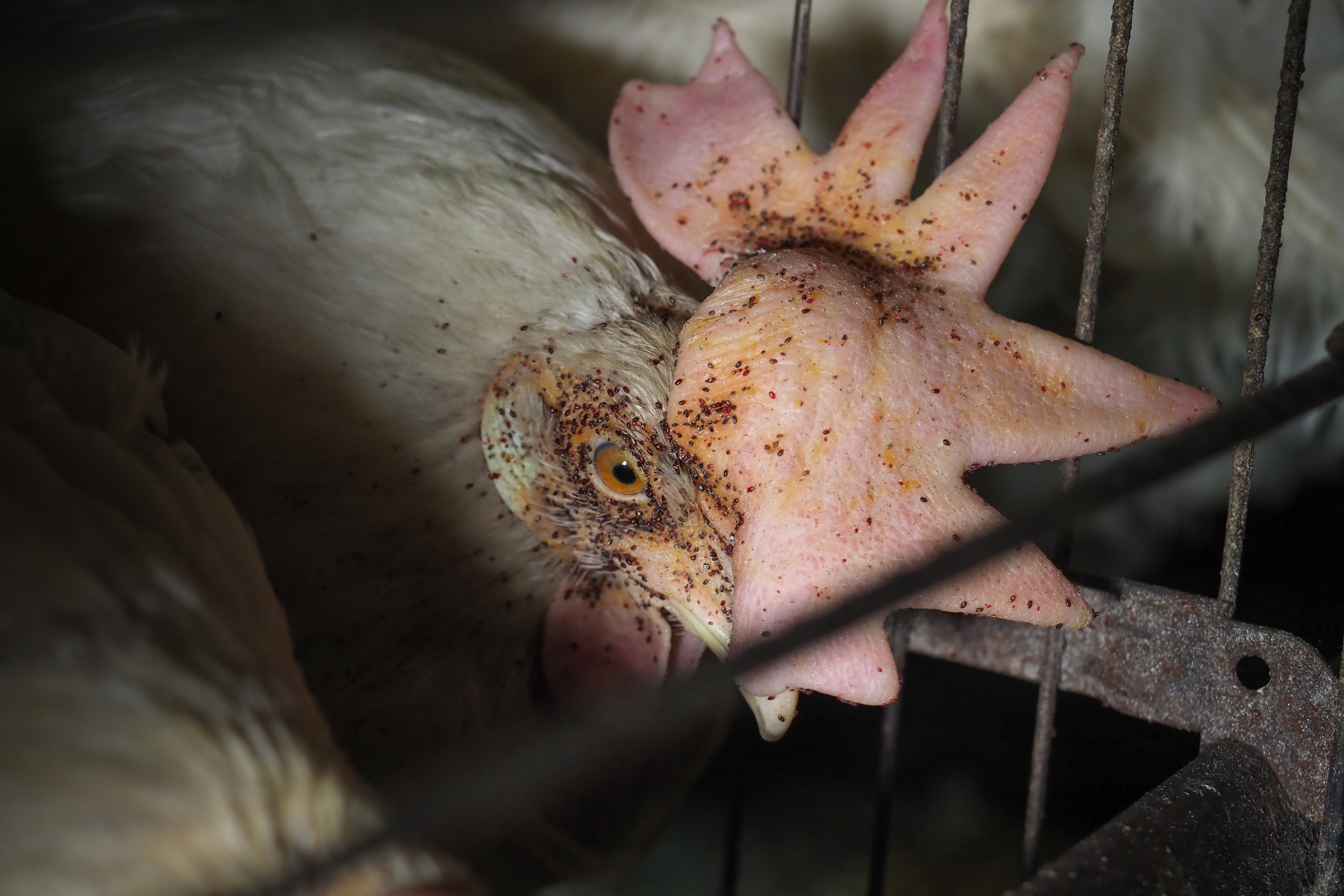 Egg-laying Hens in Mantova, Italy
---
Animal Equality Italia released shocking investigative footage of an egg factory farm in Mantova, Italy, titled A Life in a Cage. This facility supplies eggs to one of the largest egg producers in Italy, Parmovo. Our investigators exposed horrifying cruelties including:
Hens and eggs completely infested with red mites
Stressed hens trapped in cages with broken legs, overgrown nails, and missing feathers
Corpses of mice and hens left to rot in the cages and on the floor
Extreme filth: every inch of the shed covered in either feces, dust or spider webs
We collaborated with TG2, one of the largest newscasts in Italy, to conduct and release the investigation. It was also covered by major news outlets Business Insider, ANSA, Il Sole 24 Ore, and Gazzetta di Mantova, as well as El Pais and Publico.
Progress for Farmed Animals
---
Our team is working hard to change the world for farmed animals through engaging in proactive legal initiatives, working with the world's largest corporations to implement stronger animal protection policies, and working with companies to incorporate more plant-based offerings.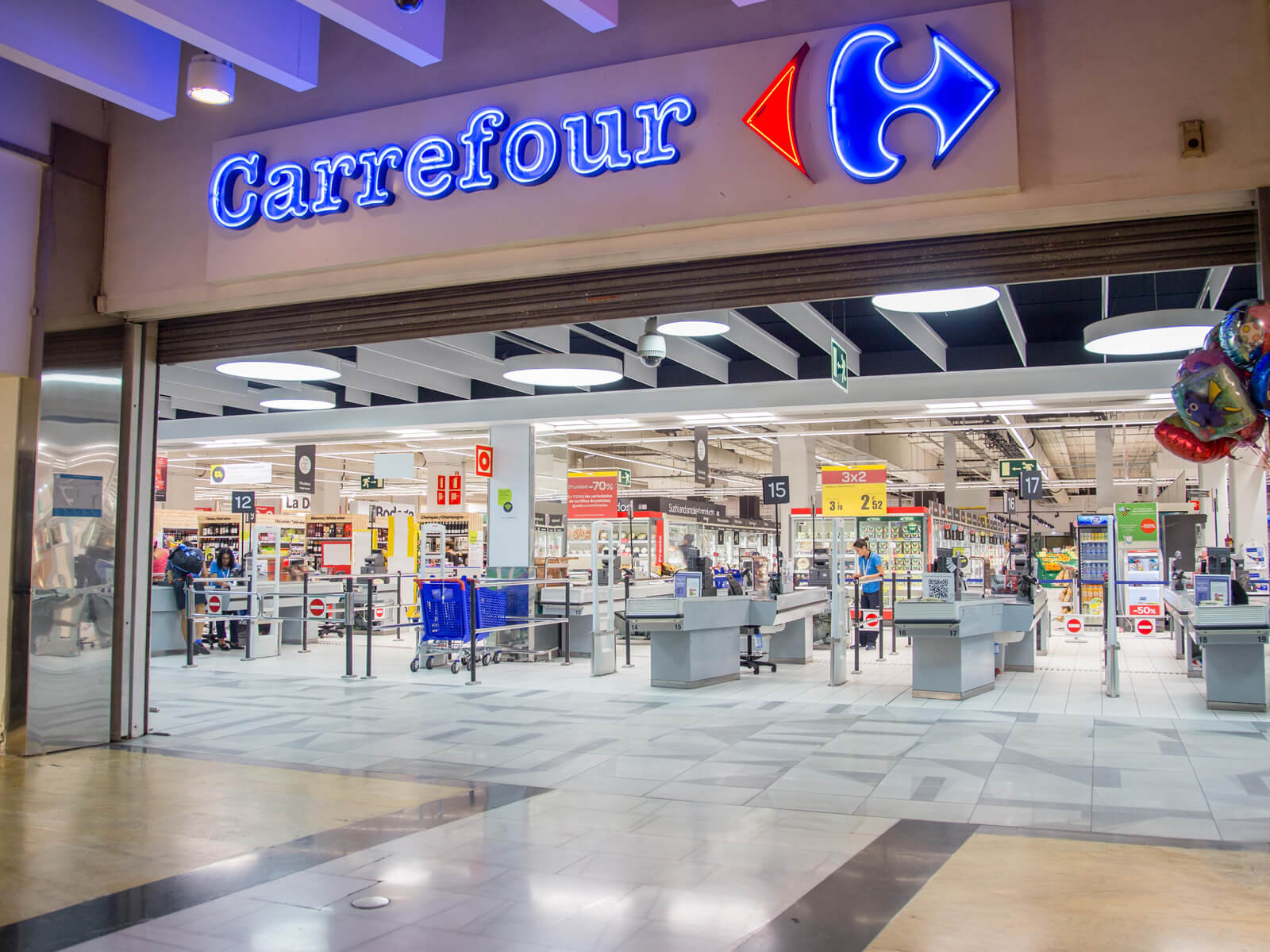 Policy Spotlight: Carrefour
Following dialogue with Animal Equality Brasil, Carrefour, one of the largest retailers worldwide, committed to transitioning its store-brand eggs to cage-free by 2025, with all other brands sold in their supermarkets coming exclusively from cage-free systems by 2028. This commitment is groundbreaking, as Carrefour is the first retailer to ban the use of cages for hens in its supply chain in Brazil, and this historic commitment will impact millions of hens annually.
Animal Equality worked with TWELVE companies worldwide to adopt new policies banning cages that confine hens used for eggs.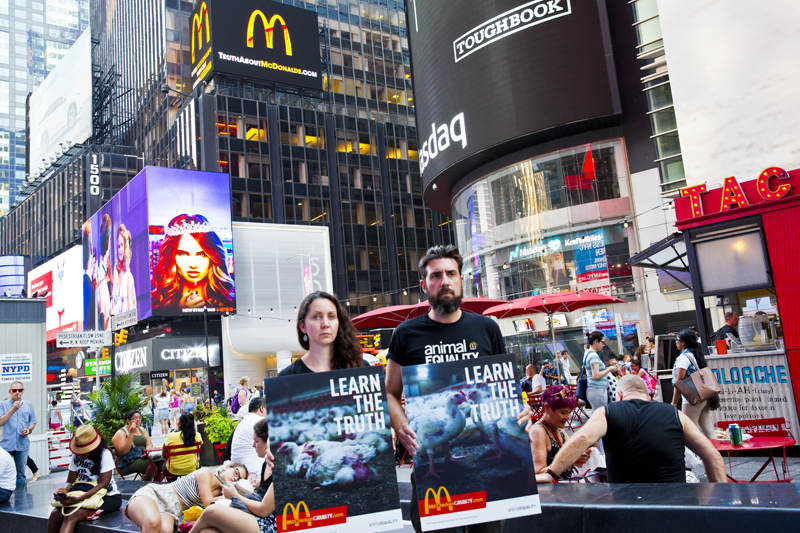 Campaign Against McDonald's
Our US campaign against McDonald's continues with impactful actions, including a giant video billboard in New York City's famed Times Square, a petition drop at McDonald's Chicago headquarters, bench ads placed outside McDonald's locations throughout Chicago, and a New York City protest with actor and animal activist Edie Falco, resulting in major media coverage. As one of the world's most notable brands, McDonald's has the power to eliminate some of the cruelest farming practices used by its producers and reduce the suffering of millions of birds. They have thus far failed to adopt meaningful reforms, while nearly 90 companies—including many of McDonald's competitors, such as Burger King, Subway, and Jack in the Box—have publicly committed to make changes that will improve the lives of these smart and social animals.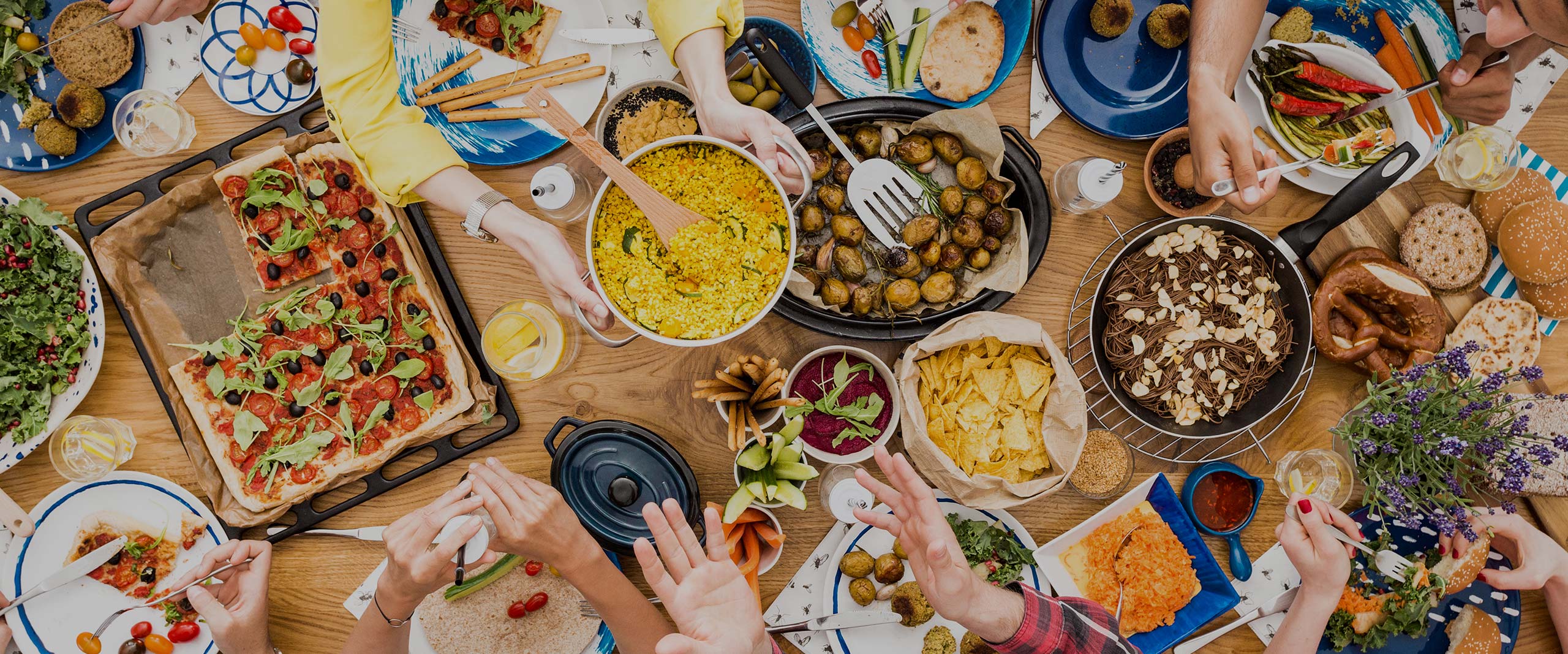 Food Policy
Animal Equality launched its Food Policy program in Mexico and India! We've begun to reach out to companies, requesting that they introduce mock meat and vegan dairy products in their menus. Thus far, two major entities, the hotel chain Radisson and the online supermarket Big Basket, have agreed to partner with us in this groundbreaking initiative, and we are working with over forty additional companies to secure similar partnerships.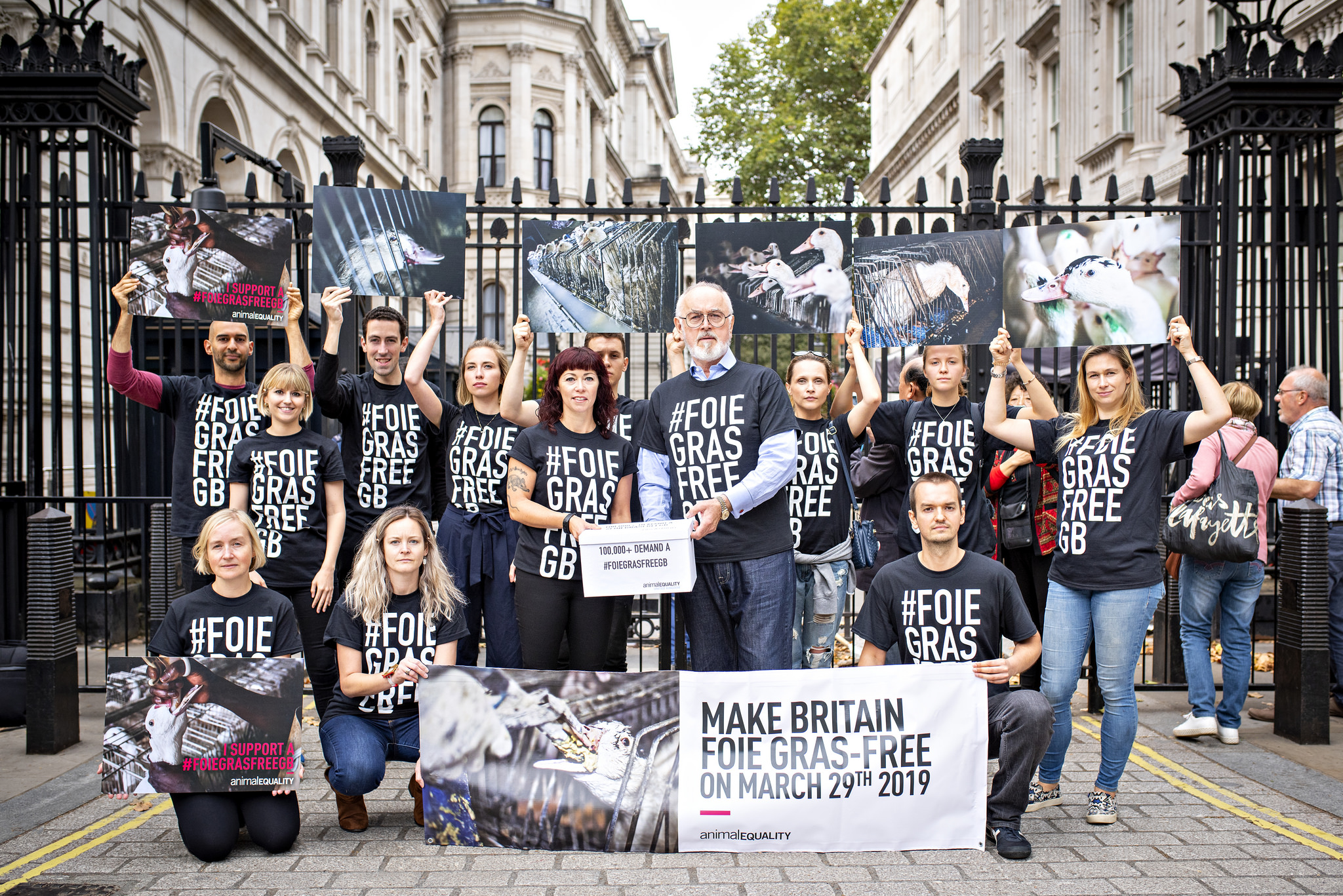 Legal Advocacy
Animal Equality UK delivered more than 100,000 signatures on our foie gras petition to the Prime Minister at Number 10 Downing St., the headquarters of the Government of the United Kingdom, urging the UK to ban foie gras imports. In addition to broad public support, Animal Equality was joined by actor and animal advocate Peter Egan; actors Thandie Newton and Dev Patel also gave us supportive quotes for this campaign. Celebrity engagement of the campaign was covered by Vegan Food and Living, Plant Based News (1), The Media Eye, Hollywood.com, 20 Minutes, Film News, Plant Based News (2), and LiveKindly.
In the U.S., Animal Equality worked to thwart CA AB 1947, a bill that would have made it nearly impossible to propose future ballot measures in California. As California is the largest and one of the most animal-friendly states in the country, this bill was a major threat to the ability to create future positive legislative change for animals.
Education & Public Outreach
---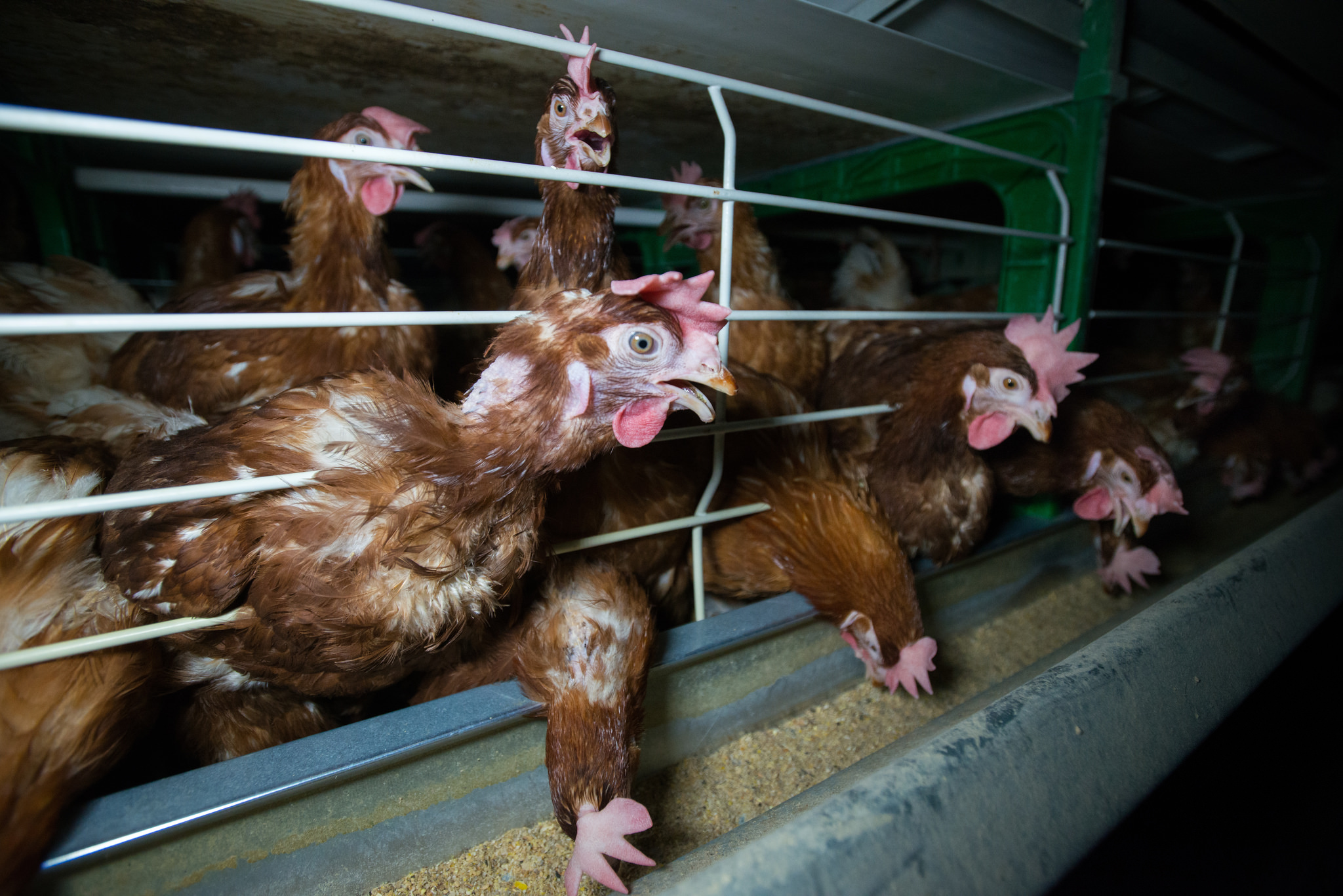 Do You Know Where Eggs Come From?
---
Animal Equality Spain released an educational video showing the public the truth behind the egg industry through the use of horrific investigative footage of egg-laying hens. The campaign was featured in both the print and digital editions of one of the most read newspapers in Europe, El Pais, with a reach of over 150 million readers per month. It was also covered in major news outlets Eco Diario, CNN Chile, Bio Bio Chile, Cronica Norte, as well as the popular television program Informativos Telecinco.
By The Numbers
---
25,818
LEAFLETS DISTRIBUTED WORLDWIDE
+71 MILLION
Potential Media Reach
+4.3 Million
Facebook Followers
164,643
Twitter Followers
283,615
Instagram Followers
865,437
General Newsletter Subscribers
401,896
Love Veg Newsletter Subscribers
Love Veg
Animal Equality's Love Veg project provides individuals with the information and motivation they need to enjoy a plant-based lifestyle. Love Veg meets people where they are on their journey and offers them insider tips, shopping guides, and delicious recipes.
Animal Equality in Mexico launched Love Veg Mexico and released a new digital cookbook!
Love Veg was featured in German lifestyle magazine Vegan Für Mich and C7 News in Mexico.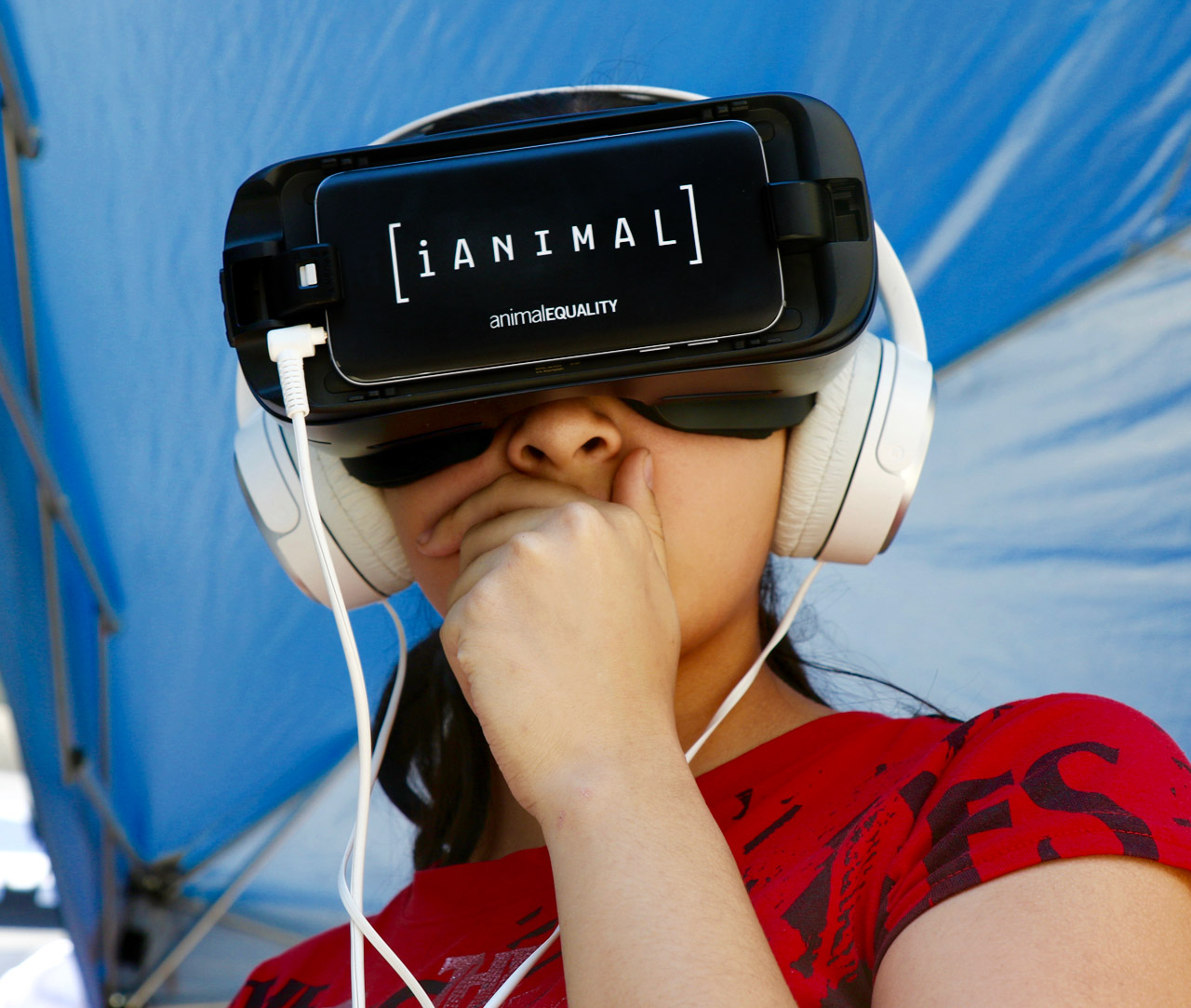 iAnimal
Animal Equality is putting technology to work for animals. Our team has filmed with 360-degree cameras to produce films on the lives of pigs, chickens, and cows. The iAnimal program utilizes virtual reality headsets to educate individuals about the cruelties of factory farming at universities and events throughout the world.
We began our 9th iAnimal Outreach Tour in September, reaching over 750 students at eight college and university campuses in the Chicago area, many of whom signed our Love Veg pledge to reduce or eliminate animal products from their diet!
iAnimal was showcased at major events across the globe, including Europe's largest vegan festival in Berlin, the Hamburg Vegan Street Fair, the Guadalajara Joven Festival, the Reducetarian Summit, Food Tech Summit & Expo in India, Vegan Fiesta Mexicana, Virtual Reality Festival, Lush's flagship Oxford Street store, the UK's first vegan zero waste market, Pup Aid in London's prestigious Primrose Hill, and Vocational Fair at Tec Milenio University.