5 Animal Equality Rescues That Will Warm Your Heart
March 20, 2015
These stories are a proof of how much animals suffer in modern farms and slaughterhouses. They are also a proof of how much each one of them enjoys a life free from cruelty.
1. Lisa
Lisa is one of the 6 hens rescued Animal Equality activists from a free range farm in Germany. If it weren't for the activists who rescued her, Lisa would now be dead.
Lisa has an amazing personality! She is very awake and interested in everything around her. She examines any new human or animal she meets.
---
2. Basilico
Basilico is a baby lamb who was found not very far from a farm. He was destined to be killed in a slaughterhouse in over a month. Basilico is very gentle and playful. He loves being in the sun and hanging out with his new friends
Read more about Basilico's amazing rescue!
---
3. Moses
Moses is a baboon rescued from a circus in Spain. She had been kept in a small cage for months. Her life was full of cruelty and neglect. Animal Equality received the footage of her rescue a few days after it happened. She now lives in a sanctuary far from the circus that locked her up.
---
4. Timo and Zenzero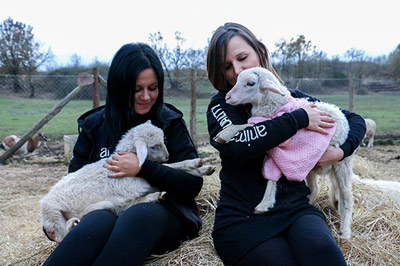 Rescued by Animal Equality in Christmas 2014, as part of an Animal Equality investigation into the Italian lamb industry, Timo and Zenzero will now spend their lives living in a sanctuary where no one will hurt them.
---